UVITA, Puntarenas — I'm known for being something of a skinflint traveler, staying in shared hostel dorms, ordering the casado instead of the steak, even saving on bar bills by buying Bohemia at the Palí — Costa Rica on $1 a beer!
But when I splurge, I tend to get it right, and I bask in the luxury because it's such a nice break from my routine. That was my experience with La Cusinga, an ecolodge just outside Uvita where I spent a delightful night Saturday.
The first three things going for this place are location, location, location. The lodge is situated in a 200-hectare private reserve consisting of primary and secondary rain forest, with 10 km of trails that lead to a swimming hole in Quebrada Grande as well as the isolated beach called Playa Arco. The latter is part of Ballena Marine National Park, as is the entire coastline around Uvita, but you're likely to have this beach all to yourself.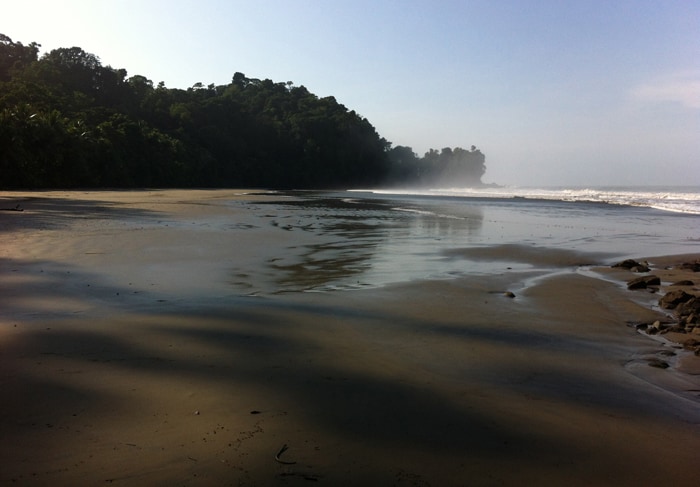 I spotted a green and black poison-dart frog on the trail to Playa Arco on Sunday morning, and the day before I saw both toucans and bats from the patio of my room and from the mirador, a lookout with a panoramic view of the Pacific coast that is among the most spectacular I've seen.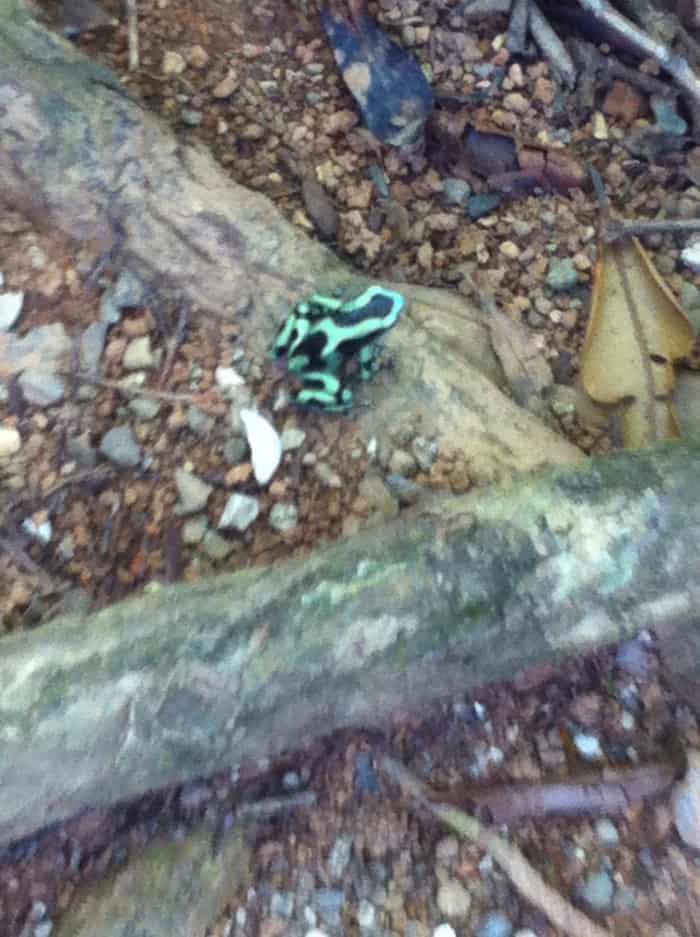 You could build a bad hotel in a great place, but La Cusinga lives up to its environment. The 10 cabins are made of sustainably harvested wood, and the impressive walls lining the walkways are adorned with hand-placed stones.
Next to my room, there was a stone tunnel straight out of "The Flintstones" that led to more cabins to the left and a jungle trail to the right.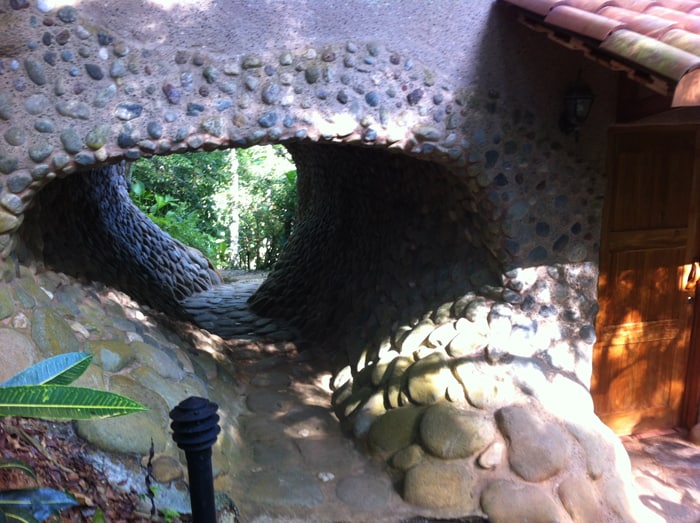 Inside the rooms, beds are made with high-quality sheets and bedspreads, walls are decorated with colorful, animal-themed artwork and lamps are made of carved wood depicting brilliantly colored toucans and other wildlife.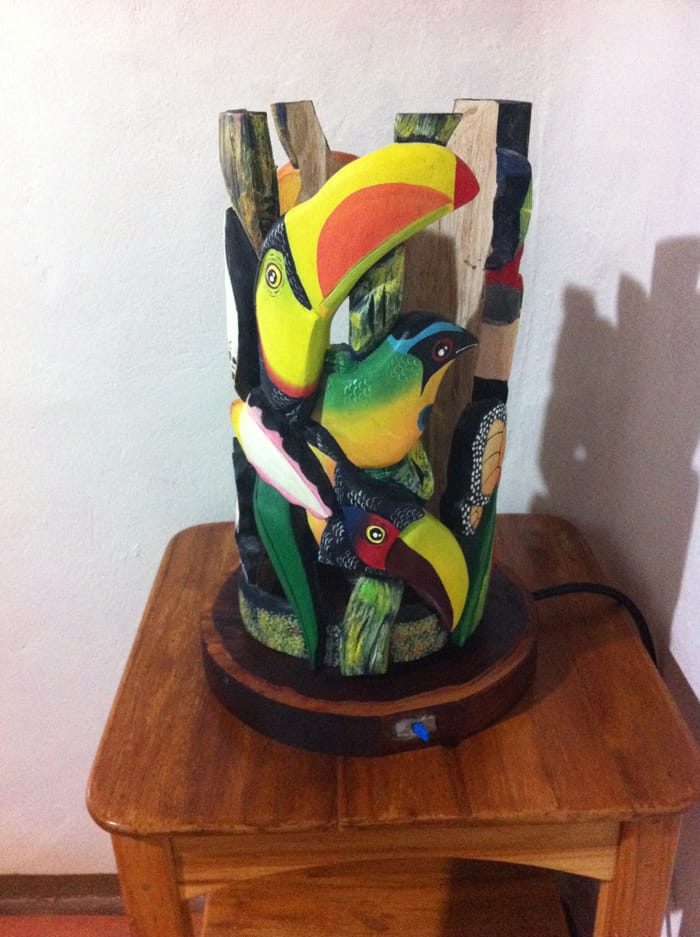 The bathrooms feature stone masonry floors and a half wall separating the shower — and for once, the showerhead is not sprouting the electric wires of a "suicide shower." Missing is the little, wrapped piece of cheap soap, replaced by push-top dispensers of quality body wash and shampoo.
The room's only flaw, as far as I could tell, is that the light switch for the bathroom is oddly located next to the front door, on the other side of the bed from the bathroom. D'oh!
The mirador in the middle of the property is the centerpiece of La Cusinga, with breathtaking views of the coast. It's a great place to sit with a cold drink and wait for a green parrot or toucan to fly by.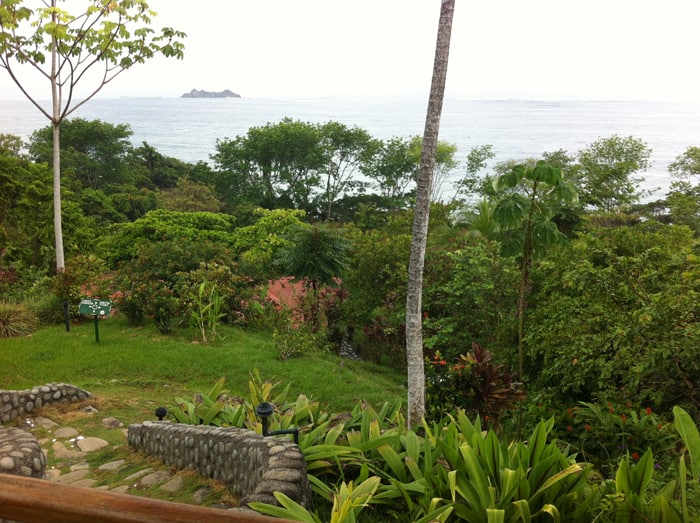 Troops of howler and capuchin monkeys move through the trees just outside the rooms, agouti roam the grounds, and — watch your step — the property is home to a wide variety of snakes, spiders and geckos.
There are generally two prices year-round, I was told — $172 double occupancy for foreigners, $138 for Costa Rican nationals. Yet after scaring me with the $172, the person answering the phone Friday offered me a room for $136, which I reserved. The next day, without mentioning that I had a reservation, I tried my luck as a walk-in. The front desk again first scared me with the $172, then offered me a room for $138.
When I admitted I had a reservation, I was given the room for $136. Upshot: Ask for the best rate you can get.
Among the amenities here, the Cinnamon Spa offers massages, facials and all those other things that ladies love.
Oh, and — brush with fame —internationally renowned chimp whisperer Jane Goodall once visited La Cusinga for a 20-minute tour, as you can see from a picture on the lodge's Instagram page.
For dinner (a very reasonable $25) at the restaurant, El Gecko, I was served a pitcher of blackberry juice and a tasty salad of red leaf lettuce, purple onions, cucumbers, tomatoes and carrots, a welcome break from the many tasteless salads I've been served with casados.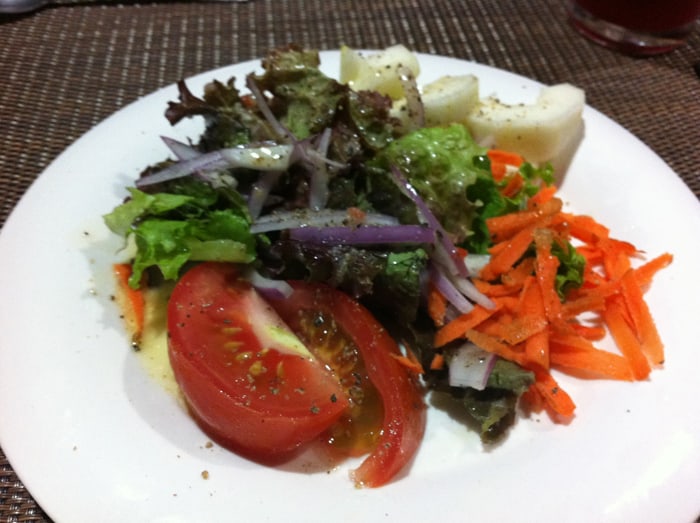 The main course was a succulent dorado (mahi mahi) filet drizzled in a rich yellow sauce that I would have described as "buttery," except the chef told me later it contained no butter, only sweet cream, white wine, parsley and lime. The accompanying mashed potatoes, carrots, cauliflower and broccoli were perfectly seasoned with salt, garlic and butter.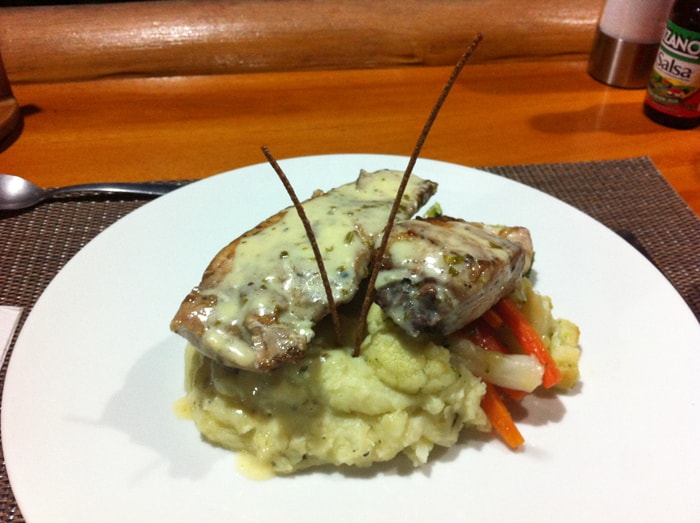 For dessert I chose the best red velvet cake I ever had, made with cream cheese, sour cream, sweet, heavy cream and strawberries.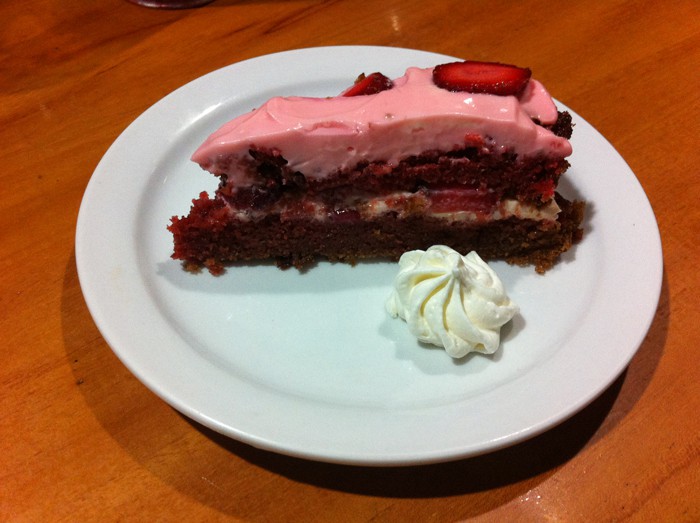 Pushing my luck, I asked if there was a nice brandy or liqueur to cap off my dinner, but alas, the restaurant has only beer and wine.
Chef Denis Umaña of Pérez Zeledón, just 26 years old, is one of two head chefs on rotating duty here. He told me El Gecko uses organic, locally sourced vegetables whenever possible, and locally caught fish.
"The theory is to provide healthier food for our guests, free of chemicals, as organic as possible," he said. "The tastes should stand out without a lot of condiments or spices, only what's necessary. It's about the customer having the best experience, and eating the food because they love it and it's different from what they're used to."
I told him I thought he pulled off all of that.
The Tico Times reviews hotels and restaurants anonymously, like an ordinary visitor. All interviews are conducted afterward.

IF YOU GO
Getting there: From Uvita, drive 4.7 km south on the coastal Highway 34 and watch for the signs pointing to La Cusinga on the right. The short, unpaved road to the lodge is a bit rough and steep, but doable without 4-wheel drive.
Website: lacusingalodge.com
Email: info@lacusingalodge.com
Phone: 2770-2549
Contact Karl Kahler at kkahler@ticotimes.net.