As gang violence surges, El Salvador fears bloody war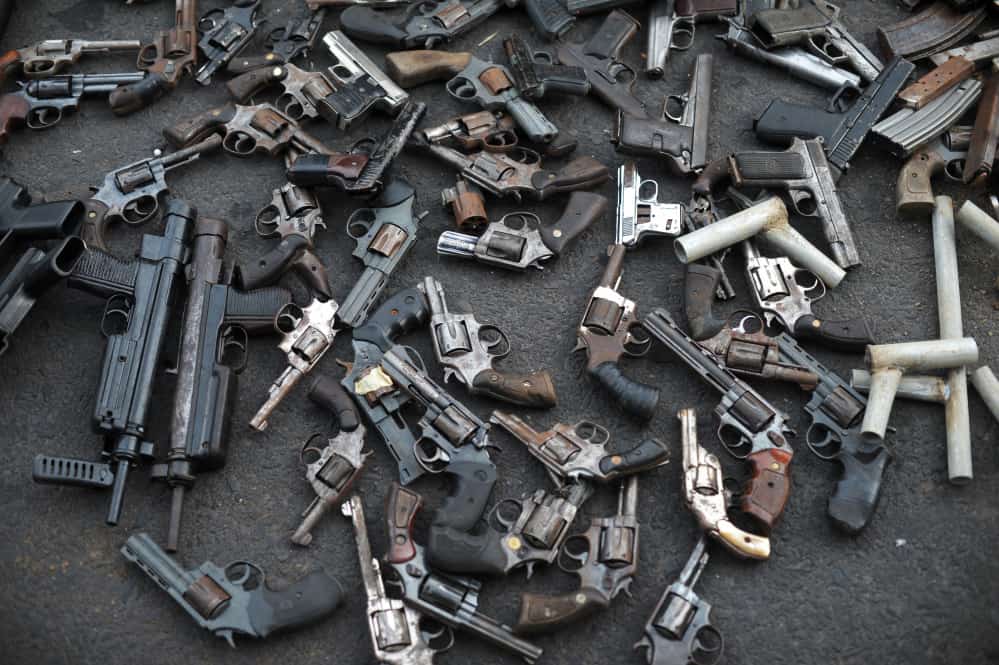 El Salvador had its bloodiest month in a decade in March, as gang members armed with high-caliber assault rifles repeatedly attacked police stations and army posts.
The small Central American country of six million people registered 481 homicides for the month.
That capped a bloody first three months of the year, in which 23 police and six soldiers were killed in clashes with gangs.
In response, President Salvador Sánchez Cerén has created four new "rapid response" battalions — one for the police and three for the army.
The country is now in a "defining moment" in its drawn-out fight against the ultra-violent gangs Mara Salvatrucha and Barrio 18, said security expert Juan Ramon Medrano.
"The government has not given up on prevention and rehabilitation, (but) it is fighting the gangs with intensifying repression, which has unleashed an escalation of violence," he told AFP.
The killings underscore the breakdown in a truce the gangs declared in March 2012, which was brokered by the Catholic Church with behind-the-scenes help from then president Mauricio Funes.
In response to the new wave of violence, Sánchez Cerén has reversed a key concession of the controversial truce, ordering more than 50 jailed gang leaders who were being held in "flexible" detention centers transferred back to maximum-security prison.
Seeking to break the logistical and communications networks with which the leaders have continued to exercise power, he also ordered jailed groups of rank-and-file gangsters be dispersed to prisons far from their families and each other.
While the gangs have not officially rescinded the truce, the new attacks "have fed a collective panic, with people screaming for excessively repressive measures," said criminologist Carlos Ponce.
The new battalions will only give the security forces more power, with "no effect on criminal networks," which are complex organizations that cannot be easily dismantled, he said.
Together, Mara Salvatrucha and Barrio 18 have an estimated 10,000 members in jail and 60,000 on the streets, who fight bloody turf wars to control the drug trade and extortion rackets.
The gangs, which emerged in the 1980s in Latino neighborhoods in Los Angeles, arrived in Central America when the United States deported thousands of immigrants who had fled there to escape the civil wars that gripped the region in the late 20th century.
Echoes of civil war
El Salvador now risks sliding back into violence reminiscent of that bloody era, said one of the mediators of the failed gang truce, Raúl Mijango, a former leftist guerrilla commander turned activist.
"We're going to war, one that has some of the same characteristics as the civil war, such as conventional forces fighting irregular forces," he said.
He condemned the "closing of the space for dialogue" opened up by the truce, which initially saw the daily homicide rate fall from 14 to five. In March, it surged back to 15.5.
In some ways the gangs resemble the armed groups that fought in El Salvador's 1980-1992 civil war, which killed 75,000 people.
According to Defense Minister David Munguía, surveillance has detected regular trips by groups of 12 to 16 gang members to remote areas where they receive "some kind of training." The army has increased its presence in the areas in response.
Last September, the government launched a Public Security Council tasked with addressing the growing violence.
In January it presented a security plan calling for $2.1 billion in investment over the next five years on both prevention and policing.
It aims to create 250,000 jobs for young people, rehabilitate jailed gangsters, strengthen institutions and aid victims, all while intensifying the security forces' crack-down.
That dual approach has its critics.
The plan is a "political facade for repression," said Mijango.
You may be interested