She speaks for the president but few have ever heard her voice. Estefanía Carvajal, 28, is the first official Costa Rican sign language interpreter for Casa Presidencial.
The venue where most Costa Ricans see Carvajal is President Luis Guillermo Solis' weekly press conference. On any given Tuesday, Carvajal takes a drink of water and stretches her hands before walking onto the stage at the Casa Presidencial auditorium, in the southeastern San José district of Zapote. Her long black hair is pulled back away from her face, revealing her hazel eyes. As each person at the conference speaks, Carvajal quietly positions herself just behind the speaker and begins to sign.
Her presence at the side of the president has not gone unnoticed by the deaf community. Laws have long required sign interpreters for deaf viewers on television and during government events, but the Solís administration was the first to comply with the rule in May 2014. Besides her work as an interpreter for Costa Rican sign language, known as LESCO, Carvajal is also an advocate for the deaf community and hopes that her position can help raise awareness about deaf culture and her belief in the human right to information.
The experience hasn't been lost on Carvajal, either.
"It's been a precious, exhausting, amazing experience," Carvajal told The Tico Times about her work for the current administration. "It's been a platform to take what I was doing as a volunteer before and reach so many more people."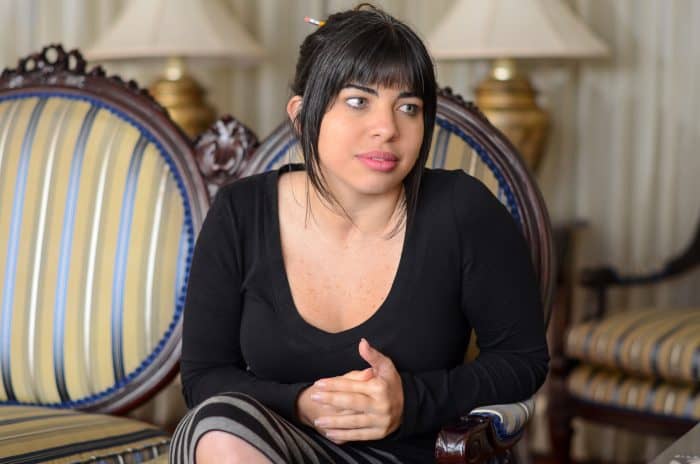 Raised by her deaf parents, Ronald Carvajal and Odilie Poveda, Estefanía Carvajal is a native speaker of LESCO despite the fact that she's not deaf. She speaks Spanish and English, and signs American, Brazilian and International Sign Language. She claims to be the only native-speaking LESCO interpreter in Costa Rica.
"For me, I feel more comfortable telling a story in LESCO than Spanish," she said. "I like it more. I feel like I can get into more details, I feel more comfortable. Some people don't get that," she said. "I speak Spanish all day, how can I not feel comfortable in it? But in my house, with my people, I speak in sign."
As a child who knew Spanish and LESCO, Carvajal, like many children with deaf family members, was in demand to interpret. Doctor visits, bank appointments, any number of errands that hearing people might take for granted Carvajal was tapped to help with, regardless of her age.
Amid an absence of professional LESCO interpreters Carvajal made her first appearance interpreting on television in 1998, when she signed the Ms. Costa Rica Sorda (Ms. Deaf Costa Rica) pageant at the age of 12. It wasn't until the 1990s that the University of Costa Rica and other institutions began to offer LESCO interpreter certification.
Now the president of the Costa Rica chapter of Children of Deaf Adults, Carvajal said that many deaf families in Costa Rica struggle with societal prejudice and interfamily conflicts as children of deaf parents navigate to fit into the wider culture.
Myths about deaf people are pervasive. Among some of the common misconceptions Carvajal observed are that deaf people can't speak; that deaf people have a mental disability and should not attend school; and that the deaf community is a closed one.
Not being able to hear does not limit someone's ability to speak, and many deaf Costa Ricans speak Spanish. While some families don't understand what deafness means for their child's development, Carvajal said that deaf people are just as willing and able to learn as anyone, they just can't hear. Finally, Carvajal pointed out that language is deeply connected to culture. If more people learned LESCO, the deaf community would not seemed as isolated as it might to some outsiders.
These stereotypes often limit employment opportunities for deaf people. Unemployment is a serious problem for Costa Rica's disabled population. According to figures from the 2011 Census, 58 percent of the disabled population between the ages of 15 and 35 are unemployed.
"Prejudice is the greatest disability," she said.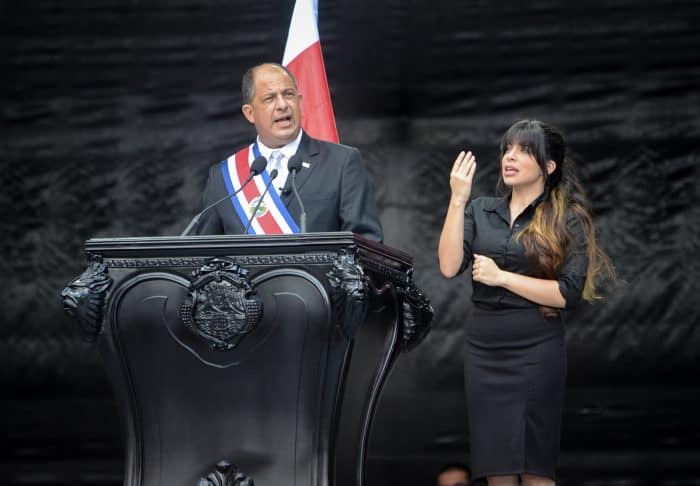 Carvajal's job starts at Casa Presidencial at 8 a.m. unless there is an earlier event she needs to work. (This reporter first met her in a press van at 7 a.m. in Limón, on the Caribbean coast, getting ready to sign for President Solís at the groundbreaking ceremony for a new Moín Terminal.)
Even though she works at Casa Presidencial, she does not get any advance warning about the topics that will be discussed that day. She does not retain anything she signs – it's in one ear and out her fingers.
"There are words that exist in LESCO that don't exist in Spanish and vice versa, so I have to work to make it friendly and understandable," she said.
"The benefit of sign language is that it's very fast. You can say a lot of information in little time. Oral language is linear so it takes longer to say something; so I take advantage of that time to clarify a topic," Carvajal said.
Besides working as a LESCO interpreter, Carvajal also works in Vice President Ana Helena Chacón's office as an an advocate for disability issues and does graphic design work for Casa Presidencial.
Victor Hugo, president of the National Deaf Association of Costa Rica, ANASOR, told The Tico Times in an email that the administration's decision to have an interpreter was a positive step, but that there is still much to be done. Hugo said that the deaf community struggles with a dearth of options when it comes to entertainment and access to information. He noted that national media often cut Carvajal or other interpreters out of the frame, focusing on the speaker while muting the LESCO interpreter.
Cravajal's presence at Casa Presidencial takes on a greater meaning than the signs she makes with her hands. One deaf woman told Carvajal how much having her next to the president means: "There's someone there reminding people that we exist."