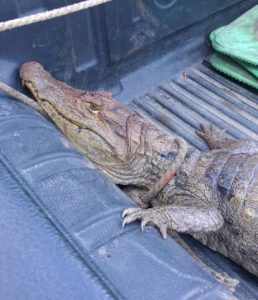 Nothing like walking out on to your front porch in the morning and finding a crocodile staring back at you.
That's exactly what happened to a man identified by the last name Murcia in Rosario de Naranjo, Alajuela, according to a statement from the Public Security Ministry Tuesday.
The 1.5-meter-long crocodile was reportedly hunting Murcia's dog and some chickens in front of Murcia's home when the homeowner wrangled the reptile and called the police. Authorities bundled the crocodile, which was in healthy condition, into a truck bed and handed it over to the Environment Ministry for relocation.
Several crocodiles have been removed from populated beaches and neighborhoods in the last year. Police removed a 660-pound crocodile near Jacó beach in September 2014 and a 3.5-meter crocodile from the Guanacaste River, where locals swim, in June.
Crocodile encounters are rarely deadly in Costa Rica but injuries do occur. As tourists continue to encroach on croc habitats, encounters with the protected reptile have become more common in recent years.