Related: Gold miners invade Corcovado
EL TIGRE, Puntarenas – Corcovado National Park, on Costa Rica's Osa Peninsula, is considered a key part of the country's extensive system of national parks and biological reserves. The park's biological diversity is so impressive that National Geographic has called it "the most intense in the world." It is believed that no other location on earth has more biodiversity per square meter.
Hiking among the park's extensive flora and observing wildlife such as jaguars, dantas and peccaries is part of what draws thousands of tourists here each year.
But there are also threats, including poaching and illegal gold mining. Gold mining occurred in the area even back when land was being expropriated in the 1980s to create the park. Today, rudimentary extraction of gold continues in caves and riverbeds throughout this natural monument.
Authorities estimate that about 400 miners continue to enter the park to extract gold, but they no longer do so as artisanal miners. They now work with specialized equipment, including water pumps, and better strategies. Miners have established surveillance networks to detect the presence of park rangers at gold-mining sites, and with radio communications and cellphones they can alert miners inside the park's mountainous terrain.
Golfito's environmental prosecutor, Ronny Romero, told The Tico Times that his office continues to investigate illegal gold mining operations, including the miners inside the park and their contacts in surrounding areas, those who serve as lookouts, and vendors who receive the gold from miners and export it out of the country.
"We've compared these groups to drug traffickers and found that they operate in a similar manner," Romero said. "There are lookouts who inform the others of police presence or possible police operations, and we are aware of seizures of gold at air terminals. The level of purity in that gold tells us where it's from, and it can only be from Corcovado."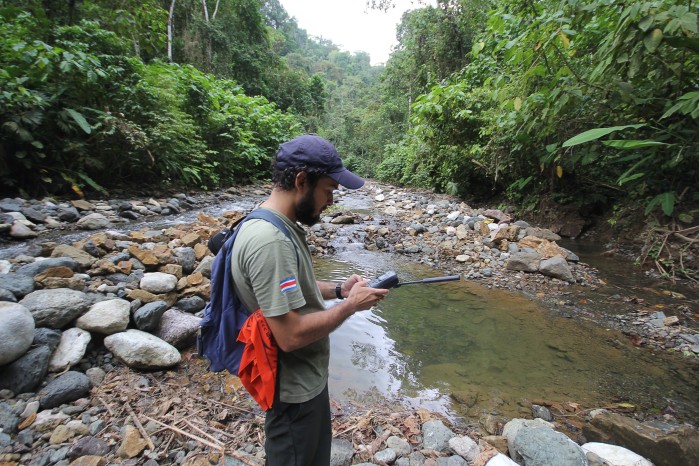 Profits
The Tico Times trekked into the heart of Corcovado National Park to accompany a park patrol. The rangers, who despite having only aging weapons, are utilizing improved technology to respond more rapidly in the mountains.
Each of the five rangers on patrol uses a satellite "spot," with which they can mark routes and sound alerts to colleagues at the center of operations, where events are monitored in real time.
During a chase, which happens often inside the park, rangers can mark the location of the suspects and present it as evidence at the Golfito prosecutor's office.
During our tour with park rangers, The Tico Times watched as guards encountered several miners removing gold from the Tigre River. At a minimum, officials say, each miner can extract one gram of gold daily and sell it for ¢16,000, or about $30. A "pepita," or larger nugget, fetches up to ¢800,000 ($1,600).
"Of the groups that come here, we respect each other's territory, which is a type of code of ethics," gold miner Marvin Ortiz told The Tico Times. Ortiz was among a group of miners caught during the recent patrol. "It's no secret that the best [gold] is taken from inside the park, so we try to do that. Park rangers on several occasions have confiscated our equipment."
In 2014, park officials filed 24 criminal cases in flagrancy courts, most involving charges of illegal gold extraction. Of those, only one suspect was acquitted.
Park administrator Eliécer Arce described the extent of gold mining in Corcovado as a "grave" situation, and he emphasized the need for rangers to obtain technological tools to surprise groups of miners and remove them.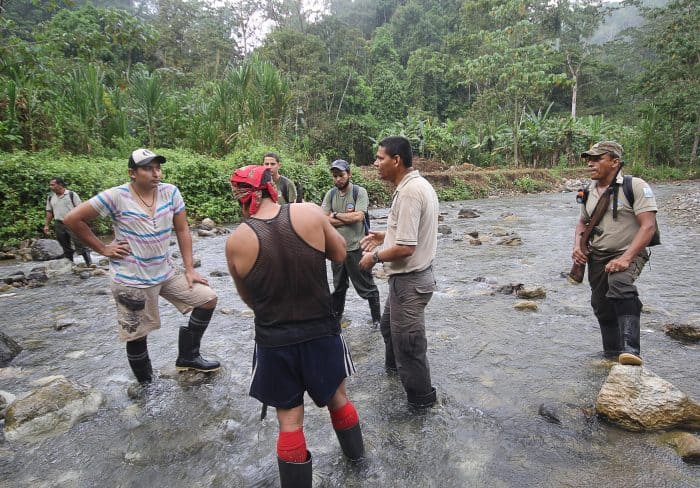 Tourism dollars and natural wealth
Corcovado has an unusual amount of biological diversity that is unmatched anywhere else in the world in a similar-sized area. It has up to 30 ecosystems that are home to the largest populations of species in Costa Rica, such as the jaguar, puma, peccaries and tapirs, among others.
The park also protects an important extension of maritime territory and habitats. East of the park is an important area for the breeding of humpback whales, which travel from both the northern and southern hemispheres.
Corcovado also has several endemic species, including 12 species of trees in danger of extinction.
All of this is important for tourism, and every year tourists flock here, primarily from Europe, Canada and the United States.