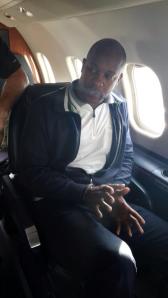 Suspected Colombian drug cartel leader Joel Jermain Branford was quietly extradited to the United States from Costa Rica last week, where he is wanted on international drug trafficking charges, an official at Costa Rica's Prosecutor's Office confirmed on Monday.
Branford, a Panamanian national suspected of leading the Norte del Valle drug cartel in Colombia, was flown out of San José's Juan Santamaría International Airport in the early morning hours of Jan. 21 on a U.S. Drug Enforcement Administration plane, the official said.
Branford had been traveling from Spain to Panama, with a layover in Costa Rica, when he was arrested in April 2014.
The Costa Rican official said extreme security measures were required in the extradition operation, and no statement was released to the press at the time.
"It's a very important case, as are all extradition cases," said Laura Monge of Costa Rica's Prosecutor's Office. "It was a very well-coordinated operation."
Branford was escorted to the airport outside San José by agents of Costa Rica's Judicial Investigation Police and Interpol and handed over to DEA agents. He will by tried in U.S. federal court in the state of New York on international drug trafficking charges.