NOSARA, Guanacaste – When Makayla Richmond arrived in Nosara seven months ago, the town was pretty quiet. The rainy season had just started, and a steady flow of tourists trickled through. Richmond started working at Taco Taco, a relatively new eatery owned by Coconut Harry's Surf Shop. Richmond liked working there and she loved Nosara.
Then it hit: Thousands of tourists flooded the town. They packed the hotels. They poured into restaurants and souvenir shops. They ordered more tacos than Richmond had ever imagined possible. The 20-year-old California native was awestruck.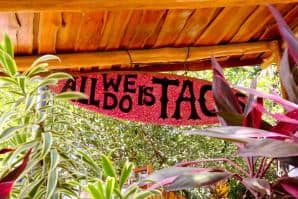 "It was ridiculous," recalled Richmond. "One day you're walking on the beach, and there's nobody. The next day, you're like, 'Where did all these people come from?'"
Costa Rica dries out in December, and once Christmas has passed, Costa Ricans flood the beaches for vacation, and legions of North Americans fly to Daniel Oduber International Airport in the northwestern provincial capital of Liberia, desperate to escape any hint of a polar vortex. While the high season is welcomed all over Costa Rica, the airport's location heavily favors Guanacaste's Pacific coast. The influx of travelers is sudden and overwhelming, and tiny coastal towns like Nosara brace themselves against the crashing wave of people.
"We sold hundreds and hundreds of tacos in a day," said Richmond with a laugh. "One night we had to close 45 minutes early because we ran out of everything."
Indeed, Taco Taco ran out of table space almost immediately, and hordes of ravenous guests resorted to munching their Mexican wraps in the street.
On the one hand, the opening of the high season is a boon for places like Nosara, whose principal industry is tourism. Strolling down Nosara's main street, it is clear that the town caters to outsiders: Most passersby are yogis and surfers speaking in English. Tourists rumble by on ATVs, balancing longboards on the back. Most of the traffic consists of SUVs, freshly rented and lightly coated in dust. All the roads that lead to Nosara are unpaved and rocky, yet high-end tourists still arrive by the shuttle-load, eager to do some warrior poses.
Such an exponential rise in patronage can pose problems: Hoteliers said that dozens of travelers hadn't made reservations, and they arrived in the remote village with nowhere to sleep. Some asked to set up tents in hotels' lawns and parking lots. Many hotels were sold out, especially budget accommodations. (Nosara is famously upscale, and $100-per-night rooms are typical). This was challenging for backpackers, since Nosara has infrequent bus service.
But after weathering the Costa Rican "winter," proprietors were happy to see the return of tourism.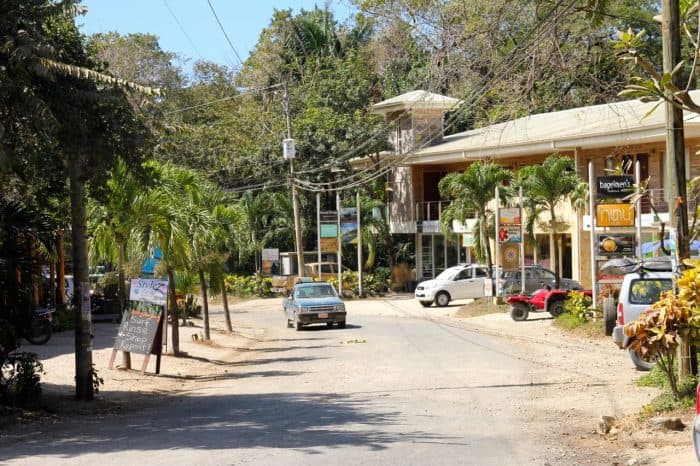 "Business was very good earlier this week," said a man named Miguel, who sells pottery on the beach. Born and based in León, Nicaragua, Miguel spends short stints in Costa Rica to vend his wares to beachgoers. "There were a lot of people here. But it's a cycle. Right now there's almost no one."
Indeed, the crowds thinned last weekend, ending a frantically busy fortnight. Scattered surfers wandered the nearly empty beaches, and available rooms were ample. Locals say that such cycles are common.
"Tourism fluctuates a lot," said Nuria Benet, owner of the local Bagelmen's. Originally from Barcelona, Spain, Benet opened her location of the popular Costa Rican bagel franchise in Nosara three years ago. "The first high season, I had no idea what to expect," she recalled. "But December is always great right after Christmas. Now we've learned from the history of the past three years."
As for Richmond, she seems to be enjoying her first high season in Costa Rica. She enjoys slinging tacos and seems to have recovered from the initial shock.
"I love Nosara," Richmond says. "I mean, it's paradise."