PARIS – More than 700,000 people poured onto the streets of France Saturday in solidarity with victims of this week's Islamist attacks, on the eve of a march in Paris expected to dwarf that figure.
The poignantly silent rallies paid tribute to the 17 victims of the three-day killing spree, and came as security forces were mapping out a major deployment aimed at preventing fresh violence.
World leaders including British Prime Minister David Cameron, German Chancellor Angela Merkel and Israeli Prime Minister Benjamin Netanyahu were set to attend Sunday's march in support of France, badly shaken by the violence.
Russian Foreign Minister Sergei Lavrov, Palestinian President Mahmud Abbas and the king and queen of Jordan are also among those set to take part.
French Prime Minister Manuel Valls predicted that millions of people would turn out on Sunday to honor the dead and decry the attacks on a satirical magazine, kosher supermarket and police.
"I have no doubt that millions of citizens will come to express their love of liberty, their love of fraternity," he told thousands gathered near where a gunman killed four hostages at a kosher supermarket on Friday.
"France without Jews is no longer France," Valls added.
In Jerusalem, Netanyahu told French Jews Saturday that Israel was their home.
"To all the Jews of France, all the Jews of Europe, I would like to say that Israel is not just the place in whose direction you pray, the state of Israel is your home," he said in a televised statement, referring to the Jewish practice of facing Jerusalem during prayer.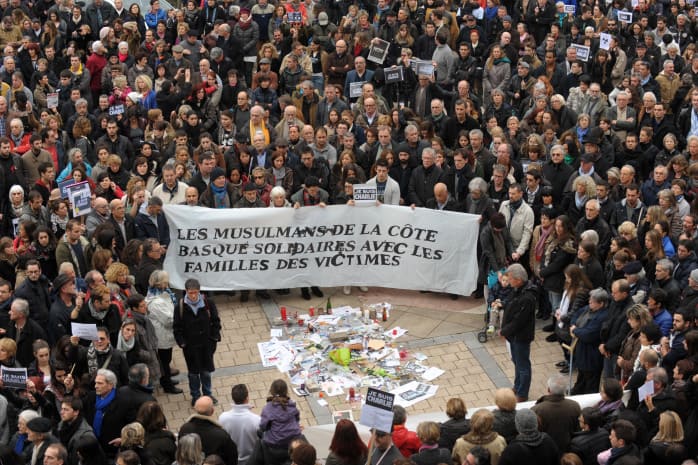 Gunman's girlfriend still sought
Security levels were kept at France's highest level, with investigators trying to track down the girlfriend of one of three gunmen killed in a fiery climax to twin hostage dramas on Friday.
Despite earlier being described as "armed and dangerous," security sources later revealed that 26-year-old Hayat Boumeddiene was not in fact in France at the time of the killings.
Her partner Amedy Coulibaly shot dead a young policewoman on Thursday and then killed four hostages in a siege on a Jewish supermarket in Paris on Friday.
While police initially suspected Boumeddiene may have had a role in her partner's violent acts, a Turkish security source told AFP she arrived in Turkey on Jan. 2 and had since likely traveled on to Syria.
Meanwhile, France deployed hundreds of troops around Paris Saturday, further beefing up security on the eve of Sunday's march.
"The real battle is to defend freedom of thought," said 40-year-old Yamina, tears in her eyes, at a rally in the southern city of Marseille where marchers carried signs declaring "Not afraid!" and held aloft pens and pencils.
The three-day killing spree began Wednesday with the massacre at the office of satirical magazine Charlie Hebdo that saw Cherif and Said Kouachi massacre 12 people including some of the country's best-known cartoonists and a day later, Coulibaly shot dead the policewoman.
The massive manhunt for the two brothers developed into a car chase Friday and then a tense standoff as they took one person hostage in a printing firm northeast of Paris.
The small town of Dammartin-en-Goele was transformed into what looked like a war zone, with elite forces deploying snipers, helicopters and heavy-duty military equipment as they surrounded the pair.
With all eyes on the siege outside Paris, suddenly explosions and gunfire shook the City of Light itself as Coulibaly stormed a Jewish supermarket on the eastern fringes of the capital.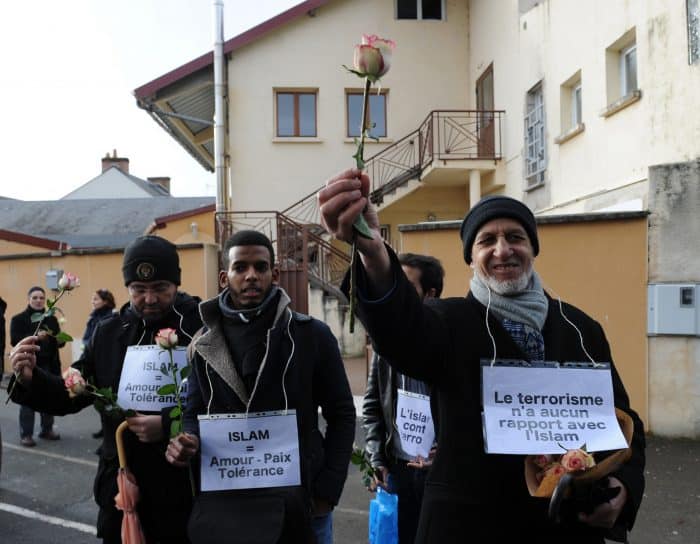 'Appalling anti-Semitic act
In what Hollande called an "appalling anti-Semitic act," Coulibaly took terrified shoppers hostage hours before the Jewish Sabbath, killing four.
As the sun set, the brothers in Dammartin-en-Goele charged out of the building with guns blazing in a desperate last stand, before being cut down.
Within minutes, elite commando units moved in Paris against Coulibaly, who had threatened to execute his hostages unless the brothers were released.
He had just knelt for his evening prayer when the special burst in.
Up to five people — including a 3-year-old boy — survived hidden inside a refrigerator for five hours, with police pinpointing their location using their mobile phones, prosecutors and relatives said.
In the printing firm, the brothers took the manager hostage, later releasing him after he helped Said with a neck wound, while a second man hid beneath a sink upstairs.
After Friday's dramatic events, Hollande warned grimly that the threats facing France were not over — comments followed by a chilling new threat from the Yemen-based Al-Qaeda in the Arabian Peninsula group.
AQAP top sharia official Harith al-Nadhari warned France to "stop your aggression against the Muslims" or face further attacks," in comments released by the SITE monitoring group.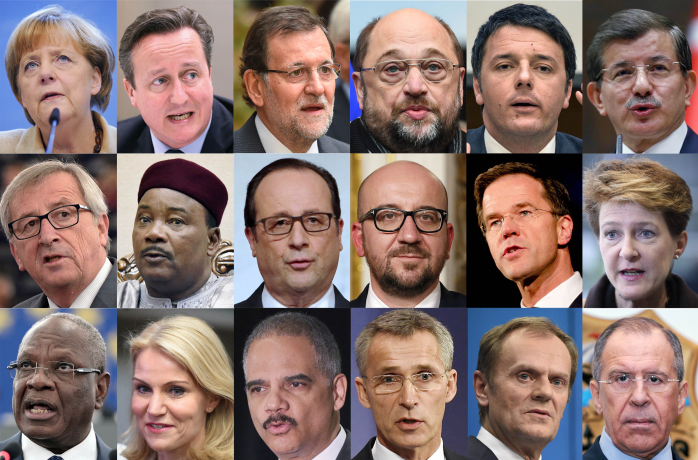 Clear failings
Leaders have urged the country to pull together in grief and determination, but questions are mounting over how the three men — Cherif and Said Kouachi, and Coulibaly — slipped through the security net.
Valls admitted there had been "clear failings" in intelligence.
Cherif Kouachi, 32, was a known jihadist who was convicted in 2008 for involvement in a network sending fighters to Iraq.
His brother Said, 34, was known to have traveled to Yemen in 2011, where he received weapons training from AQAP.
It also emerged that the brothers had been on a U.S. terror watch list "for years."
Coulibaly, 32 — who met Cherif Kouachi in prison — was sentenced to five years in prison in 2013 for his role in a failed bid to break an Algerian Islamist, Smain Ait Ali Belkacem, out of jail.
Coulibaly's mother and sisters on Saturday condemned his actions.
"We absolutely do not share these extreme ideas. We hope there will not be any confusion between these odious acts and the Muslim religion," they wrote in a statement.