IGUALA, Mexico – They picked up spent shotgun shells and placed them in plastic baggies for safe keeping. They examined discarded bottles, charred sticks, crusted weather-worn clothes. Over rocks and ridges, to the tops of trees and down in bone-dry riverbeds, the parents were searching for their children's graves.
"Fifteen minutes more," a father in dusty camouflage said before trudging farther up into the thick Mexican forest, hacking the thorny branches with his machete. "Just a little farther."
Forty-three students went missing here in September, and for all the attention that received, they were hardly the first. Their abduction by police has loosed a flood of new accusations and begun to reveal a history of hidden deaths.
Before that crime, many people had been too afraid of the police to report the disappearances. Last month, just seven parents attended the first meeting in the basement of a Catholic church here for relatives of the missing. But as the national uproar over the students has grown, plus the arrest of the Iguala mayor, the dissolution of the town's police force and the torching of city hall, the scope of the brutalities began to become clear. Dozens, then hundreds, of people came to subsequent meetings at the San Gerardo church, which has become the gathering point for a citizen movement to search the surrounding hills and fields for the students' remains.
"Because like this, you live all the time thinking. When I'm eating, I'm wondering if my son is eating. If I'm cold, I can cover up. But can he? I'll be going to bed, and my son?" said Guillermina Sotelo Castañeda, whose son, Cesar, 30, disappeared in August 2012. "I don't know if he is suffering, if he is hungry. I imagine many things."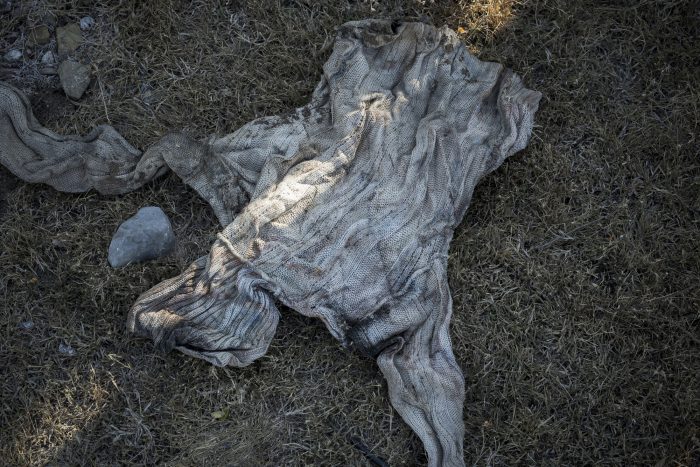 With little faith in their government, parents, volunteers and human rights workers have taken the initiative to catalogue the crimes. Medical volunteers are drawing blood from parents' fingers to use as DNA evidence to compare against the remains in the 18 graves, some with multiple bodies, they have discovered. More than 400 people just from this part of Guerrero state have come to give testimony about their missing relatives.
"All the authorities were participating, and that's why nobody could come forward to report the crimes," said Miguel Ángel Jiménez, a coordinator for the local group that is leading the work at the church. He says many more remain too scared to reveal themselves. "We are talking about hundreds and hundreds of disappeared."
By the official government count, about 22,300 people are missing in Mexico, a figure human rights officials think understates the problem. In September, when police drove away with 43 students from the teachers college in this state, it was a particularly brazen example of a trend that had raged for years. Authorities have suspected that the students were handed over to a drug cartel and then shot and burned in a trash dump in the hills outside Cocula, a farming town to the south. That narrative had been dismissed by their relatives and supporters, as a protest movement demanding their return swept the country. But over the weekend, Jesús Murillo Karám, Mexico's attorney general, said that DNA evidence confirmed that at least one of those students had suffered that fate.
"Our movement continues," said Omar García, 24, a student at the teachers college who survived the police attack the night his classmates went missing. "Because to us, we're not interested if the attorney general's version is true or false. What has been demonstrated is that they committed extrajudicial assassinations in a more brutal way than we have ever seen."
In Guerrero, that is more than many parents know. The collaboration between local authorities and drug cartels meant that many victims were killed and discarded without anyone coming to look for them.
Sotelo, 54, is sure that her farmworker son, César, made a cellphone call on the afternoon of Aug. 19, 2012, to say he had arrived in Huitzuco, his father's home town. But he never made it to his house. She searched hospitals and reported his disappearance and spent months on and off in her search before returning to her home on Cemetery Road in Candor, North Carolina. When she learned that relatives were organizing search parties for the missing, she bought a one-way ticket and has joined them in the hills above the town examining unmarked graves.
Sotelo began to cry when she thought about what would happen if she found her son's remains.
"I'm going to feel like dying," she said. "I don't want to see them bringing my son to me in a bag."
But she says it is better to know than live in this limbo, a "terminal illness" she compared to cancer.
"We want to have them back so we can bury them ourselves," said Jovita Cruz, whose son Héctor, 22, was taken in June. "So we know where to cry."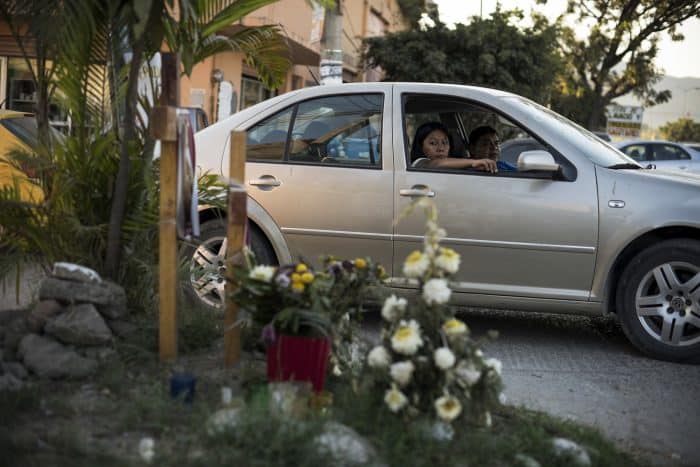 On the way into Cocula, embedded in the stone wall of a cemetery, there is a plaque that reads: "I say goodbye for all of my life, but for all of my life I keep thinking of you."
Last week, a group of relatives of the missing, volunteers and human rights officials passed this sign on their way through the corn fields in the valley floor and up into the wooded hills.
Their guide was a small, weathered man with a blue bandana over half his face. He was a construction worker and a deer hunter who knew the hidden gullies and concealed caves that he believed might have been a dumping ground. They drove up a dirt track amid blooms of tiny yellow butterflies and cows with numbered tags in their ears. Up on the ridge, the state police who were guarding the trash dump — where the students were allegedly burned — blocked their entry so the group returned to a lower canyon to traverse the ravine until they reached the caves.
As they climbed into the woods, they scanned the ground for signs of human remains. Jiménez, from the church, pushed his metal rod into the ground, probing for loose earth. He found rusted cans and a discarded Arctic Zone backpack.
"This kind of stuff isn't common here," he said. "This is a sign of something."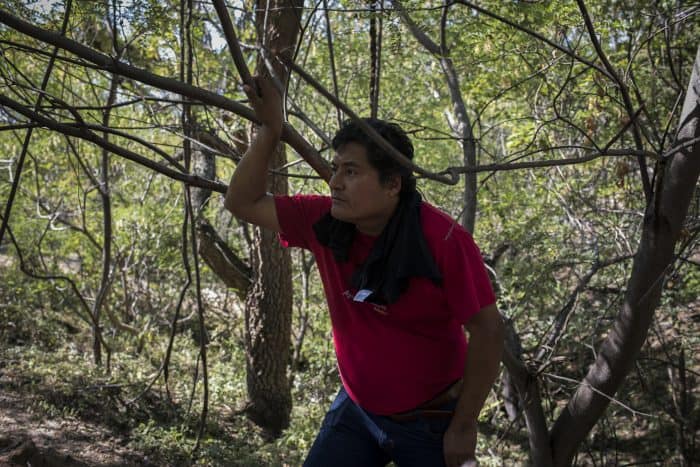 A few of them, led by the guide and the old man in camouflage, separated themselves from the group and hiked faster up into the ravine. The faint path soon dissolved into a thicket of brambles and vines. They fought their way hunched over through the vegetation, thorns and spines snagging their arms and legs.
The camouflaged man, who did not want his name used, or that of his son who disappeared in 2009, hacked at the brush with his machete. Branches slapped at his face. He stumbled and fell, and when he stood up blood was running through his fingers. But he was determined to keep going, despite the almost impassable terrain.
Finally, with the sun setting and sweat running down his face, he sat on a rock, exhausted.
"He's not here," he said.
Miles of green wilderness surrounded them. They would not reach the caves that day. So they turned back downhill toward the land of the living.
Gabriela Martínez in Mexico City contributed to this report.
© 2014, The Washington Post