Today marks the launch of the fourth-annual Tropical Market, or Mercado Tropical,at the Casa del Cuño outside of the Antigua Aduana in San José – providing an ideal place to shop for Christmas gifts and spend time with family and friends.
María Hortensia Ruge, who is the organizer of the event and has a background in fashion design, told The Tico Times that she created the Market because she observed a need for  new ways for local Costa Rican designers and producers to have direct contact with consumers. This is the second year in which the Market istaking place at the Casa del Cuño, Dec. 11-14 from 10 a.m.-9 p.m. each day, with 64 local businesses participating.
Four of the participating businesses will serve food at the Café Tropical, a new section of the fair this year. Free activities such as conferences, yoga classes and a mobile butterfly farm are part of this extensive, but fun event. The calypso band Rice & Beans will close the fair with a presentation of Caribbean Christmas carols.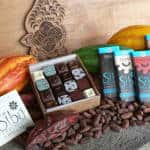 Chocolate SIBÚ, one of the participants in this year's fair, got its start in 2010 as a family business. They make hand-crafted chocolates with organic cocoa from San Isidro de Heredia, and have 16 different types of chocolates in their menu including truffles, caramels, and chocolate ganache with homemade fruit jam – and, during the Christmas season, delicious chocolate tamales.
Another business participating in the fair is Ximena Esquivel Joyería, named for its owner and creator. Her work incorporates stones opals and pearls, and techniques including wax carving; all pieces are handmade and mounted in silver settings.
"I've always been interested in jewelry. When I was little, I would make necklaces with beads. Later on, I took classes in a jewelry school and several workshops," Esquivel told The Tico Times.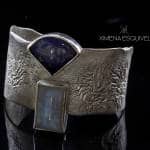 According to Ruge, the products at the fair are of higher quality than imported goods because they are hand-crafted rather than mass-produced.
"Buying local does not imply less quality. It has a great impact on the ecological and economic level," Ruge said. "The power of buying a product is even a way to make a political change. The way in which you choose to buy is the way in which you impact the entrepreneur."
The Tropical Market takes place Dec. 11-14, 10 a.m.-9 p.m. at the Casa del Cuño outside of the Antigua Aduana, San José. Free. More information at the event's Facebook page.