See also: A rocket landing in Tortuguero?
WASHINGTON, D.C. – Costa Rican astronaut-turned-businessman Franklin Chang Díaz warns that NASA and the United States may get left behind as European and Asian rivals pursue their own well-funded space programs with excitement and imagination.
Chang, who holds the world record for number of times in space (seven) and number of space walks (three), visited Washington last week to promote his own venture, Ad Astra Rocket Co. The Houston-based company, with subsidiaries in Costa Rica and Germany, is developing plasma technology for space travel, as well as renewable energy sources Chang says are crucial for helping the world end its addiction to fossil fuels.
"What we're trying to build is a transformational engine that will redefine the way we travel in space – making it easy, affordable, fast and economically rewarding," said Chang. He spoke to The Tico Times following a Dec. 2 presentation at the Costa Rican Embassy that was attended by some 40 executives, diplomats and other invited guests.
"Franklin Chang is famous in certain circles in the U.S., but in Costa Rica he's our equivalent of a rock star," said Ambassador Román Macaya in introducing his guest. "That's because he's opened up a whole new field of dreams for kids. Franklin Chang is a national hero because of what he's done."
Chang, 64, was born and raised in Costa Rica but finished high school in Hartford, Connecticut. After earning a degree in applied plasma physics from MIT, he joined NASA in 1981 and became an astronaut. Now a U.S. citizen, he said most of Ad Astra's 250-odd investors live in Costa Rica.
"The work we've been doing has all been up until now with private money. We really have not been utilizing government funds," he told us. "That doesn't mean we don't want them. We do. But as you know, government funding is unstable and difficult to get, so we need to move fast. With proper funding, the dream is within reach."
See also: Meet Sandra Cauffman, the Tica co-directing NASA's current mission to Mars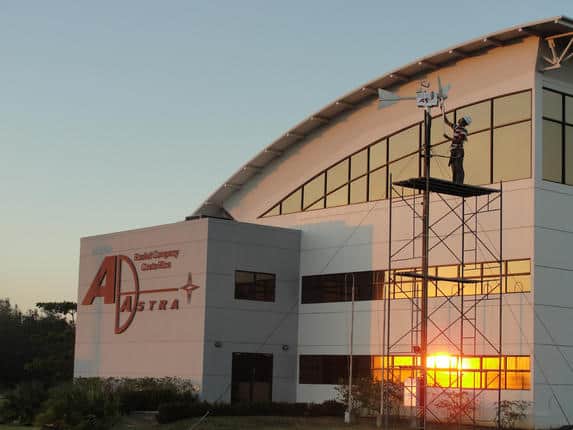 Two state-owned banks have directly invested in Ad Astra via the Aurora Fund for institutional investors: Banco Nacional ($2 million) and Cartago-based Banco Crédito de Agrícola ($250,000). In addition, the Costa Rican Social Security System pension fund has indirectly invested $1.7 million in Ad Astra.
The company also generates revenue from energy research contracts; this year, it's expecting $1.2 million in sales, up from just over $1 million in 2013.
Chang says his company has already raised $34 million since starting Ad Astra in 2005, and is "now moving into an implementation phase that will require $100 million."
For that, he's in talks with NASA and other U.S. government agencies.
"We just want a credible demonstration of interest in the form of an investment that will allow us to leverage much larger amounts of money in the private sector," he said. "That's our goal right now."
Since 1977, Chang has been working to develop the VASIMR (Variable Specific Impulse Magnetoplasma Rocket) engine for spacecraft propulsion. Simply put, it uses radio waves to ionize and heat a propellant, and magnetic fields to accelerate the resulting plasma to generate thrust.
Watch scientists fire a VASIMR plasma rocket:
Ad Astra's facility in the northwestern Costa Rican city of Liberia employs 14 people. It consists of a 5-kilowatt wind tower, a 25-kilowatt wind tower, a hydrogen production and storage facility, a methane/hydrogen generator set and a laboratory. For now, the company's revenues have come from the development of hydrogen-based fuel cells for transportation applications on land.
Yet the possibilities for space travel are potentially far more lucrative, Chang said.
"Most people don't even know that astronauts have been living in space since 1999 aboard the ISS [International Space Station]," he complained. "But the excitement of exploration has to give way to the real business at hand: the expansion of humans into space. I'm not just talking about space tourism, but mining, research, resettling, everything. We don't want to wait until the planet becomes uninhabitable. By the time that happens, we won't be able to do anything. My point is, humanity has to move out into space in a big way – and not just as a select group of astronauts or cosmonauts."
General Motors Chairman Tim Solso, who sits on the board of Ad Astra, says Chang is "making history" and that his concepts are "revolutionary."
That's a ringing endorsement for a relatively obscure company that few people outside of Costa Rica or the aerospace community have ever heard of. But Chang knows exactly how to present his sales pitch to skeptical investors.
"We don't talk about going to Mars, because this is not a good business right now," he said. "An investor wants to know how he's going to make money with this type of propulsion system. So we show the economics of reboosting the ISS. The fact is [that] NASA spends $210 million a year to keep the ISS from falling. We can reduce that by a factor of 10."
Maintaining the giant revolving space station in its orbit, he explained, requires 7,000 kilograms of rocket fuel annually. Sending each kilo of fuel into space costs $30,000, translating into an annual cost of $210 million. Chang says if plasma were used, only 300 kilos would be needed – translating into an annual cost of only $10 million.
"We doubled that just to be on the safe side, meaning we could do the same job for $20 million," he said. "We can reduce costs because we would pick up the package in low-Earth orbit. It would cost the same to get it there, but the journey from low-Earth orbit we would do with our tug, a refuelable space truck which would be waiting there."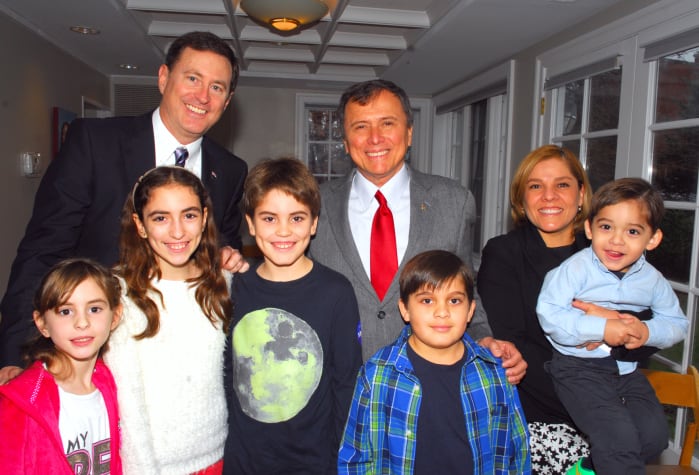 Chang said Ad Astra has successfully test-fired its VASIMR engine more than 10,000 times – and that its technology has applications for military and civilian use. After all, spy satellites must stay aloft as long as possible, and frequently must be repositioned quickly to trouble spots around the world as the need arises.
But winning a contract with NASA is like "pulling teeth," said the spaceman.
"My own agency that I love dearly has been a difficult nut to crack. For our little company, getting into space is essential. If we don't do that, we're dead," Chang said, explaining the reason for his frequent trips to Washington.
"The Chinese are moving forward to develop this technology as well. They're smart people and they've read all our papers, which are public documents. They have a space station and they've asked me if they can test our rockets. If the ISS isn't available, the only other remaining option is the Chinese. We can't do anything sitting in the lab. Investors will just walk away, and this technology will disappear from the United States."
But even with the Europeans, Japanese, Canadians, Brazilians, South Koreans, Russians, Chinese and Indians all getting in on the act, smaller countries such as his native Costa Rica need not be left out of the aerospace business, Chang concluded.
"I think Costa Rica has a good opportunity, just like any other country. I don't think there's that much difference among countries anymore, other than their GDP, their size and maybe the power of their military," he told us. "The fact that we have instant communications worldwide has leveled the playing field. You can do cutting-edge research anywhere on the planet, as long as you have a good Internet connection. So there is no excuse for Latin American countries not to get into this game."