WASHINGTON, D.C. – Panama, host of the VII Summit of the Americas next April, will see its economy grow faster in 2015 than anywhere else in the Western Hemisphere.
Emanuel González-Revilla, the country's new envoy to the United States, said Panama's gross domestic product is likely to expand by 7 percent next year. That's higher than the 6 percent growth recorded in 2014 – but not as impressive as the 8.5 percent growth of 2013.
In his first public comments since presenting his credentials to U.S. President Barack Obama on Sept. 18, the ambassador praised his own president, Juan Carlos Varela, who took office in July following an election campaign based on four pillars: social inclusion, revitalization of democracy and public institutions, economic development and national security.
"President Varela is committed to doing away with inequality, and wants to create opportunities for all," said González-Revilla, speaking Dec. 3 at Washington's Center for Strategic & International Studies. The panel was moderated by Carl Meacham, director of the Americas program at CSIS, and attended by about 35 government officials, business executives, NGO representatives, journalists and diplomats, including Román Macaya, Costa Rica's ambassador to the United States.
Doing away with inequality is a tall order, given the stark contrasts between the skyscrapers and glitz of Panama City and the rest of the country, where poverty is endemic. Although the IMF pegs Panama's annual per-capita GDP at a respectable $19,411 – putting it on par with Uruguay and Turkey – the World Bank says Panama suffers from one of the worst disparities of wealth in Latin America.
Accusations of corruption and mismanagement routinely plagued Varela's predecessor, Roberto Martinelli, which is why "Varela worked diligently towards the end of his term as Martinelli's vice president to distance himself from the former president's most fundamental positions," according to a policy paper issued in September by the Council on Hemispheric Affairs, a Washington think tank.
This could explain why González-Revilla made a point of contrasting Varela with the four previous heads of state who have been elected since U.S. Marines invaded Panama in 1989, overthrowing then-dictator Gen. Manuel Noriega.
"The president has said many times the government needs to serve the people, not benefit from it," the ambassador told his CSIS audience. "Corruption will not be tolerated at any level, and will be prosecuted to the full extent of the law. He wants his legacy to be that institutions are not politicized or subject to whoever is in power at the time."
He added: "We need to make sure there is no favoritism when it comes to doing business in Panama. We want complete transparency in every single government bid, because at the end of the day, corruption has a huge negative economic impact."
González-Revilla said that during Varela's five months in office, he's launched major initiatives in the areas of sanitation, clean water, low-income housing, health care and, most importantly, education.
"President Varela believes that education is the cornerstone of progress, and the way to fight crime and poverty," he said. "Specifically, with Panama being at the center of world trade, it's extremely important that our people speak English. We've had American bases in Panama for 100 years, so people think everyone in Panama speaks English. But that's not the case."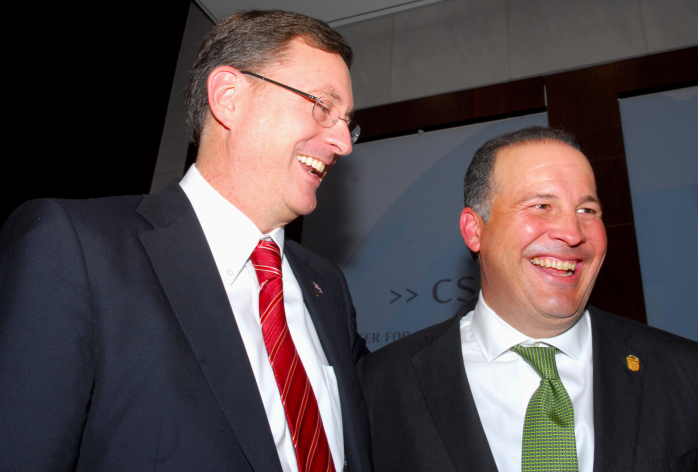 Aiming to have completely bilingual education by 2030, the Varela government has launched a pilot program to send 1,000 teachers to the United States for specialized English-language training. Eventually, 30,000 teachers will participate in the program over the next 15 years.
"The embassy is very much involved in coordinating these efforts, since this is being done exclusively with U.S. universities," he said, noting that 14 schools have signed up so far – including American University, Georgetown University and the University of Pennsylvania.
The bilingual González-Revilla has a bachelor's degree in finance from UPenn's Wharton School and a master's in accounting from the University of Miami. A prominent businessman, he was chairman of Panama Power Holdings Ltd. and Melones Oil Terminal Inc., as well as vice-chairman of Trader Tankers Ltd., before his appointment by Varela as ambassador in Washington.
He said he was "thrilled" at Panama's selection by the Organization of American States as host of the next Summit of the Americas. The event, scheduled for Apr. 10-11, has already generated headlines because it's the first since the series of OAS hemispheric summit meetings began in 1994 in which Cuba has formally been invited to participate.
"The timing is very interesting," said González-Revilla. "The region is doing extremely well as a whole, and according to some estimates, by 2020 Latin America will have a $10 trillion economy, with 640 million active consumers."
Yet Panama's own Trade Promotion Agreement with the United States, in effect since October 2012, hasn't done much for Panama's 3.9 million inhabitants.
"We're still trying to figure out how to exploit the FTA better. If you look at the numbers, it hasn't really benefitted Panamanian exports to the United States. It's more the other way around," said the ambassador, noting that last year, Panama imported $11 billion worth of goods and services from the U.S., while exports to the U.S. didn't even total $500 million. "There's a huge imbalance."
Clearly, he said, the single biggest boost to Panama's economy will be completion of a $5.3 billion project to widen the 100-year-old Panama Canal. The project, featuring the construction of a third set of locks, will allow the canal to handle post-Panamax ships with a capacity of up to 15,000 containers, instead of the current maximum of 5,000.
But the project has been plagued by delays, strikes and a bitter dispute over $1.6 billion in cost overruns with the consortium of companies carrying out the upgrade.
"We've had problems and delays, but it's about 80 percent completed, and we expect to have it done by the first quarter of 2016. That'll have a huge impact locally and internationally," he explained. "With the expanded canal, we'll be able to handle 92 percent of the world's ships. Today's trading routes will change once the project is finished, and that's going to have an impact not only in Panama, but here too."
The Panama Canal's added capacity will bring more revenues for infrastructure projects, he said.
"There will be increased investments in ports and logistics projects, power generation and renewable energy," he said. "With all this growth, there will be huge demand for hotel rooms, so the hospitality industry will grow too."
But neighboring Nicaragua's plan to build a rival 173-mile-long canal could pose unwelcome competition for the Panama Canal. Construction is set to start very soon on a proposed $50 billion canal linking Nicaragua's Atlantic and Pacific coasts, though the Chinese-funded project is extremely controversial – with critics saying the canal would be an environmental catastrophe should it ever come to pass.
Asked about the Nicaraguan project, González-Revilla said it would have a hard time competing with the well established and highly respected Panama Canal.
"A canal by itself is not enough," he replied without criticizing the Chinese venture in Nicaragua in any way. "You need service infrastructure to compete, and we've shown the world we can operate the canal efficiently. As with any business, another canal is competition, and whoever gives the best service will come out ahead. We just need to concentrate on what we're doing."