I wrote you on WhatsApp and you didn't answer, even though I saw you were online.
What are you doing, who are you with?
Are you really at work? Send me a picture.
I saw you were on Facebook early this morning. Who were you talking to?
Who is that you friended on Facebook?
If you don't answer me I'm going to post a picture of you naked on Facebook.
—
These are just some examples of violence against women in our current technological era, and they are becoming increasingly common. Cellphones, email, social media, instant messaging all translate to new manifestations of violence that are a violation of intimacy as a means of exerting control, often from a spouse, lover or former lover.
Margarita Salas, a Costa Rican feminist and activist, explained to The Tico Times that these stories represent the same phenomenon that has been seen before.
"This isn't something new, in the sense that women have been victims of violence by men and society in general for many years. This violence now has moved into the digital world, and unfortunately there are few ways to defend yourself because the influence that these social networks have on people's lives has really not been documented," Salas said.
She cited several examples, including one Facebook page and website that display photos of Costa Rican women – including minors. The Tico Times has refrained from publishing the name of that site because of its underage and offensive content. Some of these sites have been around for a few years and feature scantily clad women, often of lower economic status, in denigrating situations.
In a separate case, classmates targeted and harassed a high school student by creating a fake Facebook profile showing the victim's face superimposed on pornographic images. The posts included statements suggesting the victim was seeking sexual encounters, including prostitution. The aggressors posted the victim's phone number. That case was prosecuted by Costa Rican authorities.
Other cases involve men who use social media to seek revenge on former partners, such as sending out nude pictures and videos.
"One has to understand that this is all within the context of a machista society, where there is a double standard towards women. Why don't women send out naked pictures of their ex-lovers? Because society places a far lower value on the sight of a male's body than a woman's. Women are constantly watched and judged in terms of what they do with their bodies, including the need to appear virginal, pure and chaste. If a picture of a nude woman on social media was no more of an issue than a picture of a naked man, we wouldn't be seeing this type of extortion."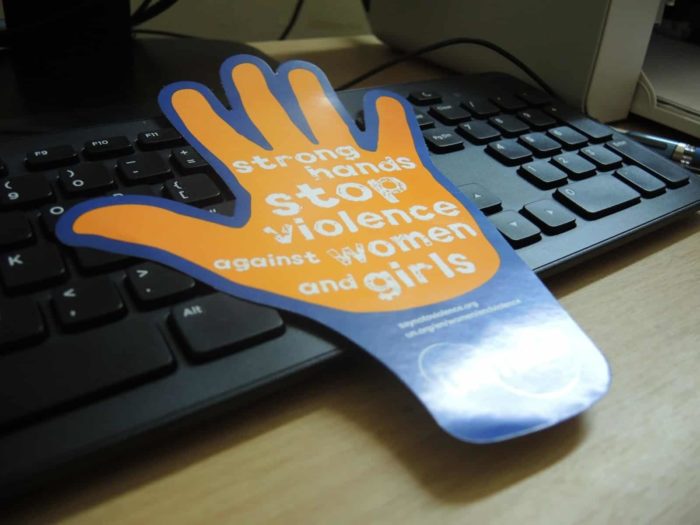 International Day for the Elimination of Violence against Women
To mark the U.N.'s International Day for the Elimination of Violence against Women on Nov. 25, Costa Rica's National Institute for Women (INAMU) and the Red Feminista contra la Violencia hacia las Mujeres (Feminist Network Against Violence Targeting Women) are planning a large march to draw attention to these and other issues.
For Ana Hidalgo, INAMU's coordinator of gender violence response, the use of technology – in this case, cellphones and the Internet – as a means of spying and controlling the lives of women is nothing new.
"This used to happen when all that we had were telephones. There are men who use the phone as a constant, ongoing tool to control women, to know where they are, to try and control everything about what they do. And even when there is really no relationship, some will continue the harassment using cellphones," Hidalgo said during an interview with The Tico Times.
"It's all about control during a relationship, and the new methods follow the same old logic of trying to be as possessive and controlling as possible, thus exerting power that scares women into believing it is impossible to maintain privacy. It's a type of emotional and psychological violence," Hidalgo said.
Nonetheless, she said Costa Rica still doesn't have any systematic database that tracks this kind of violence.
According to an international campaign called "Dominemos la Tecnología," online cyber-harassment "uses information and communication technologies to monitor and trace someone, which causes anguish and fear for one's personal security."
This includes sending threats or false accusations via blogs, chats or cellphones, sending undesired communications frequently with sexual overtones, stealing someone's identity and personal information, and spying and tracing computer or Internet use without a person's permission.
A report called "Voices from digital spaces: Technology related violence against women," prepared by the Association for Progressive Communications (APC), points out that those who commit this type of violence use GPS applications on smartphones, and are able to obtain passwords that they use to monitor text messages and incoming calls. They also steal and distribute personal, sexual photos and recordings from women without permission. In some cases, the Internet is used to distribute fake notices and messages to attract women into situations where they are sexually assaulted.
Isabel Rojas, a researcher at the Sulá Batsú Cooperative, explained that communications technology should be treated with the same logic as other everyday situations. For example, problems could start with a simple password request.
"Many times you hear couples asking each other for their passwords as a show of commitment and proof that there's nothing to hide," Rojas said. "But for the same reason you're not obligated to hand over your house keys, you are under no obligation to share your passwords or email address, because these are all invasions of your privacy. You must have a clear understanding of the boundaries of what is personal and private and not cross those boundaries. It is not proper to ask for or share passwords."
She added that, "You shouldn't have to justify what you're doing when using social media. If you are unable to answer a message immediately, you are under no obligation to explain yourself to anybody else."
Along these lines, Salas added that people often are confused and don't understand that jealousy is not a demonstration of affection.
"The type of behavior we're seeing has to do with control. It's not about whether or not I'm worried about you. It's about showing that I'm upset because you didn't answer when I wanted you to. It's important to remember that women have as much right to be autonomous and manage their time and lives any way they want," she added.
Watch a video of "Take Back The Tech!" a campaign promoting the creative use of technology to end violence against women 
The harm caused to women by this type of violence is primarily psychological and emotional, including fear, rage, stress and depression. Rojas said the harm is manifested in the same way as verbal, physical or emotional aggression.
"People become anxious and preoccupied, and they aren't able to enjoy things they happen to be doing. The recurring thought process is: 'I have to answer,' 'I have to monitor all my messages,' 'I can't allow anyone to take pictures of me,' 'I can't be friended.' All of this reflects that someone is suffering from some kind of violence using social media," Rojas said.
Anonymous
Some aggressors think they're committing acts of violence anonymously and from afar, and that they can't be identified and won't face justice. But their actions can be traced through service providers.
Hidalgo said this type of violence can be reported, and victims should keep texts, voice messages or Facebook posts to be used as evidence.
In the case of phone calls, judges can order telephone companies to provide a list of callers, which can be used in court.
"Sometimes a distinction is made between the real and virtual worlds, and one shouldn't make the mistake of thinking the virtual world is anything but real. It is just as important to keep as much proof as possible of any type of abuse to be able to make your case, whether virtual or 'real.' These kinds of cases fall under the same legal category as any abuse against women," Salas said.
Internet service providers are required to maintain records of information shared via their services for a certain period of time, and they retain the right to suspend Internet service if it can be shown that networks are being used unethically.
According to Salas, "when a contract is signed with a service provider for Internet services, the person is agreeing not to use it for nefarious purposes. Thus, using these services to cause violence against women is definitely a good enough reason to suspend a user's service."
She added that it is possible to identify where a computer is located and when it is being used to send these types of messages.
In more complex situations, such as identity theft where the perpetrator is unknown, crimes should be reported to the Information Crimes Unit at the Judicial Investigation Police.
Rojas thinks the problem isn't whether or not one has a legal recourse, but rather it's more an issue of lack of knowledge.
"Most people have no idea where to go if they're suffering this kind of violence, and they don't realize that it can be reported and prosecuted. People sometimes think that if you're on a phone line or in front of a computer you can't be found and won't go to jail, as if there are no consequences," she said. "But there are."
—
What: The march "Sin retroceso: Defensa y avance de los derechos"
When: Tuesday, Nov. 25, coinciding with the International Day for the Elimination of Violence against Women, 9 a.m.
Where: Parque de la Merced, San José, and then on to the Legislative Assembly
More info: Click here