See also: Elena Poniatowska: Mexican student massacre reminiscent of concentration camps
MEXICO CITY — The Mexican police accused of kidnapping 43 students in Guerrero state two months ago and handing them to a drug gang didn't dodge the government's vetting process. Most of the officers involved had actually cleared it.
In Sonora, a state prison chief remains on the job three years after he failed his background check. And in Jalisco, a mayor said he wants to re-test officers found unfit to serve — because he can't afford the severance payments if he fired them.
The cases, across Mexico, shed light on how corruption in law enforcement has continued to fester under President Enrique Peña Nieto as he focused on economic improvements and an international image makeover for the country.
"The Peña people dropped the ball on pushing ahead with police reform," said Vanda Felbab-Brown, who investigates drug war conflicts for the Brookings Institution in Washington. "Often they would simply want to shove security issues under the rug. Focusing on deep economic issues was important, but could have been combined with attention to security."
The national center that vets police has been without a presidentially appointed director since October 2012, about three months after Peña Nieto won election. He took office in December of that year.
While the federal government says all police have undergone background checks, the reviews fail to probe financial records that might uncover ties to criminals, said Causa en Común, a nonprofit group that tracks law enforcement and has a seat on the nation's public security council.
In a Radio Formula interview last month, Interior Minister Miguel Osorio Chong said that as long as the reviews don't point to criminal activity, towns that can't immediately fire officers should take them off the streets until resources and replacements are found.
State and municipal governments are responsible for ensuring the quality of their own officers, Osorio Chong said. While the federal government can offer some help, he said, "we don't have officers to cover all of the municipalities."
In the case of the missing students, the government alleges gang members probably incinerated their bodies and dumped the ashes into a river after the local mayor ordered police to round them up. More than 20 police from the town of Iguala were arrested. The rest were disarmed and sent to a military base. Three-quarters of the force had passed the vetting program last year, according to town records.
The case has sparked protests in several states, including the temporary blockade of an airport in Guerrero. Earlier this month, protesters burned a door to the president's National Palace in the capital. Demonstrators, many organizing through social media, plan to temporarily block Mexico City's international airport on Nov. 20.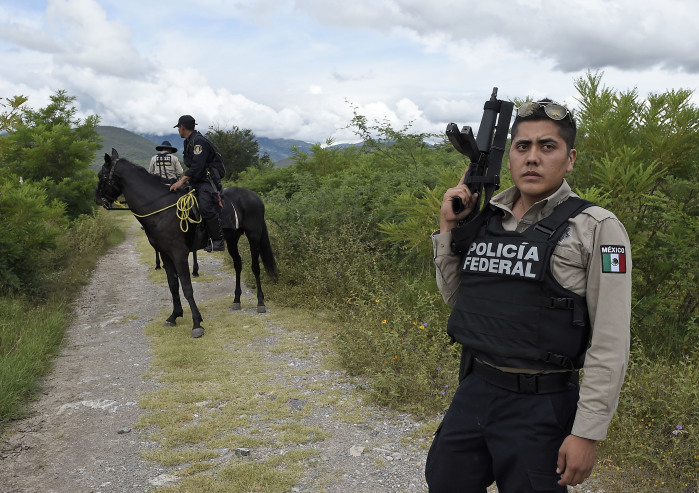 In a Brookings report this month, Felbab-Brown wrote that Peña Nieto has focused too heavily on capturing kingpins such as Joaquín "El Chapo" Guzmán, when the administration should be strengthening police training, vetting and salaries.
Flaws in the review system aren't isolated to Guerrero. Ricardo Ornelas, the director of prisons for the northern state of Sonora, said in an interview that he refused to complete his vetting exam in 2011 because he objected to queries about his family. His score deemed him "not recommendable" to run prisons, according to federal records that Sonora-based newspaper Expreso reported and that Bloomberg News viewed.
"The tester was asking me all these personal questions so I told him, 'I'm not here to chat, dude, I'm here to take some tests,' " Ornelas said in a telephone interview.
Ornelas took the job without previous experience in security after his predecessor was found murdered in his home in 2011, during former President Felipe Calderón's rule. The prison chief said he was asked to take the test shortly after he assumed his post, but only learned about his result from a reporter earlier this month.
The Mexican government did not respond to repeated requests for comment about criticism of the police vetting process. At a Nov. 7 news conference, Attorney General Jesús Murillo said "it's evident that many things must be changed" in the justice system, and he promised to announce those changes soon.
Even while operating within the rules of the police evaluations, some local officials may prove to be an obstacle to improving oversight.
In the town of Miguel Alemán in Tamaulipas state, Mayor Ramiro Cortéz said he plans to relieve traffic cops who fail the review they took last month and rehire them as civil protection workers, or emergency-aid personnel.
"It's their decision," Cortéz said in a telephone interview. "They receive the proposal, and if they want to abandon public service they're compensated and can find other opportunities."
Then there are mayors like Ismael del Toro of Tlajomulco, in the western state of Jalisco. Of his 600 officers, 100 didn't pass their background checks. Thirty are being investigated for possible links to criminal groups. He wants the other 70 to be re-tested because he doesn't have the budget to pay all of their severance.
"We have to let a big number of policemen go at once," del Toro said in an interview. "This leaves us with very few officers to fight crime."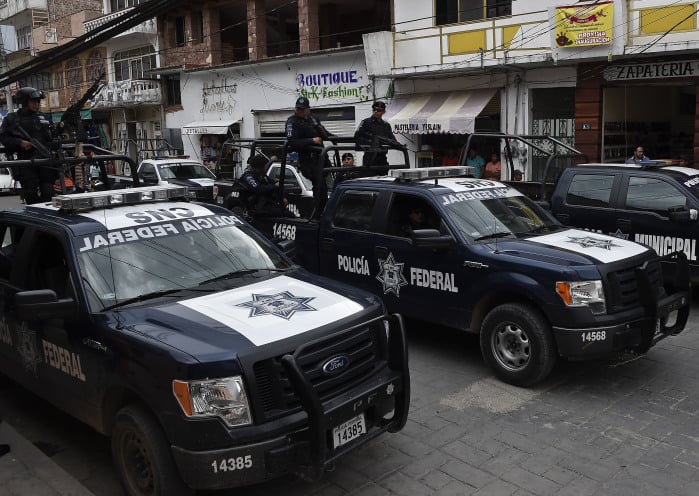 About 6 percent of federal security and immigration officials, 10 percent of state police and 13 percent of municipal officers didn't pass their tests and are in the process of being purged, as of Oct. 30, according to the federal government. The Interior Ministry declined to reveal how many of them have been fired.
Jorge Tello, who served in 2009 as executive secretary of the National Public Security System, which oversees the federal vetting center, estimated that about one-fifth of police who fail the tests remain at their posts.
Even if all municipalities had the money to replace cops who failed reviews, critics say, the background checks themselves are flawed. By law they must include polygraphs, drug tests, psychological evaluations, medical exams and checks of a job candidate's lifestyle. In practice, the exams rely heavily on lie detectors and don't check financial records against test takers' responses, said María Elena Morera, who heads Causa en Común.
Del Toro, Tlajomulco's mayor, agreed. It would be more effective if the tests "verified if the officer has a lifestyle, a house, car, that matches his salary," he said. "I've never seen the socioeconomic part even mentioned in test results given to us."
Mexico first began vetting police decades ago, though the program gained steam under Calderón when he signed new testing guidelines into law in 2008. It may require more time for improvements to take hold, as the government is constantly improving the system, said Tello, who is now a professor at the Government and Public Transformation School of the Monterrey Technological Institute.
When Peña Nieto returned the Institutional Revolutionary Party to power in December 2012, he promised better coordination between the federal and state governments on crime fighting.
Guillermo Valdes, who from 2008 to 2011 led the state intelligence agency, Cisen, when the tests were introduced, said the effort is heading in the wrong direction. More federal oversight is needed to ensure municipalities and states are using the exams to purge corrupt officers, he said.
The federal government "absolutely didn't give a damn," Valdes said. "They didn't care at all about implementing the test."
See all our stories on the missing students and Mexico's security crisis here
© 2014, Bloomberg News