Ms. Maribel Madrigal, in an article entitled "Autism: A human condition, not an insult" that appeared in The Tico Times on Oct. 20, 2014 referred to me specifically. Therefore, as is my right under Article 4.1 of the American Convention on Human Rights, I offer this response to the statements made in the article.
The phrase "We're not autistic," which I used during an interview I gave to a journalist when speaking of dangerous budget cuts, is commonly used when speaking of politics in Costa Rica. To cite that phrase out of context and somehow associate its use with a lack of sensitivity on my part towards those with autism or any other disability would be a serious mistake. It is one thing to say "political autism" as a political concept, and a very different thing to refer to autism as a clinical condition.
This latter use of the term did not come about until 1943 – 32 years after it was originally defined by Eugen Bleuer of Switzerland in 1911 to describe a type of behavior characterized by a pathologic tendency by any person to live in his own world while ignoring what was going on around him.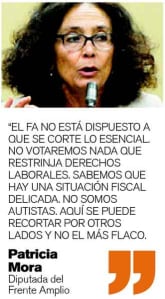 To be clear, when I used the term "autistic" I was directly referring to the original definition of the word, as defined by the Real Academia Española, to suggest a type of behavior in which one is entirely self-absorbed in one's own idealized world, and is unaware of the world around him.
To use my words out of context and attempt to somehow relate them to the second and later definition as a means of accusing me of a lack of sensitivity towards those with neurological conditions is not only unjust, but dangerous, because it both victimizes those who suffer on a daily basis from people who discriminate against them because of their lack of knowledge about autism, while, at the same time, shifts our focus away from the very important issue I was alluding to – the debate about the social framework upon which our national budget should be based.
A number of people worry about my comments in regard to budget cuts because the Broad Front Party will not allow items that affect essential needs to be touched, nor permit the basic labor rights of any Costa Rican to be negatively impacted. Because the enemies of the Social State have not been able to defeat our proposals in this regard, they have resorted to attacking us personally using those with disabilities. Nonetheless, let us not forget that the underlying issue under discussion is our national budget and the financing of social programs. This issue will not go away.
Now, clearly my use of the term "political autism," when used figuratively as I did in a different context, may hurt those who suffer from the condition also known as autism, as well as their loved ones. This has unfortunately been the case here, and I offer my sincere apologies to them.
However, what can't be done is to try and turn criticism into censorship, by trying to quiet those who say things we don't like by forcefully distorting what has been said, as has been done with my statements regarding extremely dangerous budget cuts to social programs, by demonizing phrases or through an offensive attempt to silence those voices. It is my belief that in a democracy there is a limit to the right of free speech when it is specifically intended to provoke violence or strip away the fundamental rights of other people.
I take this opportunity to accept Ms. Madrigal's invitation, as president of the Autism Association of Costa Rica, to attend the "Specter of Autism" workshop, while pointing out that critical initiatives, such as the Integrated Autism Center that her association champions, would not be possible if state funding of social programs is eliminated. Let us not forget what we are really talking about.