MANZANILLO, Limón — Swimming in their tiny aquarium on Manzanillo beach, on Costa Rica's Caribbean Coast, the group of four lionfish were the most beautiful sea creatures I had ever seen. Their vibrant stripes glowed through the aquarium's green glass and their elegant fins seemed to flutter like wings. But my fascination with the alluring fish was quickly interrupted by the approach of a mob of swim-trunk-clad men holding spears.
"Let's kill some lionfish," one of them said. They posed for a picture and then headed out to the boats for the day's planned lionfish slaughter.
To an uninformed observer Manzanillo's Sept. 27 lionfish hunting tournament may have seemed like yet another trophy fishing contest, but the event, now in its third iteration, is actually at the forefront of a fight to save Caribbean coral reefs.
Native to Indo-Pacific waters, the lionfish is an invasive species in the Atlantic. There are several species of lionfish, but the two that are predominate in Costa Rica are Pterois miles and Pterois volitans. The fish was first spotted off the Florida coast in the 1980s, likely introduced by an irresponsible aquarium owner, and has quickly made its way across the entire coast. The lionfish seems to have been custom-built with evolutionary features to destroy the Caribbean Sea, and few invasive species in human history have been so destructive. They are insatiably hungry, able to eat up to two fish per minute and wipe out 80 percent of native reef species within five weeks of moving to a new territory. They are successful reproducers, as females can lay up to 30,000 eggs a year. And they lack natural predators — their poisonous spines make them impossible for any Caribbean species to prey on.
At this point, a complete lionfish eradication is all but impossible, and affected countries are now scrambling to find ways to incentivize mass lionfish killing. In August, the U.S. state of Florida banned  the import of lionfish in hopes of growing a local commercial market and other governments are adopting similar strategies to abate the fish's calamitous spread. In Costa Rica, it is local fishermen — not the government — battling on the front lines of the lionfish war. Spurred by a desire to protect both their businesses and their coasts, fishermen have convinced restaurants throughout the Southern Caribbean to serve the fish and are now developing a strategy to fill the growing demand with a  steady stream of dead invasive lionfish.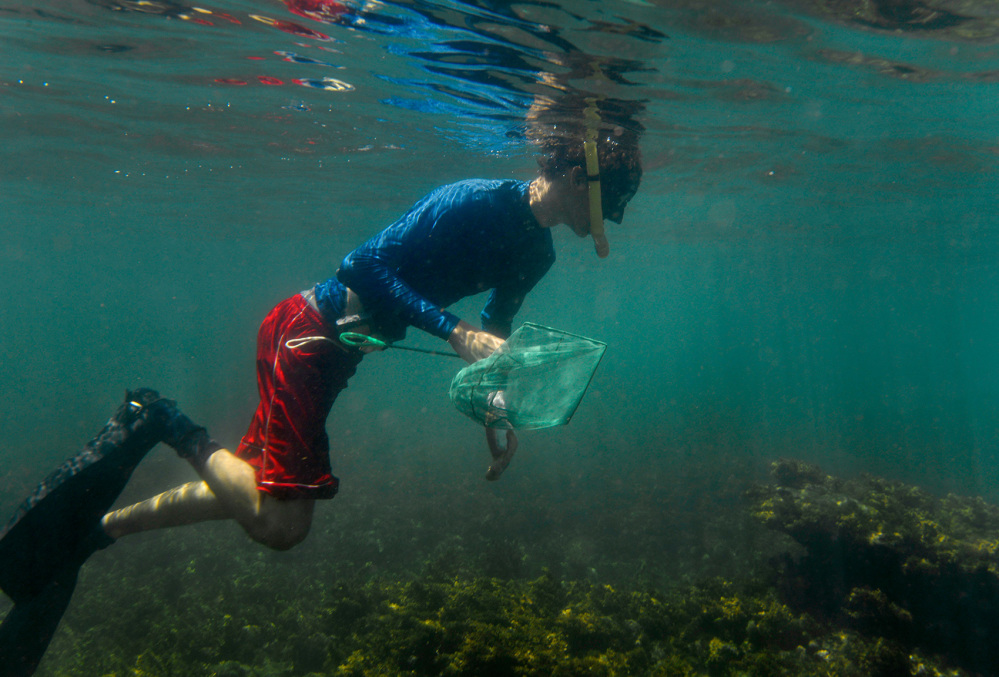 The problem
Costa Rica managed to stave off a lionfish invasion until 2009, when fishermen first started to notice the spiny beauty among the lobster in their fish traps.
"The first time there were one or two in my traps," said José Ugalde, a member of the Southern Caribbean Artisanal Fishermen Association (APACS). "The next time there were 5, then 10, then 15, and then I started pulling up traps that were only full of lionfish."
There are now approximately 90 lionfish per hectare in Costa Rica's Caribbean waters. They tend to occupy the same areas as lobster and prey on the same small fish, displacing or killing off the valuable crustaceans. Since 2009, Caribbean lobster fishermen have reported an 80-87 percent decrease in their catches and a corresponding dip in profits.
Other industries in Costa Rica have remained largely unaffected by the invasion, but left unchecked, the lionfish could kill off native species that attract divers and snorkelers and scare off swimmers who fear the spiny creature's painful sting.
"Our priority is to capture as many as possible," said Jackelyn Rivera, an adviser with Costa Rica's Waters and Oceans Vice Ministry. "Our fear is that in the future you will go to the beach and not see anything but lionfish."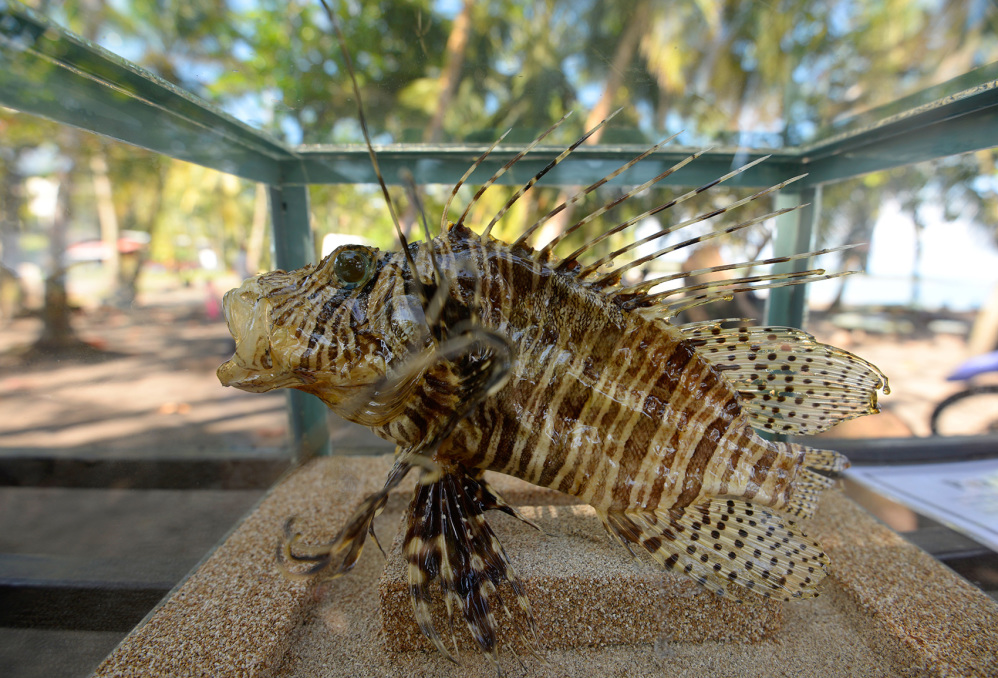 Fighting back
Off Manzanillo's shores, dozens of snorkelers bob along the ocean's surface. Armed with nets, harpoons and three-pronged Hawaii pole spears, the snorkelers breathe deep before diving down to scour the shallow reefs, occasionally returning with a zebra-striped prize.
"We are the lionfish's only predator," said María Suárez, another APACS member. "Three years ago, we decided that we needed a lionfish campaign to protect our coasts, and we decided the best way was to involve the community as much as possible."
The campaign started small. First, APACS members taught locals how to fish for lionfish; then in 2012 they held the area's first fishing tournament with almost no government funding or assistance. The tournament has now grown, pulling in donations from nonprofit groups and funds from the Environment Ministry. This year's snorkel and free-dive tournament had more than 60 participants and had prizes for the largest fish, the smallest fish and the most fish caught per team. Winners were awarded sets of snorkel gear so that they would continue fishing after the tournament's end.
The hope is that tournaments will help make lionfish hunting a popular hobby for both locals and tourists, but APACS members have struggled to convince people that fishing for the spined creatures is safe. Though lionfish stings are notoriously painful, the fish are not aggressive towards humans, and catching one is relatively simple.
"To tell the truth, the lionfish is actually very meek," Ugalde said. "Anyone can catch one."
But the real challenge is finding one. Despite their abundance, lionfish are not always easily spotted by snorkelers. The fish migrate frequently to fill their voracious appetites and though they do frequent shallow reefs, larger numbers hang out in deeper waters of up to 150 meters.
"These fishing tournaments are great to spread awareness and engage the community," Rivera said, "but no scuba diver can go that deep. We need a different plan if we are really going to control these species."
Lobster fishermen already found one possible solution, by accident. Since lionfish have displaced many of the area's lobsters, lobster traps are now repurposed to capture large quantities of lionfish. But while the technique is proven to work, it's an expensive luxury most fishermen can't afford without a significant return on investment. In order to give fishermen the incentive they need to go out and catch lionfish, the members of APACS realized they would have to make lionfish a commercial success.
"The only way this will work is if we develop a strategy that includes the fishermen and benefits the fishermen," Suárez said. "That means teaching people that lionfish are safe to eat and also delicious."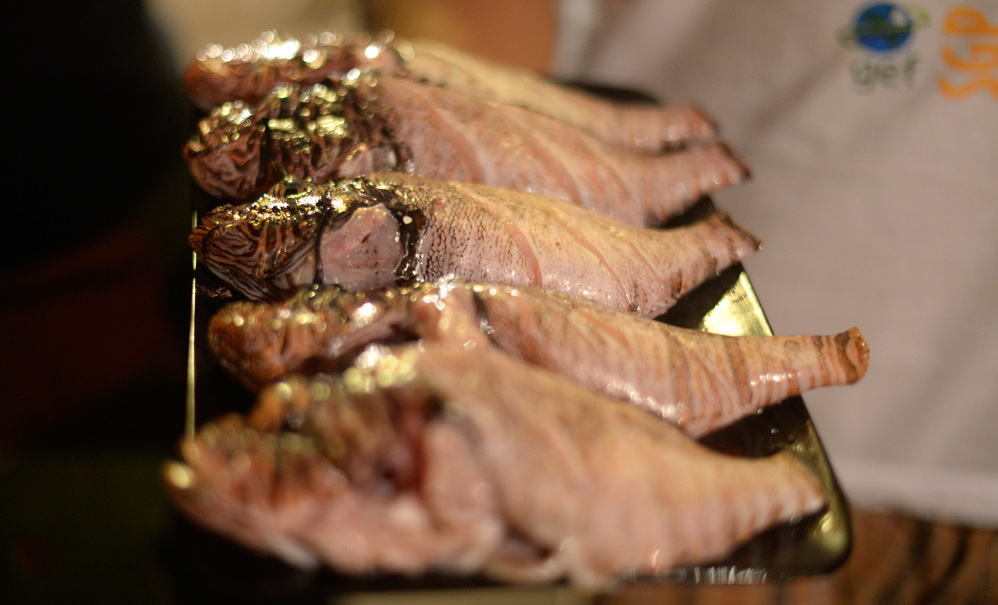 The cuisine
Spineless, finless and free of their entrails, the bounty from the lionfish tournament looks much less intimidating than it did swimming in the sea.
The tournament has ended and the preparations for the event's after party have begun. Of the 108 lionfish caught during the tournament only half are sizable enough to be eaten. Hugo Zamora, the manager at Puerto Viejo restaurant La Esquina, bought up the whole lot for the night's special: lionfish in Caribbean-style curry. Zamora was the first in the Southern Caribbean to begin serving lionfish at his previous restaurant. The fish costs less than lobster and other types of fish, but Zamora has a different reason for buying filets of the marine intruder.
"They are a plague," Zamora said. "The fish is delicious, people buy it, but this about helping the community and helping the environment."
Heavier and more durable than most whitefish, lionfish can withstand almost any cooking technique. In Puerto Viejo, chefs will fry it, roast it and put it in soup, and the local sushi restaurant even has a special lionfish roll. The fish's versatility in the kitchen has made it easier to assimilate into the local cuisine. It's perfect for the traditional dish rondon soup, which requires a tougher meat.
"Most places will serve it now," Ugalde said. "In fact, it's becoming so popular that it's hard for us to fill the demand. I guess that means we are doing something right."