An airliner hovered over the runway, seemingly still, as if freeze-framed against the golden backdrop of Guanacaste. Then it slid slowly through the air, picking up speed, before the roar of its engine washed over the endless fields, and the jet's wheels touched down behind me.
Fourteen months earlier, my family flew to Daniel Oduber International Airport to attend my wedding in Papagayo, a short drive down the very road I was now biking. We converged at an all-inclusive hotel and celebrated our nuptials on a beach at sunset. Every time I see Liberia's international airport, I think fondly of that weekend.
This sentimental fact was part of my decision to end the trip in Playas del Coco, and not in, say, Tamarindo. It seemed fitting to conclude my travels on that very same coast. Even if my wife Kylan couldn't meet me for the final leg, I loved returning to our little stretch of ocean.
And anyway, it's the closest beach to Liberia, and I was ready to wrap things up.
•
"The roads are going to be insane," people told me. "Even if you drive, you'll never get back that Sunday. Easter is the day that everybody comes back from the beach."
"Seriously," they implored. "Something like a million people end up on the road in a single afternoon. It's a death wish."
Easter has always been a strange holiday for me, so riding a bike through baking hot Guanacaste on the Christian feast day felt par for the course. I have lived far from my hometown since I was 17, and I have always relied on sympathetic Catholic friends to invite me over for dinner. This time I was completely alone, riding a bicycle in the opposite direction of immeasurable waves of traffic.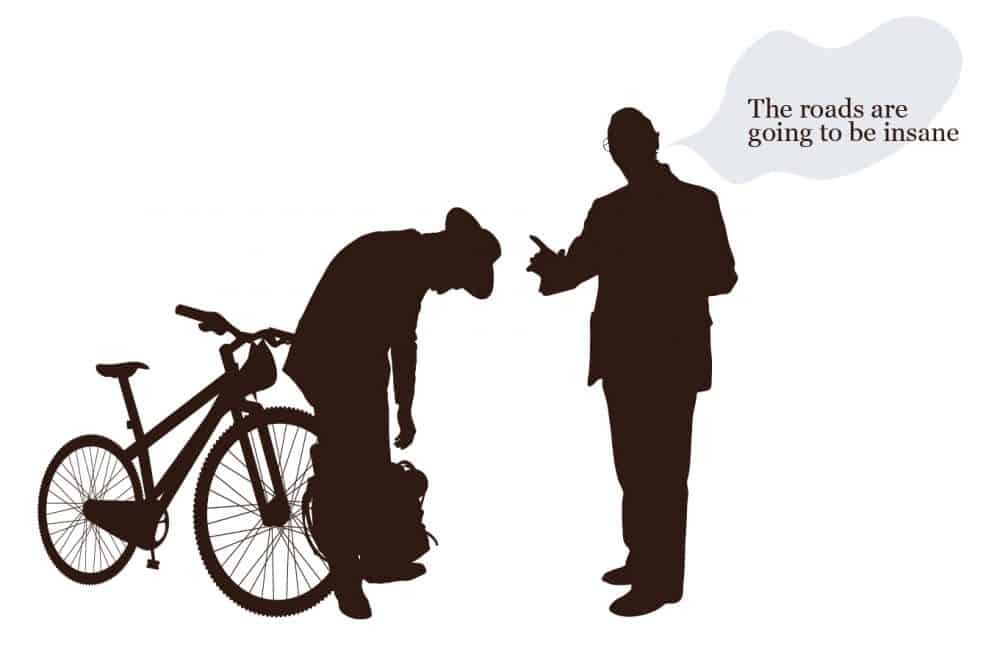 But against all odds, there wasn't much traffic. If anything, the roads were clearer than ever before. It struck me as an Easter miracle – a cosmic accident that happened to work in my favor. I biked for mile after mile, storming toward the final ribbon of mountains that held back the sea. The morning was hot and bright.
I strained up a final crest, and then I relaxed – the wide highway descended toward town, a gift of gravity that eased its way into flatness. As buildings replaced skeletal trees, I wanted to scream to everyone I saw, Do you see this? Do you have any idea what's about to happen? Check it out, everybody! A 14-year dream is about to come true!
But the people of Playas del Coco went about their business, crossing streets, leaning against the hoods of their cars, browsing in the stalls. No one noticed when I hopped the curb and thumped into the beach. I looked like any other cyclist, pushing my bike across the swathe of sand, which caked beneath my Keens. The swimmers kept swimming, the sunbathers kept lying on their towels. The moment was almost silent, except for the subtle rush of a wave trickling over my feet, seeping between the spokes of my wheels.
Nobody saw me, and nobody had to see. I had biked 450 km. I had crossed the isthmus, from Caribbean to Pacific. And the cool rush of water was enough.
•
That night I wandered around Playas del Coco, where the beach was packed with partygoers. Everyone celebrates Easter in their own way, and in Coco, it's with drunken salsa dancing and random fireworks exploding directly over your head. I knew some people in Coco and I thought about calling them, but I wanted to relish this moment on my own. I wasn't yet ready for familiar faces.
Costa Rica is a small country, Ticos keep reminding me. We're the size of one state in the United States.
I appreciate their modesty, but there is nothing small about Costa Rica. Standing in Coco, Limón seemed as far away as Saturn. I had crossed coasts, plains, mountain ranges and rain forests. I had taken the long way across. Yet it only felt like a tiny slice of a far vaster country. I had seen so much, only to realize how much more there is.
•
Many thanks to everyone who has joined us on the Pura Vía journey. Interested in planning your own cross-country trip? Here are some folks who can help you get started.