WASHINGTON, D.C. — Apple released its much-anticipated smartwatch Tuesday, the first new device for the company since its founder Steve Jobs died in 2011.
Called Apple Watch, the device, besides telling time, will have broad applications, the company pledged. It will be able to unlock doors to hotel rooms at Starwood hotels next year. Users can check into airlines, get directions as well as accomplish some basic tasks that are familiar to smartphone users, such as send out tweets, reply to messages and answer and make phone calls. The price starts at $349; the watch will be available early next year.
The new watch which sports a flexible screen, a "digital dial" that allows users to access apps and a band that can be swapped out. The device, which has to link up to an iPhone to fully work, comes in two different sizes and several different finishes.
Apple also took aim at the increasingly vulnerable credit card system, integrating a mobile payment system called ApplePay into its new iPhones. The effort, which has been tried unsuccessfully by several tech companies in the past, allows a consumer to store their credit card information in their phones and swipe the phone at new payment machines that are expected to be installed in stores across the country.
The company promised a safe and secure system. It said Apple won't monitor anyone's shopping history. And, if the phone is lost, a user can easily cancel all transactions remotely. American Express, Visa and Mastercard in conjunction with nearly a dozen of the U.S.' largest banks are participating in the effort. Apple also touted 220,000 stores will now except the new form of payment, including McDonald's, Whole Foods, Disney theme parks and, of course, Apple's own retail stores.
As expected, the company unveiled two new versions of the iPhone Tuesday with bigger screens, as the company tries to catch up to competitors who have won over consumers increasingly using their phones to display videos and photos.
The new phones — an iPhone 6 with a 4.7 inch screen and a super-sized iPhone 6 Plus with a 5.5 inch screen — were unveiled at the start of the event by Apple chief executive Tim Cook at the Flint Center, a 2,400 seat auditorium where Jobs launched both the original Mac and the iMac. The new iPhone 6 starts at $199 with a two-year cellular contract, while the larger iPhone 6 Plus starts at $299. Both will be available on Sept. 19.
To get around the tricky design problem of how to use a bigger phone with just one hand, Apple is offering a feature that lets you slide your display down to the bottom of your screen so you can reach everything with your thumbs.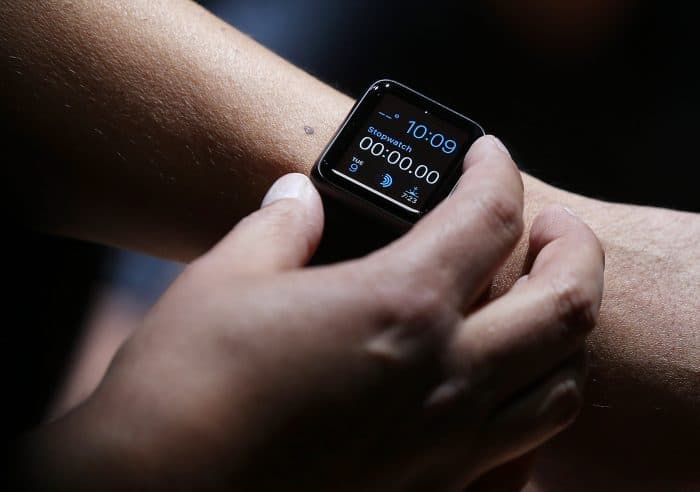 The new phones also have a new A8 chip, which Apple says is is 13 percent smaller and has up to 25 percent better performance. Schiller says that it's up to 84 times faster at processing graphics than the original iPhone. Battery life, an Apple executive said, is the same or better than previous versions of the smartphone.
For the event Apple added a new building — a roughly three-story, white boxy structure next to the Flint Center, which the company is likely to use as a showroom for its new products.
Revolutions, of course, were par for the course for the firm under its late co-founder and chief executive Jobs, who changed the industry forever with the iPhone, the iPad and the Mac. Three years after his death, Jobs still casts a long shadow over the company.
Analysts often question whether Apple's culture of innovation can be sustained without Jobs at the helm, or whether the tech giant can deliver a life-changing product yet again. The lower-cost iPhone 5c unveiled exactly a year ago, for instance, underwhelmed consumers.
Still, under Cook, the firm has continued to be wildly profitable — posting $7.7 billion in profit during its historically "quiet" June quarter alone. But Apple has seemed to be more in maintenance mode than on the cutting edge.
In the past year, however, even traditionally tight-lipped Apple executives have talked up their plans for new products. Cook has said repeatedly that Apple has some great products coming down the pike. Eddy Cue, the firm's vice president of iTunes and cloud services, went even further, saying publicly that the company has the best product pipeline he's "seen in my 25 years at Apple."
Sifting through Apple's latest moves, the firm seems to be expanding the phone beyond just a communications device into a sort of universal remote for users' lives. Its new operating system, iOS8, is due out this fall and is designed to pull information from a variety of health and fitness applications, as well as from Internet-connected appliances such as Nest's successful smart thermostat. With the new software, for example, users will be able to direct Apple's voice-controlled software Siri to "lower the temperature" or ask, "Is my door locked?"
Collecting all of that data means Apple will have to provide security assurances for its cloud services, which recently got a black eye when hackers stole several sensitive pictures of celebrities from iCloud accounts last week. In response to the attacks, Apple has vowed to offer users more options to protect their own data.
© 2014, The Washington Post