What do pen-and-ink drawings and Instagram hashtags have in common? Colorado-based street artist Kelsey Montague.
After working as a social media strategist in New York, Montague merged her love of social media with her passion for drawing by creating an interactive street art project. She started by painting a pair of angel wings in New York along with the hashtag #whatliftsyou. Visitors to the mural were encouraged to interact with the piece and post photos to Instagram accompanied by the hashtag. There are now more than 3,000 photos posted on Instagram with the hashtag and another mural in Colorado. Even celebrities Taylor Swift and Vanessa Hudgens have joined in.
http://instagram.com/p/qpKbP6h5uR/?modal=true
http://instagram.com/p/qmjwx-B5pO/?modal=true
Costa Rica got a pair of wings over the weekend, for Montague's #whatliftsyou international debut  at the Hotel Milvia in San Pedro, San José. A few Instagrams from Costa Rica have already started to pop up.
http://instagram.com/p/sFdrR1w1Mz/?modal=true
http://instagram.com/p/sFr2Q2v8nw/?modal=true
Even the U.S. Embassy's Chargé d'Affaires, Gonzalo Gallegos, showed up for a shot with the mural.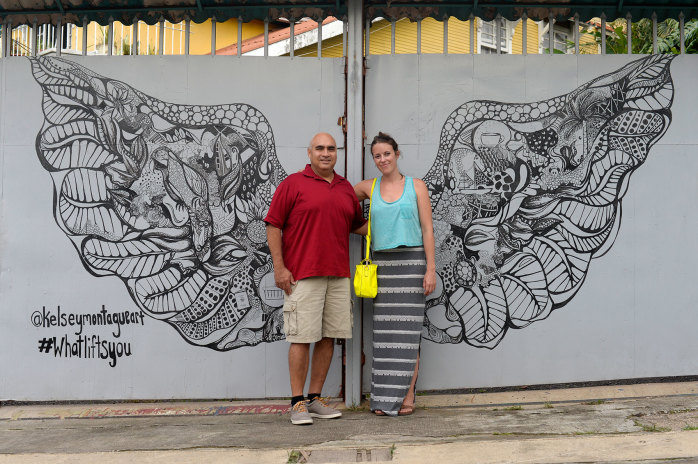 You can find more of Montague's work on her Instagram page @kelseymontagueart. Here are some of her Instagrams from her trip to Costa Rica.
http://instagram.com/p/sAtSfih5t9/?modal=true
http://instagram.com/p/r-UinoB5vi/?modal=true