Representatives from the Japan International Cooperation Agency (JICA) and the Costa Rican Electricity Institute (ICE) on Monday afternoon signed the first contract for a multimillion-dollar loan to finance Las Pailas II, a geothermal energy project near the Rincón de la Vieja Volcano, in the northwestern province of Guanacaste.
Costa Rican President Luis Guillermo Solís attended the signing ceremony, saying the planned geothermal projects "will not interfere with territory in national parks." Instead, he said they involve "new technologies that permit the exploration and utilization of wells without damaging conservation areas."
Also attending the event at San José's Casa Presidencial were JICA President Akihiko Tanaka and ICE Executive President Carlos Obregón.
Tanaka lauded Costa Rica as "a country known for its commitment to the environment," adding that the country's "energy matrix is a model for the rest of the world."
Tanaka said Japan "is willing to collaborate, together with Costa Ricans, on projects that confront global climate change."
In November 2013, JICA and ICE signed an agreement to extend ICE $560 million in credit over a 40-year term with interest at 0.6 percent.
The loan, approved by Costa Rica's Legislative Assembly last month, is earmarked for La Pailas II, Borinquen I and Borinquen II geothermal projects, which are expected to produce 165 megawatts of electricity, according to ICE.
On Monday, Obregón said, "With this first loan contract, ICE can guarantee energy availability at very favorable financial terms."
Las Pailas II will begin operating at the end of 2018 and will add to electricity produced by Las Pailas I, which currently generates 35 megawatts, Obregón said.
In coming months, Costa Rica also will sign loan contracts with JICA for Borinquen I and Borinquen II.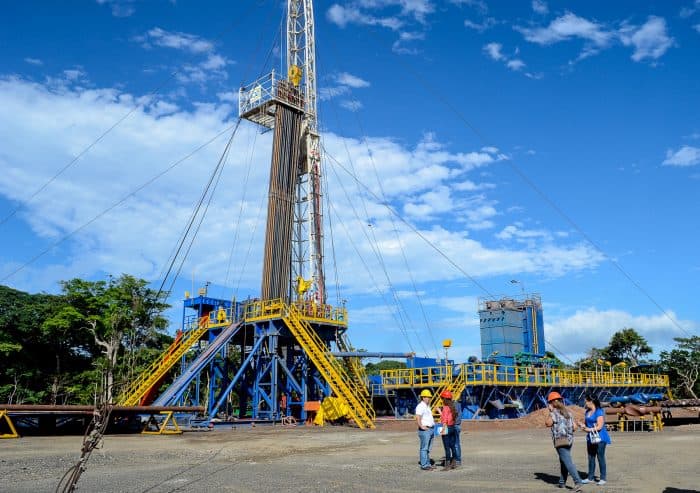 Costa Rican law currently prohibits energy production within national parks. Asked about the possible environmental impact of the three geothermal projects on Rincón de la Vieja National Park, Obregón told The Tico Times that, "Both Pailas I, which currently is operational, and Pailas II are outside of the national park."
"The equipment area [and] the well sites are outside [of the Rincón de la Vieja National Park]," Obregón said. But he clarified that some of the wells used "directional drilling."
"That means, first of all, that the sites are optimized; we don't have to be drilling in different areas, which means less damage. The drilling simply takes place on specific platforms where we can place several wells, via directional drilling," he said.
"Some of these wells do take part of the subsoil; they enter into the same geothermal recipient," Obregón added.
Asked if that recipient is located within the Rincón de la Vieja National Park, Obregón responded: "The geothermic area is one single area. A well is utilizing the geothermic area, or the site where the geothermic area is found."
The Tico Times also asked Obregón if there is any link between the contract Costa Rica signed with JICA and bill No. 17,680, currently being discussed by lawmakers and which calls for changes to the Rincón de la Vieja National Park's boundaries in order to allow ICE to produce geothermal energy within the park.
Obregón responded by saying, "They're two independent issues."