Stung by falling attendance and criticism over its treatment of orca whales, SeaWorld Entertainment Inc. will build new habitats for the animals at its theme parks.
The first enclosure, set to open in 2018 in San Diego, California, will be almost double the size of the existing facility, the company said Friday in a statement. New whale homes will follow in Orlando, Florida, and in San Antonio, Texas. The project will cost several hundred million dollars, Chief Executive Officer Jim Atchison said in an interview.
SeaWorld plans to reach out to California legislators considering a ban on whales in captivity, and will publicize the company's conservation and animal-care efforts, Atchison said. The company said for the first time this week that activists' efforts to stop the use of orcas in shows have hurt park attendance. Groups including People for the Ethical Treatment of Animals say orcas suffer in the parks.
"We've done good work for a long, long time," Atchison said. "What's important is that we get more known for it."
The company is pledging $10 million in matching funds for orca whale research focused on the threats they face in the wild, and commencing with a multi-million dollar partnership aimed at improving ocean health. SeaWorld also created an advisory panel that includes biologists and veterinarians.
The changes are inadequate, according to the group that proposed the California legislation that would ban the keeping of whales in captivity. Given their size, intelligence and family ties, the whales' needs aren't being met, according to the Washington-based group, Animal Welfare Institute.
"Unless and until SeaWorld ends its orca breeding program and ceases its exploitation of orcas for entertainment purposes, AWI believes the whales at SeaWorld will continue to suffer," Naomi Rose, a marine mammal scientist with the organization, said in an emailed statement.
Docs can change the world: the Blackfish effect on SeaWorld stock http://t.co/chtA4YT9LJ pic.twitter.com/SV4p8tmIgk

— Dogwoof (@Dogwoof) August 14, 2014
SeaWorld lost 33 percent of its value on Aug. 13, the day the company reduced its annual forecast, saying sales will fall as much as 7 percent this year and earnings before interest, taxes, depreciation and amortization will decline as much as 16 percent.
The stock rose 3.7 percent $18.66 at the close in New York and is down 35 percent this year. SeaWorld sold shares to the public at $27 each in April 2013. Blackstone Group, which once owned the entire company, retains a 22 percent stake.
Controversy over SeaWorld was sparked by "Blackfish," a 2013 documentary that focused attention on the animals' treatment and the death of a trainer at one of the Orlando-based company's parks. Activists have put pressure on musical acts to pull out of appearances, and lobbied companies such as Southwest Airlines, which ended a 26-year marketing partnership with SeaWorld last month.
Audience perceptions of the attractions have changed, putting pressure on SeaWorld to adjust, said John Gerner, a theme-park consultant with Leisure Business Advisors in Richmond, Virginia.
"SeaWorld is doing the same thing it has done for decades," Gerner said in an interview before the announcement.
The company had been planning the new orca habitats before the current controversy began, Atchison said in the interview. He said he didn't expect the changes to win over animal activists.
"There are many in the activist community who wouldn't be satisfied until there are no animals in the care of man, there are no more zoos, there are no more aquariums," Atchison said.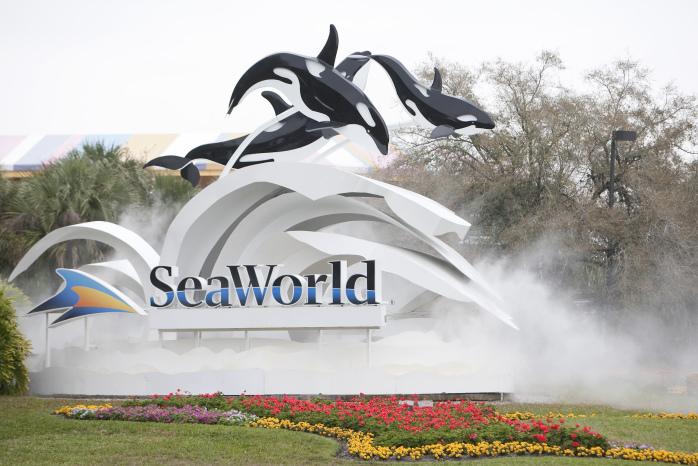 Changes to the habitat will also include a resistance pool where whales can swim against an artificial current for exercise, Chris Dold, SeaWorld's head veterinarian, said at a press event Friday in San Diego. He called the feature a "treadmill for killer whales which creates endless pools they can swim in."
The new facilities, called the Blue World project, are also intended to increase research and education about orca whales. The San Diego habitat will be more than 350 feet (107 meters) in length and will have views exceeding 40 feet in height for patrons.
The habitats, which Atchison called "bigger, better, bolder and really kind of revolutionary," will impress regular guests, he said. The company doesn't plan dramatic changes in the whale shows, saying the performances are similar to what the animals do in the wild.
"They slide up on land, they do jumps in the air, these are behaviors you can see all over the world," Atchison said.
Last year, attendance at SeaWorld San Diego fell 3 percent to 4.31 million visitors, while SeaWorld in Orlando saw its visitors drop 5 percent to 5.09 million, according to a report by the Themed Entertainment Association, a trade group.
The company said on Aug. 13 it will increase capital investment to 13 percent of sales from 10 percent to build more attractions and draw more visitors.
SeaWorld's initial response to the controversy included ads criticizing "Blackfish." The company came off as belligerent, dismissive and condescending, said Henry Harteveldt, a travel industry consultant at Hudson Crossing in San Francisco.
@SeaWorld's PR gesture 2double down on pool size is an insult to a more informed public. We hope to end captivity 4 #Blackfish @orcawild

— Jeffrey Ventre (@jeffrey_ventre) August 15, 2014
Melissa Peckham, a junior high school teacher in National City, California, said she took a group of students to the San Diego park two months ago and plans a trip of her own to Orlando to see Tilikum, the killer whale featured in "Blackfish."
Some parents mentioned that they'd seen the film but none wanted to keep their kids away from the park, Peckham said. She said the changes SeaWorld is making to the habitats are a positive thing.
"It's better," Peckham said while sitting at a Starbucks coffee shop near the San Diego park. "I think it's important that kids learn about the animals."
Orcas in the wild can swim 100 miles a day and dive to 1,000 feet, and need far more room than SeaWorld's new facility will provide, said Jared Goodman, director of animal law with the People for the Ethical Treatment of Animals in Washington.
"This is a desperate drop-in-the-bucket move to try to turn back the hands of time at a time when people understand the suffering of captive orcas, and it will not save the company," Goodman said in an e-mail. "It's a bigger bathtub with scenery for the humans outside it."
Kelly Hinch, a 33-year-old stay-at-home mom in San Diego, said she lives near the park and has season passes for her and her two-year-old daughter. She said would prefer that SeaWorld end the killer whale program.
"It's just such a big animal," she said. Hinch said she would still visit the park if the whales were gone, saying it's important for her daughter to see the other animals up close.
© 2014, Bloomberg News