WASHINGTON, D.C. — The Republican party might favor rushing to deport the tens of thousands of migrant children that have been apprehended at the U.S.-Mexico border since the fall of last year, but the U.S. populace does not. In fact, the vast majority — nearly three quarters — of people in the U.S. feel quite the opposite, according to a new survey released Tuesday by the Public Religion Research Institute.
When asked what the U.S. government should do about all the children arriving alone at the U.S. border, some 70 percent of U.S. respondents said they favor offering the minors shelter and support while determining whether they were eligible to stay in the country. The results varied widely by age — 82 percent of 18 to 29-year-olds felt that way, but only 50 percent of those 65 years and older did. "The generational differences on these questions were enormous," Dan Cox, research director at the Public Religion Research Institute said in an interview. "No differences of opinion were more divergent than those along generational lines."
Opinions, however, also varied considerably by political party affiliation — 80 percent of Democrats supported sheltering the children, but only 57 percent of Republicans did.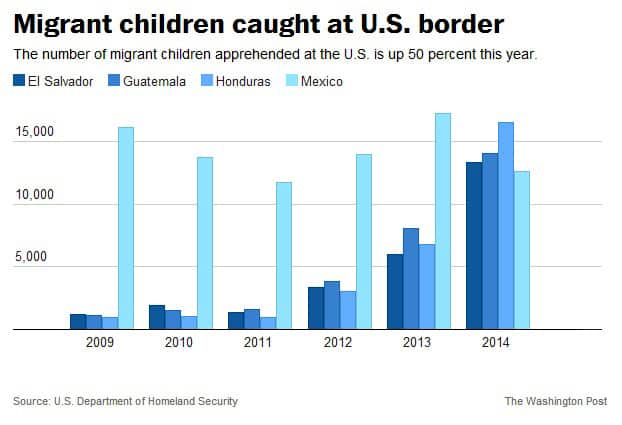 The prevailing opinion that those unaccompanied children arriving to the U.S. from Central America should be treated as refugees, not illegal immigrants, comes on the heels of the realization that more children are escaping crime-ridden countries like Honduras, Guatemala and El Salvador in hopes of finding asylum in the U.S. More than 50,000 migrant children arrived at the border this year — 50 percent more than last year, and more than 250 percent more than in 2011.
That influx seems to have nudged national sentiment, well, not very much.
While there has been a slight shift in views of immigrants, that hasn't been reflected in any substantial change in opinion regarding immigration policy. "There is an uptick in the number of people who describe immigrants as a burden," Cox said. "But what we've found is that views on our benchmark immigration policy question have not changed."
"In early July, 58 percent of Americans said they preferred a policy that allows immigrants living in the country illegally to become citizens provided they meet certain requirements, compared to identical support (58 percent) today," the survey said.
U.S. citizens' aversion to a speedier deportation process also comes in the wake of the Republican party's announcement regarding its own plan for dealing with the rising number of children reaching the border without their parents. The GOP supports pushing through legislation that will send more National Guard troops to the U.S.-Mexico border, and force the U.S. government to more quickly process and deport unaccompanied minors. Meanwhile, the Obama administration is mulling a number of options, including the potential for granting refugee status — a means of entering and staying in the country without traveling the dangerous path through Mexico — to hundreds of Hondurans as part of a pilot program.
While it's unclear if the national populace would support a proposal that lets more immigrants, no matter how dire their conditions at home might be, in, it appears the American public isn't nearly as comfortable sending unaccompanied minors back to Central America as the Republican party might hope.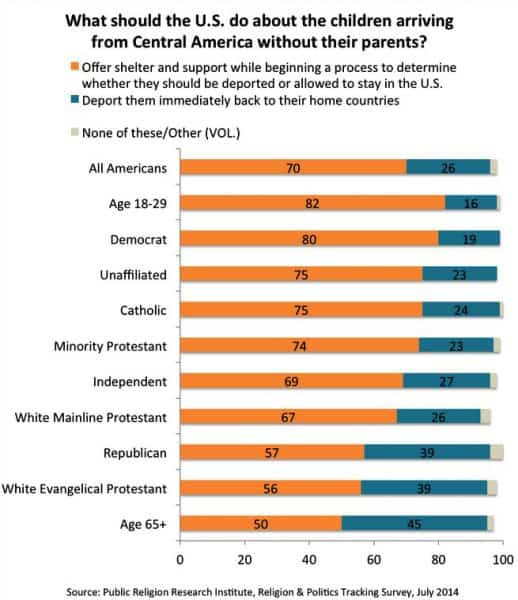 © 2014, The Washington Post