Hoarse from watching the U.S. soccer team fall to Belgium on Tuesday, former U.S. President Bill Clinton (1993-2001) found his voice long enough to call on Costa Rican students to work for a better world, during a speech at the Universidad Latina east of San José.
Clinton landed a few jokes about how La Sele goalie Keylor Navas would have given Costa Rican President Luis Guillermo Solís a run for his money in an election before Clinton moved on to issues related to the future of the country. The former U.S. president lauded Costa Rica's record on environmentalism and said the small country of less than 5 million people was well positioned to meet the challenges of the 21st century through its investment in education, health and the environment. Clinton called Costa Rica one of the countries he most admires.
In a meandering speech, he argued that today's world is the most interconnected ever and that the impetus was on the younger generation "to define the terms of our interdependence."
"Take care of your life and make the most of it. Be aware of this world and understand the job of every citizen: To reduce the negative and increase the positive," Clinton said. "If every young person had the opportunities you have, wouldn't there be less war, more rights for women?"
"Intelligence and willing to work hard is even across the world, in all parts and cultures. But opportunities are not," the 42nd president of the United States told a crowd at the private university in San Pedro.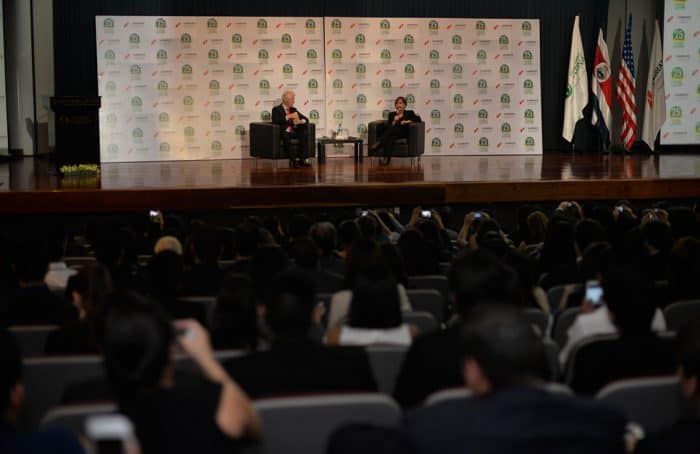 Reminiscing on his upcoming 50th high school reunion in his home state of Arkansas, Clinton said fortune favors the bold. "The only ones [at the reunion] who are sad are the one's who wake up 50 years later and think about how they never reached for anything," he said.
Clinton advised entrepreneurs to think about where they wanted to end up before starting on their way.
"You have to understand where you are and where you want to go. And then you have to persuade other people to go there," Clinton said. "But you need to be open to the idea that someone you meet along the way might have a better answer than you."
"When I was younger I thought I was smarter than I was. I learn more now," he said.
Clinton briefly highlighted his administration's involvement in the Americas, including his 1997 visit to Costa Rica, when he traveled to Braulio Carrillo National Park. He said that lessons he learned during his trip and meeting with then-President José María Figueres (1994-1998) contributed to his decision to protect the Tongass National Forest in Alaska.
During his remarks, Clinton said that Venezuela was no longer a democracy, lumping the oil-producing giant with Cuba as one of the only countries in the hemisphere that did not have freely elected representative governments.
The university awarded Clinton a sculpture based on Maya Angelou's 1993 inaugural poem, "On the Pulse of Morning," as a thanks for his visit.
Clinton made his third visit to Costa Rica at the invitation of the Universidad Latina, as one of several events celebrating the school's 25th anniversary. During his brief stay in the country, Clinton toured a five-story medical science and clinical training facility, which university administration described as the "largest and most advanced of its kind in Central America and the Caribbean."
Vice President Ana Helena Chacón and Culture Minister Elizabeth Fonesca met with Clinton on Tuesday. Solís currently is in Panama for the inauguration of President Juan Carlos Varela.
Clinton is an honorary ambassador for Laureate International Universities, a private high education network of 75 universities in 29 different countries. Since leaving office, he founded the eponymous foundation, which describes its mission as improving health, economies and the environment.