Though La Sele achieved arguably the biggest upset of the World Cup so far, the win hasn't garnered them much respect from oddsmakers. Costa Rica still will face Italy as heavy underdogs at 10 a.m. on Friday.
ESPN's data-journalism site, 538, gave Costa Rica a decent 30 percent chance to win over Italy, while giving the 2006 World Cup champions a 41 percent chance to win. For sports betting sites, the odds look much worse for Costa Rica. Two popular betting sites in the United Kingdom, Paddy Power and Ladbrokes gave Costa Rica only a 14 to 15 percent chance of victory on Wednesday.
Costa Rica proved the doubters wrong over the weekend, beating the team predicted as this difficult group's slight favorite. Oddsmakers perhaps were not convinced after Costa Rica's 3-1 victory because Uruguay was missing one of the world's best players in Suárez.
So once again, the Ticos are planning to make the haters look silly again — this time by beating four-time World Cup champions Italy.
Although Costa Rica is not a favorite to beat Italy or England, it is a favorite to qualify from the group, with a 78 percent chance from 538 and approximately a 50 percent chance from betting sites at the beginning of the day Thursday. That's because Costa Rica could qualify without winning another game (and conceivably by losing both matches).
Here are latest Costa Rica's odds of beating Italy and/or England and qualifying for the knockout round from 538. Also listed are the bookmaker odds for the same scenarios, as of Thursday morning: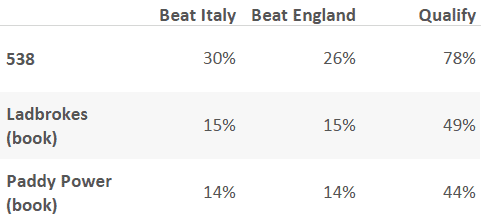 Three points are awarded for a win, one for a draw and none for a loss. Ties between teams with equal points are broken first by their total goal difference. Thus, Costa Rica, Uruguay and Italy each have three points at the moment. Costa Rica is slightly ahead, because it has a goal difference of +2 while Italy is at +1 and Uruguay is at -1.
England is almost mathematically eliminated. This morning oddsmakers figured England had the edge to qualify. Now the only way the English can surive is by Italy winning its final two matches, and then England beating Costa Rica by a large number of goals. The Ticos don't have any intention of allowing that to happen.