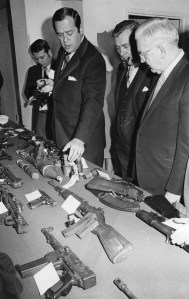 WASHINGTON, D.C. – Myles Ambrose, a onetime commissioner of the U.S. Customs Bureau who was tapped as the federal government's drug czar during the Nixon administration and who helped organize the Drug Enforcement Administration, died June 3 at a hospital in Leesburg, Virginia. He was 87.
The cause was congestive heart failure, his daughter Elise Ambrose said.
A onetime federal prosecutor, Myles Ambrose built a reputation as a gang-busting crime fighter with the U.S. Treasury Department in the 1950s. In the early 1960s, he headed a commission charged with rooting out corruption and organized crime on the New York City waterfront.
He had a "flair for innovation," The New York Times noted in 1969, "that brought results in cleaning up the waterfront and gained him a reputation among associates as 'a boat-rocker who doesn't mind getting wet.' "
When Ambrose was named commissioner of the old U.S. Customs Bureau in 1969, he became one of the federal government's most prominent leaders in what was beginning to be called the war on drugs. He greatly expanded the profile of the bureau — now part of the Department of Homeland Security — and added thousands of employees and millions of dollars to its budget.
Ambrose reorganized its investigative arm to fight drug smugglers and established fleets of helicopters, airplanes and speedboats. During his tenure, the bureau began to use drug-sniffing dogs, which were credited with detecting shipments of marijuana and heroin. He hired some of the federal government's first female law enforcement officers for the bureau, and helped set up methadone-treatment programs to encourage drug addicts to kick their habits.
In 1969, Ambrose launched Operation Intercept, a controversial program in which federal agents searched cars for drugs as they entered the United States at the Mexican border. The backups lasted for hours.
The operation was discontinued after a few weeks because of fraying relations between the two countries. But the point was made, and Mexican law enforcement agencies increased efforts to stop drug shipments.
The rate of drug seizures by U.S. customs officers increased dramatically under Ambrose, including three cases in which more than 200 pounds of pure heroin were intercepted in 1971 alone.
The next year, U.S. President Richard Nixon declared drug abuse the country's "No. 1 domestic problem" and chose Ambrose to solve it. The new Office of Drug Abuse Law Enforcement, sometimes called ODALE, was operated out of the White House under the auspices of the Justice Department. As its director, Ambrose had the rank of assistant attorney general.
As he pulled his office together as an ad hoc drug-busting department, he fought turf battles with other agencies until Nixon asked Ambrose to consolidate them into one organization, the Drug Enforcement Administration.
In July 1973, just as Ambrose was about to become the first DEA director, he abruptly resigned. His family said he went into private law practice to support his six children. He also faced scrutiny for staying at the home of a Texas rancher who was later indicted for trading weapons for drugs, but there was no evidence that Ambrose was aware of any wrongdoing.
Several ODALE officers were under investigation at the time for strong-arm tactics, including breaking into houses without identifying themselves or having proper warrants. They claimed they were under pressure from Washington to increase their arrest rates. "People who use their badge for illegal purposes," Ambrose said, "are worse than the criminals they seek."
Myles Joseph Ambrose was born July 21, 1926, in the Bronx. He graduated from Manhattan College in 1948 and from New York Law School in 1952. After serving as an assistant U.S. attorney in New York, he came to Washington in 1957 as chief coordinator of the law enforcement agencies of the Treasury Department, including the Secret Service.
He returned to New York in 1960 as executive director of the Waterfront Commission of New York Harbor, leading investigations of loan-sharking, drug dealing and mob influence on the city's docks. He entered private law practice in 1963 before returning to Washington to lead the Customs Bureau.
After leaving the federal government in 1973, Ambrose worked for a series of law firms in Washington, specializing in customs compliance and international trade. He retired in 2010.
He moved from the District of Columbia to Lansdowne, Virginia, several years ago and was a parishioner of St. Theresa Catholic Church in Ashburn, Virginia. He was vice chairman of the 1981 Reagan-Bush inaugural committee. He also spent several years as chairman of the board of Daytop Village International, an organization that operates drug-treatment centers.
His first wife, Elaine Miller Ambrose, died in 1975; they had been married for 27 years. His second marriage, to Joan Fitzpatrick, ended in divorce. A stepson, David Genovese, died in 2011.
Survivors include his wife of 20 years, Lorraine Genovese Ambrose of Lansdowne; six children from his first marriage, Myles Ambrose Jr. of New York City, Kathleen Ambrose of Washington, Kevin Ambrose of Washington Grove, Maryland, Elise Ambrose of Takoma Park, Maryland, Nora Ambrose of Lansdowne and Christopher Ambrose of Delaplane, Virginia; four stepchildren, Michael Genovese of Montville, New Jersey, Susan Genovese of Milford, Pa., Nancy Iannone of Great Meadows, New Jersey, and Tom Genovese of Stafford, Virginia; a half-brother; 17 grandchildren; and two great-grandchildren.
Defending the sometimes rough tactics of federal drug fighters, Ambrose said in 1973: "This is dirty scummy work. You see these vermin selling drugs and what they do to people and our cities, and you get sickened and angry and perhaps you take your hostilities and frustrations out on some guy's bookcase. It's not right. But how are you going to prevent it?"
© 2014, The Washington Post