Costa Rican conservation officials often receive calls from local farmers that sound something like this: "They killed two of my calves. Come trap this cat."
Wildcat attacks on livestock are a recurring problem in rural Costa Rica, and they often lead to the death of endangered wildcat species.
In January, The Tico Times reported on the problem in the story, "To save a predator: A history of human-jaguar conflict in Costa Rica."
Pumas and jaguars are killing farmers' cattle, sheep, horses and dogs. Landowners often retaliate by either poaching the cats or allowing other hunters on their forested property.
To address the conflict and help reduce wildcat and livestock killings, the National System of Conservation Areas, or SINAC, began a new program last September that created specialized units to respond to the conflicts. The units, called Unidades de Atención de Conflictos con Felinos in Spanish, or UACFel, are the result of an agreement between SINAC and the conservation group Panthera. In less than a year, the units have helped prevent attacks on at least 20 farms, officials said.
Under the program, SINAC officials immediately respond to reports of wildcat attacks on farms. They determine if pumas or jaguars were involved, then fill out a report with suggested corrective measures.
Those measures primarily focus on livestock management, construction and repair of corrals and water troughs, installation of electric fences, the use of cowbells, and the addition of donkeys or water buffalos – animals that frighten wildcats and help keep them away.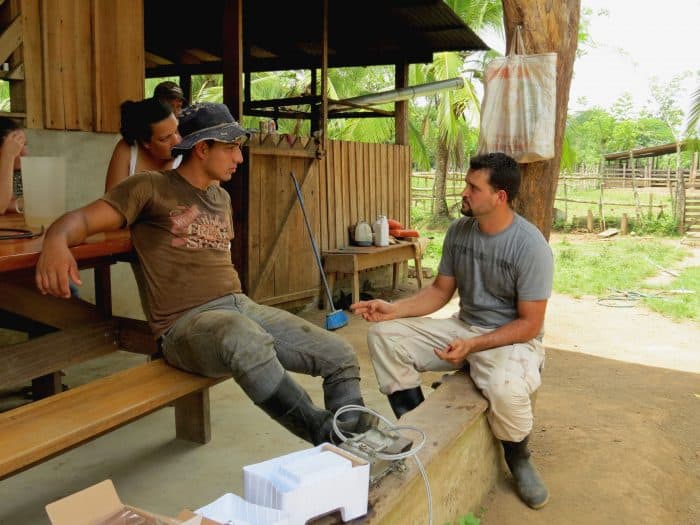 According to SINAC, in the Huetar Norte Conservation Area, 20 wildcat attacks were reported from 2008 to 2013 in La Palma de Fortuna, La Castelmare de Pital, El Concho de Pocosol, El Trapiche en Caño Negro, Pueblo Nuevo de Zarcero, Bajos del Toro Amarillo, Buena Vista en Guatuso and Finca Costa Ana.
In the La Amistad-Pacífico Conservation Area, eight attacks were reported from 2010 to 2013 at Hotel Paraíso del Quetzal, Páramo, Pérez Zeledón, Durika and Canaan de Rivas.
Panthera has different data than SINAC showing that from 2009 to 2012, Huetar Norte reported 11 attacks, the Cordillera Volcánica Central reported 17, La Amistad-Pacífico 13 and Tortuguero 10.
Roberto Salom Pérez, Panthera's Costa Rica director, said that before the UACFel agreement, SINAC officials had difficulty responding to attacks, due to a lack of time, resources and specialized training. Panthera now offers training to conservation officers.
"What was happening is that ranchers were taking matters into their own hands, and it usually ended with the killing of a wildcat," Salom said.
UACFel units currently operate in nine of Costa Rica's 10 conservation areas. Only the Tempisque region does not yet have units, but there are plans to create them, Yocelin Ríos Montero, who works in SINAC's wildlife management directorate, told The Tico Times.
SINAC officials have received two training workshops so far, the most recent in May in Sarapiquí, during the International Symposium for the Conservation of Wildcats in America.
Since last September, the units have received more than 40 reports of attacks, via telephone or social media networks, Daniel Corrales, a Panthera wildcat conflict management expert, said.
When an alert is received, a SINAC official immediately visits the area of the attack to gather information, take photos and talk with local residents. A report is filed that provides analysis and a suggested strategy for farmers.
"We negotiate with livestock owners. It's not about imposing anything. We give farmers one or two options that can benefit them and help reduce the vulnerability of their animals," Corrales said.
"If animals are kept by a forested area with a water source, they have to enter the forest to drink, and that's where wildcats live," he added.
One suggested change is to place water troughs inside the farm so that cattle and other animals don't have to enter the forest to drink.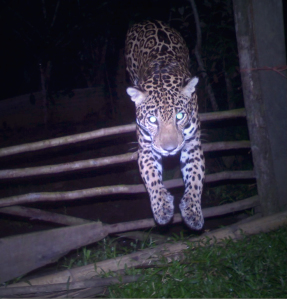 Panthera and the SINAC units do not offer farmers financial compensation for lost animals. However, they do help pay for farm upgrades to prevent future attacks.
"The focus we're trying to implement is an investment in improving farms. Farmers pay part of it and we pay another part. That helps guarantee that future attacks will be few or none," Salom said.
Another improvement farmers can make is the building of nighttime stables for animals, Corrales said. Panthera often pays the cost of some building materials, such as nails, zinc laminates and wire, and farmers provide wood, usually already available on the property.
Other suggested additions include electric fences and stables for recently born calves with barbed wire and motion detectors. Cowbells, which help sound the alarm when other animals are nearby, cost only ¢4,500, or $9.
Panthera also has donated four camera traps for each conservation area, which help to determine what type of wildcat is in the area. Each camera costs approximately $220.
On average, a total of $254 is spent on improvements at each farm.
Corrales said that since 2010, Panthera's efforts have helped prevent repeat attacks on 20 farms.
One of the primary causes of wildcat attacks on livestock is a lack of natural prey in the forest. According to Salom, reforestation efforts are underway to restore habitats, and Panthera signs agreements with farmers who promise not to allow hunting on their property.
"We know that [hunting] is one of the primary reasons that wildcats are hungry and look for anything they can find," Salom said.
But for the units to continue functioning, SINAC and Panthera must secure long-term funding, Salom added.
July 4 is National Wildcat Day in Costa Rica, and according to Ríos, to mark the day this year, officials anticipate the signing of an executive decree that officially recognizes UACFel units and offers a long-term strategy to help save jaguars and pumas.
Have something to contribute? Join the discussion below in our comments section.