CDA Gonzalo R Gallegos: "Las acusaciones cansinas de 'imperialismo yanqui' son solo molestos clichés de una era que terminó hace mucho".

— US Embassy San Jose (@usembassysjo) June 4, 2014
Chargé d'Affaires Gonzalo Gallegos, head of the U.S. diplomatic mission in Costa Rica, responded publicly Wednesday to accusations from some lawmakers that joint maritime patrols between Costa Rica and the U.S. constituted "imperialism" in Central America.
"Tired accusations of 'Yankee imperialism' are just annoying clichés from an era that ended long ago," tweeted the U.S. Embassy, attributing the comments to Gallegos, who has been the top U.S. diplomatic officer in Costa Rica since 2013.
Gallegos responded to comments by Broad Front Party lawmaker Jorge Arguedas made on the floor of the Legislative Assembly on Tuesday:
It's an issue of sovereignty but it's also an anti-imperialist matter for us as the Broad Front Party caucus. … Costa Rican society is taking a beating from the scourge of drug trafficking but we have also been witness to how we've taken a beating from the scourge of North American imperialism.
The lawmaker from the leftist party added that the government of the United States and the U.S. Embassy "time and again trample our national sovereignty," according to transcripts from the Assembly.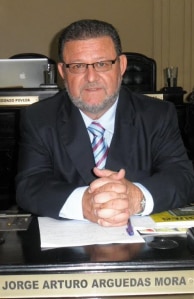 The Legislative Assembly is debating approval of a list of 44 U.S. Coast Guard vessels that may participate in joint patrols between July 1 and Dec. 31. Costa Rica and the United States have participated in joint anti-drug operations since 1999.
Arguedas told The Tico Times that he wanted to see more U.S. efforts in education and job training in Costa Rica to keep young people from getting involved in the illicit trade.
"The policies of the United States government are completely imperialist and are an imposition," Arguedas told The Tico Times.
"We don't know if these ships come equipped with spy technology, spying on the political sector, or other kinds of activities they have carried out in other countries in Europe, like Germany, France," the lawmaker added, referring to the National Security Agency spying scandal revealed in 2013.
Arguedas said that he did not believe the joint maritime patrols were effective, "That's why we continue to oppose these permissions because the results are not what we expected."
"I want to separate whether or not we're being successful from whether or not we want Naval boats to come to port," Gallegos countered.
"I know and understand the sore spot that some people in Costa Rica have about U.S. Naval vessels. We're not asking for that; but we do want to see a continued cooperation with the Coast Guard. That's an important element to what we're trying to do to provide security and safety in the [Central American] region," he said in a telephone interview.
Since President Luis Guillermo Solís took office on May 8, Drug Control Police have seized over 3 metric tons of cocaine and marijuana. The Public Security Ministry has credited the joint maritime patrols as part of its success in becoming what it claims is the most effective drug seizure organization in Central America.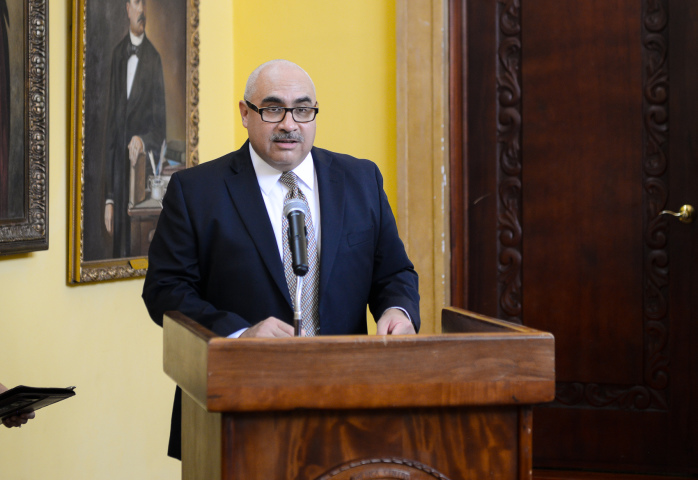 Gallegos argued that U.S. activities in Costa Rica go beyond drug trafficking.
He pointed out that the U.S. provides scholarships for Ticos to learn English, including the Access Microscholarship Program, in which over 100 Costa Rican students participated in a graduation ceremony on Wednesday. Gallegos added that 80 new Peace Corps volunteers were welcomed Wednesday. The diplomat said that half would teach English and the other half would work on economic development projects in some of Costa Rica's poorest areas.
He noted that the U.S. Embassy also works in clean-energy development and works to facilitate opportunities for Ticos to study in the U.S., and improve U.S. investment in Costa Rica, among other goals.
In November 2013, U.S. Secretary of State John Kerry formally ended the U.S. foreign policy known as the Monroe Doctrine that essentially afforded the U.S. the right to dominate Latin America.
"1960's dialogue of 'Yankee imperialism is language from a different era. What we have here [in Costa Rica] is a true partnership working here with the Ticos," Gallegos said.
Update: Following a wave of comments and discussion, the U.S. Embassy in Costa Rica issued a response in Spanish on its Facebook:
https://www.facebook.com/sanjose.usembassy/photos/a.10150972165643228.542564.71189598227/10152967671303228/?type=1&theater