NEW YORK — Had the U.S. national soccer team strolled two blocks east of Times Square on Friday in New York, the players would have stumbled upon Little Brazil, a stretch of 46th Street with cafes and restaurants splashed in green and yellow.
Instead, they were confined to a stage in the chaos of evening rush-hour, so close to the flavors of Brazil but still nine days from the flight to São Paulo and the pageantry of the first Brazilian-hosted World Cup in 64 years.
"The clock is ticking," U.S. coach Juergen Klinsmann said. "We are getting closer and closer to Brazil, which is exciting."
U.S. preparations are reaching the final stages, with a friendly against Turkey on Sunday afternoon at Red Bull Arena in Harrison, New Jersey, next on the agenda. The squad will then head to Jacksonville, Florida, to acclimate to steamier conditions and play Nigeria next weekend.
"The vibe is that everything is close," defender Matt Besler said. "It's business time. The roster has been announced, and now we have a responsibility to put on a good show."
For one day, the show was not on the field but on the set of "Good Morning America" with rap artist 50 Cent, in a Marriott Marquis ballroom for a 90-minute media barrage and on street level for fan interaction and sponsorship obligations.
Klinsmann understands the importance of selling the sport and growing the fan base, so he did not seem irritated by the day of distractions. By Saturday morning, the squad will be back at work, preparing for the last friendlies and implementing plans for the June 16 opener against Ghana in Natal, a coastal city in northeastern Brazil famous for sweeping sand dunes.
As the U.S. team moves closer to that vital first match — with Portugal and Germany looming in the group stage, "we need to beat Ghana," Klinsmann said — the formation they'll use is becoming clearer.
For much of his three-year tenure, Klinsmann has preferred a lineup with two defensive midfielders, a line of three attack-minded midfielders and a lone striker. Now, however, he seems more inclined to use a traditional 4-4-2 arrangement: four defenders, four midfielders (in a diamond shape) and two forwards.
That is the way the U.S. lined up during a 2-0 victory over Azerbaijan last Tuesday in San Francisco and, judging by comments Friday concerning the options, that is the way they will play against Ghana.
Veteran defender DaMarcus Beasley played down Klinsmann's shifting preference, saying, "Both systems work fine for us. Obviously, the diamond is a little new to some of the boys, to me as well. It depends on who we are playing, and I'm sure it will change in the World Cup. But that doesn't make a team; it's the 11 players. It doesn't matter what formation we play."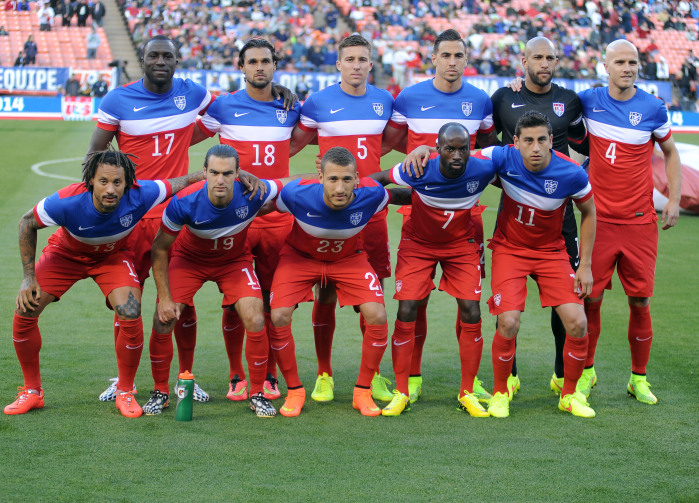 The 4-4-2 will provide more support for striker Jozy Altidore, who, in the wake of an unproductive Premier League season with Sunderland, can't be expected to carry the load at the World Cup. Clint Dempsey would serve as the secondary forward.
With the outside midfielders — Alejandro Bedoya and Graham Zusi started Tuesday — pinching in, the outside defenders have lanes to overlap. And in central midfield, the roles are clearly defined: Jermaine Jones sits behind, instead of next to, Michael Bradley, Klinsmann's best two-way player.
"There is no such thing as a best system," Klinsmann said. "It doesn't really matter because it's the whole team, how it plays as a unit, how it attacks and how it defends collectively."
He joked how reigning champion Spain, in the absence of an effective striker, has played with six midfielders.
"We will approach different teams in different ways," he continued. "We have at least two or three systems. The system right now suits a lot of our players because it is also based on their strengths. … Every system requires different characteristics. It is good for us that we work on different ones and hopefully use different ones at different moments in Brazil."
Which players will fill those roles against Ghana is not completely settled. The lineup selections Sunday, however, will offer additional clues. Dempsey is expected to partner with Altidore after missing the Azerbaijan match with tightness in his groin.
Klinsmann will probably take a long look at Julian Green, the 18-year-old Bayern Munich prospect with just one U.S. appearance, and Aron Johannsson, who entered in the second half Tuesday and scored the second goal.
"We've still got some more work to do," goalkeeper Tim Howard said. "It's important to take care of this business, because before we know it, we're going to be down in Brazil."
© 2014, The Washington Post