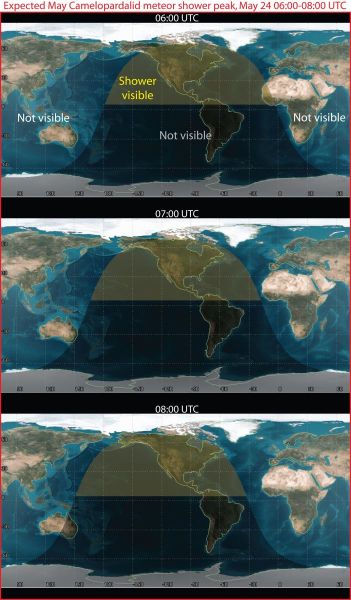 If the clouds stay away (and they don't often), Costa Rica could be in for a treat tonight as a new meteor shower streaks the skies of North America.
The Camelopardalids meteor shower — christened after the giraffe constellation of the same name — will peak at midnight to 2 a.m. Costa Rica time, according to NASA. The show might start as early as 8:30 p.m. as long as there's no cloud cover. 
The phenomenon has not been seen before since its parent, Comet209P/LINEAR, was just discovered a decade ago by a lab in New Mexico looking out for meteors that threaten the Earth. The comet passes by the planet every five years, leaving behind a trail of debris.
Bill Cooke of NASA's Meteoroid Environment Office told the Washington Post that a couple hundred meteors an hour could appear during the peak. There's also a chance the meteor shower is a dud.
Cooke explained that astronomers calculated Comet 209P/LINEAR's orbit and found that it travels between the sun and Jupiter. Astronomers have traced it back to 1703. "We don't know what the meteor shower's intensity will be," he says. "If Comet 209P/LINEAR was a poor producer of debris, we'll see nothing. But if the comet was more active 200 or 300 years ago, we'll see a decent show. What happens this Saturday morning was determined a few hundred years ago."

. . .

Why hasn't the Earth run into these meteors before? Cooke explains that thanks to planet Jupiter's gravitational pull, the comet's debris trail is intersecting with the Earth's orbit for the first time. 
These meteors will move by at a lumbering pace. They'll fly through the sky at a mere 12 miles per second. The well-known Perseid and Leonid meteors move at 25 miles per second and 45 miles per second, respectively. NASA believes this meteor shower could be as spectacular as the Perseid that occurs every August.
Cooke added that new meteor showers are common discoveries, but rarely do they offer enough meteors to be noticeable to even an experienced observer. NASA is hosting a live stream and chat during the meteor shower.
Enjoy the show (fingers crossed there'll be no clouds).
https://www.youtube.com/watch?v=7xXEtO3bEe0