LOS ANGELES, California – Doc Rivers' shell-shocked team was in a film session Tuesday, trying to do the one thing that had proven so difficult in recent days: focus on basketball. Rivers, the Clippers' fatigued but resilient head coach, decided it was time to break the news: their controversial owner had been banned from the NBA for the rest of his life.
The room was silent, Rivers said. He said his piece and then they all returned to game-planning. But even the coach conceded later, the Clippers couldn't return immediately to normalcy. Team owner Donald Sterling had been caught on tape making racist comments, and the Clippers' early run in the playoffs was knocked off course, perhaps permanently.
Rivers called NBA Commissioner Adam Silver's severe punishment "the sigh of relief we needed." But before catching his breath, he seemed to acknowledge that damage had been done.
"Is this over? No, it's not over," he said. "But it's the start of a healing process that we need, and it's a start for our organization to try to get through this. That's very important."
Hours after Silver said he would encourage the league's Board of Governors to force Sterling to sell the Clippers, the team took the court for Game 5 of its first round playoff series against the Golden State Warriors.
There was a strong police and security presence both inside the arena and out, though protester turnout was relatively light. There was, however, a strong entrepreneurial presence outside of Staples Center, where vendors hawked T-shirts featuring a colorful expletive aimed at the Clippers' embattled owner.
Inside the arena, the Clippers logo adorned much of the signage usually reserved for corporate sponsors. Companies such as Virgin America and Mercedes-Benz withdrew their support of the team in recent days, while many other big-name brands suspended their relationship with the team.
The team locker rooms were closed to the media, so players were unavailable to comment on Silver's bold move until the conclusion of Tuesday night's game.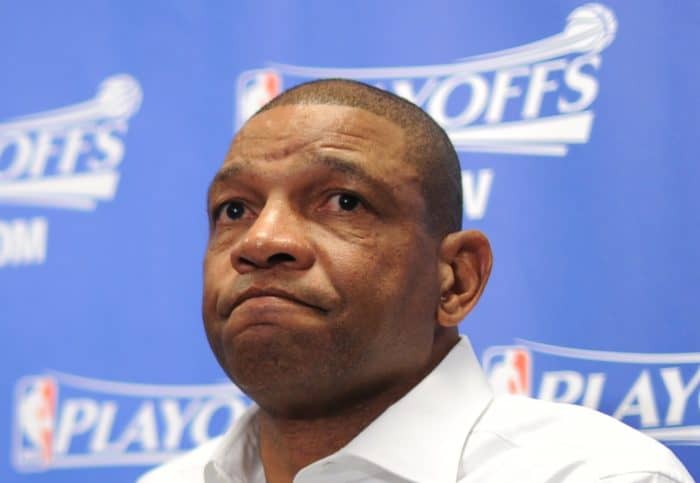 The Clippers tried to turn the page Tuesday night, subtly at times, awkwardly at others. Sterling's name was never mentioned — except by occasional shrieking fans — and he was nowhere to be seen. Prior to the game, as the team went through warm-ups, the video scoreboard featured fans' signs pledging support for players. The public-address announcer hammered home the night's theme, "We are one."
Rivers had watched in recent days the toll the owner's recorded remarks had taken on his team. After a listless Clippers team lost, 118-97, Sunday on the road, Rivers cancelled an off-day practice, hoping his players could find some space from the controversy that came to dominate the sports world and office water coolers in recent days.
"You learn over and over when something like this happens, with the burden of racism, it always falls on the person who has been offended to respond," Rivers said. "I've always thought that that's interesting. I felt the pressure on my players. Everyone was waiting for them to give a response. I kept thinking, 'they didn't do anything, yet they have to respond?' "
Point guard Chris Paul issued a statement prior to tip-off Tuesday, applauding Silver's punishment.
"We appreciate the strong leadership from Commissioner Silver and he has our full support," he said.
Within minutes of the Silver's announcement Tuesday afternoon, the Clippers' official website re-directed to a page that had only three words on it: "We Are One." The curious move raised the question: If Sterling is out of the picture, who's calling the shots?
There wasn't a clear answer on Tuesday.
"If you think about it, I'm coaching a team right now," Rivers said, "and I actually don't know who to call if I need something."
He said the next steps for the organization will be an ambiguous process with little precedent. Even Rivers isn't sure where it will lead. While the coach is confident that Silver's edict will stand and Sterling will forever be a pariah, he said it was too early to discuss his own future with the organization.
"I think we're just going to let this whole thing run its course, and then we'll all have better clarity," the coach said. "I'm not in a position nor do I want to be in position where it sounds like I'm threatening anything. I want my players to be comfortable. Honestly, that's the most important thing."
In a news conference earlier Tuesday in New York, Silver said in addition to Rivers, he spoke with several Clippers players before rendering his decision.
"My message to the Clippers fans is this league is far bigger than any one owner, any one coach, any one player," Silver said. "This institution has been around for a long time, and it will stand for a long time, and I have complete confidence in Doc Rivers, in the basketball management of the club, and the players deserve their support. They've just been through an incredibly difficult incident in their lives."
© 2014, The Washington Post