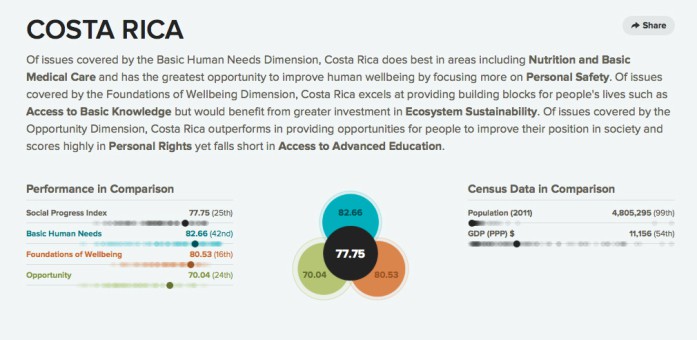 There's an enduring myth in Latin America that left-wing populist governments somehow do a better job of promoting economic growth and social development than their political counterparts. For those wedded to that belief the 2014 Social Progress Index should be compulsory reading.
The index has impeccable credentials — Michael Porter, the celebrated Harvard Business School professor and expert in national competitiveness, had a hand in designing it along with Peruvian economist Hernando de Soto. And for those who hold the view that GDP isn't the sole measure of human happiness, the index also incorporates measures of basic human needs and quality of life. It's worth noting that the survey didn't give a pass to U.S.-style capitalism, ranking the country 16th out of 132 countries evaluated, two steps ahead of Slovenia.
The headline here is that Costa Rica (25th), Uruguay (26th) and Chile (30th) are the region's top three socially progressive countries. Set aside the fact that Costa Rica — a small Central American nation — managed to best much larger economies. Far more significant is that in all three countries center-left politicians have either run things or helped shape economic policy for the last decade or more.
The result is that Uruguay's economy has grown at roughly 6 percent annually for the past 10 years, according to Moody's. Chile and Costa Rica have paired strong growth with low debt levels. All have attracted foreign investment, protected private property and score well in health and education. In other words, in these countries the poor can really get ahead.
In contrast, regimes that claim to defend the poor such as Venezuela (67th), Bolivia (71st), Nicaragua (74th) and Cuba (79th), score poorly. President Nicolás Maduro's Venezuela earned the lowest rating possible in personal safety, offers substandard secondary education and violates basic political rights. The study also found that radical leftist regimes tend to ignore things like proper sanitation and often trample on violate private property rights.
By comparison, Chile's President Michelle Bachelet was considered a subversive by the right-wing dictatorship of Agusto Pinochet, which tortured her, but in power she has a track record of fiscal conservatism and respect for private enterprise. Likewise, Uruguay's José Mujica — a former guerrilla fighter — knows what it takes to maintain the country's top-notch credit record.
The social index study found that economic growth isn't enough to achieve social gains. But economic development does require sustainable economic policies.
Moreover, the study found that more government spending doesn't necessarily result in social progress. Tell that to Venezuela, where unchecked state spending has resulted in inflation running at a 56 percent annual rate, a chronically weak currency and shortages of basic goods.
The problem with Latin American populists such as Venezuela's Maduro or Nicaraguan President Daniel Ortega isn't so much their commitment to useless ideologies; it's that their failed economic tinkering is mostly aimed at keeping them in power.
Bloomberg View contributor Raul Gallegos covers Latin American politics, business and finance.
© 2014,  Bloomberg News