GUATEMALA CITY – Guatemala is the world's third-largest banana exporter, trailing only Costa Rica and Colombia, with sales increasing by 25 percent last year to $623.4 million. Productivity now stands at a record 4,000 boxes per hectare.
But critics say that unusually high productivity has come at the expense of Guatemala's thousands of non-unionized banana workers – as Dole, Bonita and other multinational companies engage in a "race to the bottom" by paying salaries as low as $3 a day, with no benefits. That compares to $10 a day plus benefits equivalent to another $10 daily for their unionized counterparts throughout the region, according to the U.S. Labor Education in the Americas Project (USLEAP).
"Working conditions, wages and benefits on banana plantations in Ecuador and the Pacific coast of Guatemala are some of the worst in Latin America," a USLEAP report charges. "It is nearly impossible for workers to organize unions to improve wages and conditions on the Pacific coast of Guatemala."
The banana industry employs 25,000 workers and generates 7 percent of Guatemala's foreign exchange and 16.4 percent of agricultural revenues. Last year, it ranked third in importance after sugar and corn, and surpassed both coffee and palm oil. The United States bought $596 million worth of Guatemalan bananas in 2013, or 95 percent of the total. In the U.S., Guatemalan bananas enjoy duty-free status.
Francis Bruderer, president of the Association of Independent Banana Producers (APIB in Spanish), said his industry has been unfairly maligned.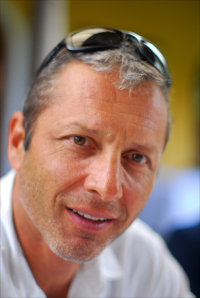 Bruderer's Swiss grandparents settled in Guatemala in the 1920s, and the Palo Blanco banana plantation has been in his family since 1958. Today, the organization he heads represents 82 banana exporters in the departments of Quetzaltenango, San Marcos, Suchitepéquez and Escuintla. Together, these packinghouses along the Pacific coast represent 85 percent of Guatemala's banana production.
"People have a choice of working in bananas, sugar cane, rubber or palm oil, and they choose bananas because they can work 12 months a year," Bruderer told The Tico Times during a wide-ranging interview in Guatemala City. "They can take home more money than they could in other countries."
He said the average banana worker earns 100 quetzales – just under $13 – per day, not including benefits.
"Workers in the south coast of Guatemala want to develop their families, educate their kids and build houses, and the banana industry has to provide the opportunities to do that through their labor in the plantations," Bruderer said. "The salaries we pay are way above the minimum wage, in some cases double the minimum wage."
Bruderer acknowledged that the Guatemalan banana industry suffers from a poor image abroad, stained by the exploits of United Fruit back in the 1940s and '50s. But he insisted that exploitation, poor working conditions and abuse are things of the past.
"We're a young industry. We don't even have one generation of south coast banana workers yet. So I think it's unfair to talk about United Fruit and then extend that to Dole and Del Monte just because United Fruit screwed up," he said. "We inherited all these problems from them."
Further distancing today's banana producers from those of the past, Bruderer said, "We're not into politics. We don't take presidents down. This is a democratic country. We're focused on producing bananas cleanly, complying with all the environmental laws this country has, and developing their families. All bananas grown in the south coast are certified by Rainforest Alliance."
Roughly 90 percent of the bananas produced along Guatemala's south coast are sold to Dole, Chiquita, Del Monte and Fyffes, but those companies don't set policy.
"We are the ones who call the shots in our farms," he said.
Bananas left out of EU trade deal
Guatemalan banana production comes to around 90 million boxes a year, compared to 106 million boxes for Costa Rica. In 2013, banana exports brought Costa Rica roughly $823 million in foreign exchange, virtually unchanged from the $822.7 million reported in 2012. Under the quota system, Costa Rica can export 1.1 million tons to the European Union, while Guatemala's EU quota is only 55,000 boxes.
Palo Blanco employs 2,400 workers and exports seven million boxes of bananas a year, mainly to the United States and Europe. Bruderer, 48, said his company has been certified by the Rainforest Alliance since 1998.
"I don't think U.S. consumers are influenced by certification. Americans generally want the best quality at the lowest price," he said. "I think the European market is a lot more sophisticated, but unluckily, when they negotiated the trade agreement with Europe, bananas were left out."
Contrary to claims by labor leaders and grassroots organizations in the U.S. and Western Europe, Bruderer denied that his industry exploits its workers.
"There is no intimidation in the banana business. Why do you start a union? Because there's injustice, because you're exploiting people and not paying a decent salary," he said. "But now we have a new breed of farmer – people like me who have had a chance to live outside Guatemala. My second home is the United States, and the Americans have in many ways shaped my life by being fair and good. I want to see fairness in my country too."
Yet the recent murders of at least seven labor organizers loom over the Guatemalan banana industry like dark clouds.
In February 2012, Miguel Ángel González Ramírez – a member of the Izabal banana workers' union – was shot to death while holding his son. Six other current or former members of that union, SITRABI, were killed in 2011. To date, no one has been arrested for any of these murders, sparking outrage from several overseas rights organizations.
Recommended: Guatemala: The worst place in the world to be a trade unionist
"Unfortunately, the Obama administration has made clear that while it is concerned about violence against trade unionists in Guatemala, it does not consider violence against trade unionists to be a violation of workers rights subject to the CAFTA labor complaint process," USLEAP said. "Meanwhile, violence has skyrocketed against one of the main filers of the complaint, SITRABI – sending a clear message to trade unions in Guatemala that it could be dangerous to engage in the CAFTA process."
But Bruderer said there's no proof that banana industry bosses perpetrated the murders, or that the killings had anything to do with the victims' political activism.
"Many of the labor leaders here participate in political movements and are exposed to daily and regular violent circumstances as we all are," he said. "Our judicial system is not capable of following up these investigations to determine if the killings were related to labor issues, as they claim to be, or just regular violence."
He added: "The country has been taken over by the drug dealers and we don't have the resources to do the job like it has to be done. I, as president of the Banana Exporters Association, would like to go all the way to the end to find out who was responsible for the killing of these seven men."