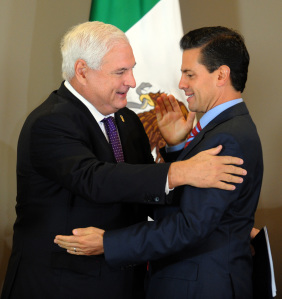 PANAMA CITY – Mexico and Panama signed a free-trade pact Thursday that could pave the way for the small Central American nation to join an alliance of Latin American partners turned toward Asia.
Mexican President Enrique Peña Nieto joined Panamanian counterpart Ricardo Martinelli at a signing ceremony during a regional meeting of the World Economic Forum in Panama City.
Martinelli said he hoped the agreement would "allow Panama to join the Pacific Alliance," which includes Mexico, Chile, Colombia and Peru.
A requirement to join the alliance is signing free-trade deals with its founding members. Mexico was the only member with which Panama had not signed a pact.
Recommended: Diplomats in Washington tout the emerging 'Pumas of the Pacific'