It is The Tico Times' policy to conduct reviews anonymously. If we have reviewed your establishment and you disagree with our assessment, you are welcome to comment on the article, and if you wish, request a follow-up review.

*
At the end of a bare 7-kilometer ride northwest of Tambor on the southern-western edge of the Nicoya Peninsula, we were surprised to find the Tango Mar. It's off the main road about a kilometer, and, including the ride on the Paquera ferry, about 3 hours from San José. Our party included a Costa Rican, so they gave us the special rate for residents/nationals – $160/night each for two "Tropical Suites" with a king and indoor Jacuzzi, about three steps from a pool shared by two other three-suite buildings.
A warm welcome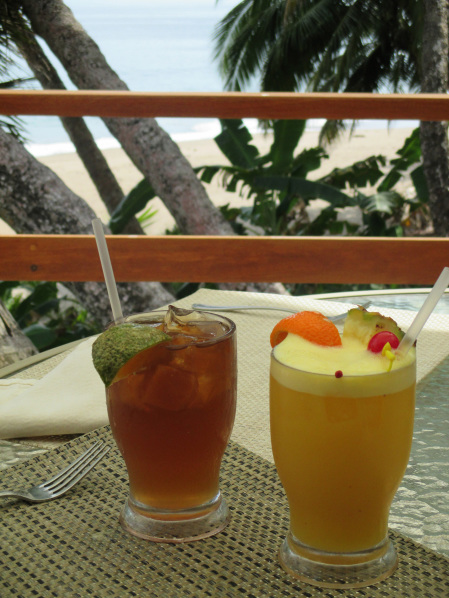 We were concluding a tour of Guanacaste with Canadian guests and arrived the long way, through Santa Cruz and then a gravel road from Playa Naranjo to Paquera. We were hot, tired, and covered in dust. In the lobby, without having a clue who we were, they gave us cool moist towels and a tasty fruity refreshment, before helping us to our suites. Our mood and mindset changed quickly from the long drive to a sense of coddled comfort. Flower petals covered the bed and bathroom. They saw we had a cooler with drinks and without our asking brought us an enormous amount of ice. We were hooked before we even had a chance to see the rest of the property.
From our essentially private pool with the obligatory infinity edge, we had a great view of the vast expanse of beach that follows Bahia Ballena, where the Tambor resorts are. The suites are fairly high up, connected to other parts of the hotel by a 100-step staircase (we all counted differently, but that's accurate enough). The nice part is that there is parking right next to all rooms, so we could opt to drive down to the lobby/bar/restaurant, but somehow didn't mind the leisurely stroll up and down.
The facilities have a European feel, but there is no question that you are in Costa Rica. The howler monkeys do their thing at sunrise, and the staff showers you with smiles and many a friendly "Buenos días." Our rooms had a pile of leftover books in five languages. The owners, whom we didn't meet, clearly want to attract the largest market of repeat hotel-goers: Costa Ricans and residents. According to the staff, about half the guests are European, with North Americans often coming in tour buses. We heard at least four languages spoken in the dining room. The atmosphere is relaxed and very comfortable, yet when some of our group decided to step the party up a notch, nobody complained. They wanted us to be happy.
Down by the ocean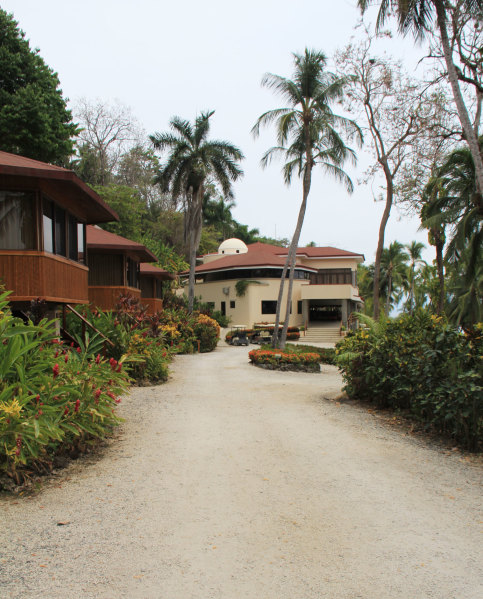 The hotel appeared 100 percent booked, and we felt lucky to have been snuck in. The next morning a tour bus left, and although our guests had to catch a plane in San José the following day, we decided to spend one more night and try some enticing looking "Tiki Suites" down by the ocean. Two were indeed available, but they apologized that the special resident/national rate didn't apply to those. We accepted anyway, and somewhat embarrassed they asked us to wait a minute. They came back to tell us that, once again, they would give us a discount as nationals/residents.
The Tiki Suites are hexagonal wooden structures on columns above the ubiquitous personal parking spot. We guessed they were the original rooms in the hotel, because they have a well-honed, ocean-front patina. Our bartender said he thought the hotel was 16 years old, which seemed right as it could definitely use some patch-up paint here and there. Other buildings are clearly much newer, but we didn't mind our Tikis at all. They felt lived-in and homey, and were immaculately clean. The ocean roared as if we were on top of it.
The beach is the key at Tango Mar. It is picture perfect, with light sand and the far-away rocky points to the east and west that create an urge to take very long walks. As a south-facing beach, you can enjoy both the sunrise and sunset, which were spectacular during our stay. The ocean bottom drops off fairly quickly, so the break is close to shore. Not a surfing beach, but the swell is fairly constant and much milder than better-known beaches. We sat on the sand that second afternoon wondering where to find fault. One of us suggested that there was trash on the beach, and on being challenged, he finally came back with a piece of sand-covered plastic.
Service par excellence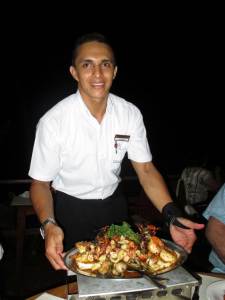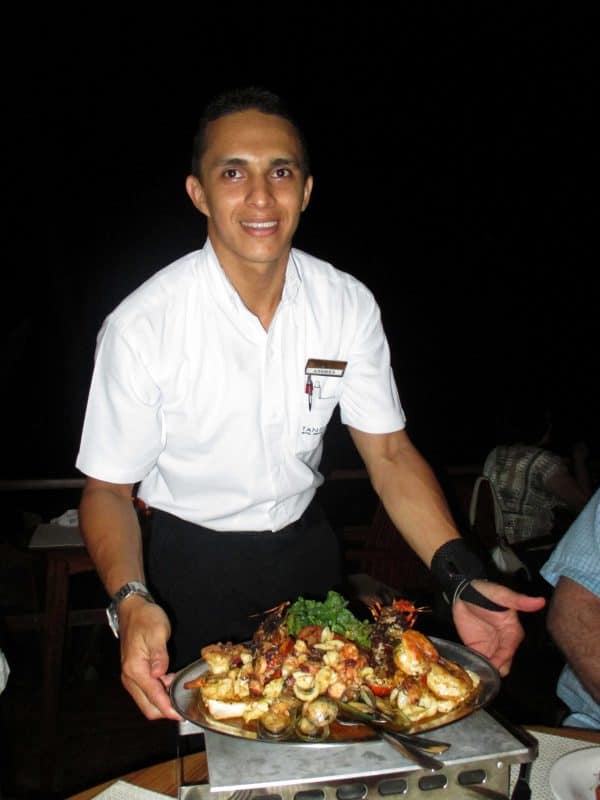 During the day, the center of activity is the pool-side restaurant where lunch is served. The main pool has a swim-up bar where Fernando treated us like royalty. There are two kid pools, and, of course, an infinity edge. We had to be pried away when some of us wanted to explore the nature walks to waterfalls and lookouts, and when Fernando had to close down to help out in the main restaurant for dinner service. He stayed an extra half hour anyway.
The food isn't haute cuisine. Yet it's certainly adequate, generously plated and reasonably priced. In addition, you're not locked in and can drive to any number of restaurants along the main road if you so desire. We didn't desire, primarily because the service was so excellent, so we took our five meals on property. The breakfast buffet is included. Our favorite dish was the mariscada (seafood platter) for two.
In all, we collectively gave the Tango Mar a big thumbs up. It is not a party pad, unless you want it to be. People go there to see a beautiful part of Costa Rica, easily accessible from San José. We're taking our next guests there in a few weeks, and will certainly put it close to the top of our list when we just want a day or two away from the bustle.
Going There: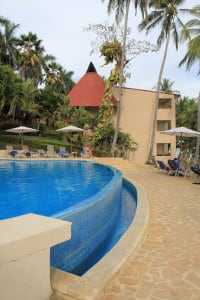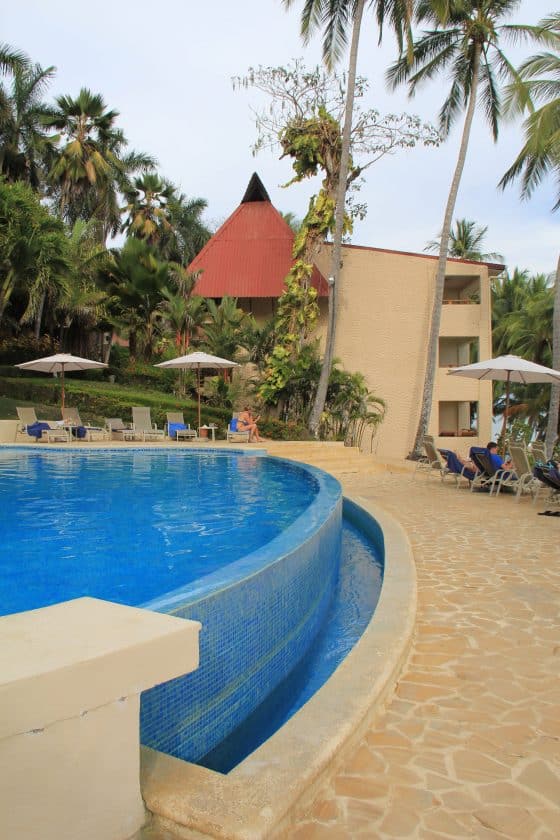 From San José, you can either drive for two hours, plus an hour on the Paquera ferry from Puntarenas, or fly into Tambor, which is an easy cab ride from the airport.
From Liberia and points north, the drive is a little more tortuous, but doable in an afternoon, through Santa Cruz, Nicoya, Playa Naranjo, Paquera and Tambor. A more direct road down the western side of the peninsula is not recommended because of road conditions and lack of signage. You could also fly from Liberia to Tambor.
More information is available at www.tangomar.com, or at 2225-9801.