Wandering the side streets of San José's historic Barrio Amón in search of the restaurant Racó, our anticipation was building for the night's strange meal. There would be no forks, no knives, and no sight.
When we finally found Racó, tucked away at the end of a street 100 meters north of the INS building behind a blue garage door, we were surprised to discover a private world. Down the rabbit hole the restaurant opens up to two dining rooms, decorated with elegant eccentricity. Plates fixed to the wall accent the restaurant's warm colors and three large bird nest lampshades hang from the ceiling. Were we still in San José?
Chef and owner Daniel Vargas greeted us as we came down a ramp cluttered with potted plants. Vargas has the sharp features of an El Greco portrait, complete with a tightly trimmed beard. He has a bouncy, youthful energy.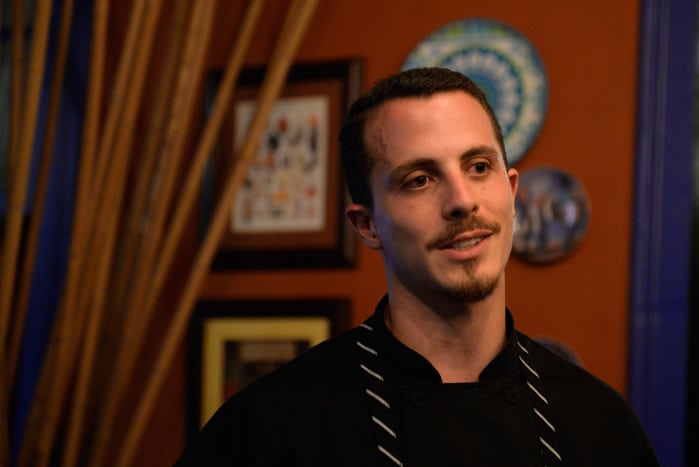 Vargas lived in Spain for four years training and eventually working at a restaurant in Madrid. There, he heard about the blind dinners served at Barcelona's Dans le Noir, which means "in the dark" in French and was one of the world's first restaurants to offer the high concept dining experience: a meal served in the dark, by blind waiters.
The chef was intrigued by the idea and how it forced the diner to really think about the food. Later, when Vargas moved back to Costa Rica to be closer to family, he decided to offer a similar experience at Racó.
"Today, when someone sits down to eat, they do it by inertia and [they] eat, but don't savor what they're eating," he told The Tico Times. Eating without seeing forces the diner to concentrate on the food without the baggage of preconceptions.
"I love to play with textures," he added. "These dinners are my most interesting food, really. I'm praying for Friday and Saturday to come because I have a great time."
Racó, which offers blind dinners with a reservation each Friday and Saturday night, forgoes the blind waitstaff and pitch black setting for chocolate-colored blindfolds that guests tie themselves. Diners are encouraged to eat with their hands but each seat is ready with a full place setting if someone is bold enough to blindly wield a knife and fork. To add a bit of sport to the affair, Vargas asked us to write down what we thought we had eaten after each course and offered a complimentary bottle of wine to the winning table.
We tied the blindfolds over our eyes and waited for the first course.
Vargas described his food as Mediterranean prepared with French techniques, but that offered few clues to the first plate. After locating the food, I traced a stout tower with smooth sides and what felt like a cap on top. The browned bubbly crust of broiled cheese?
Blindfolded, any self-consciousness I might have felt about eating with my hands disappeared, and soon I found myself breaking one of the first table rules children are taught: Don't play with your food.
While considering a small round ingredient I couldn't guess, I realized that my rights hand had been tracing the plate, finger painting, unconsciously enjoying the creamy feel of the sauce against my digits as I trawled for some vegetable or nut. I was sure there was a walnut there somewhere!
The tower proved to be an upturned zucchini roll with broccoli, onion, petit pois (that round ingredient that stumped me), corn and other vegetables served inside, topped with mozzarella cheese and served with a homemade roasted garlic aioli that was so sweet I confused it for a tomato cream sauce.
Our waiter topped off our wine glasses (Vargas said he prefers blindfolded guests drink small but frequent servings of wine) and served the next course.
Vargas' flavors really pulled the wool over our eyes when it came to identifying the rest of the meal.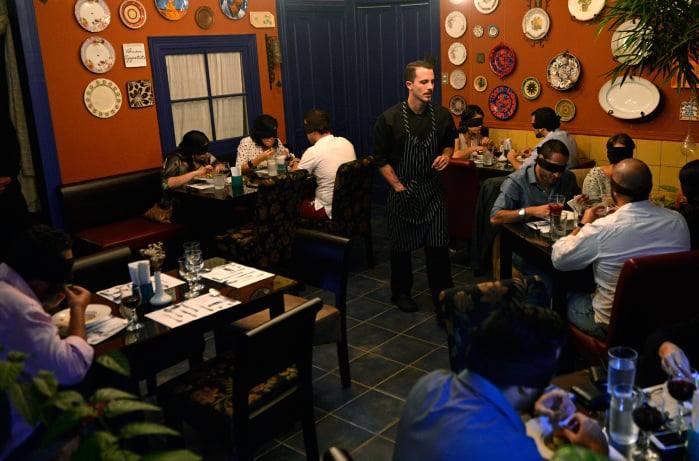 I was convinced the plate was Thanksgiving revisited: a succulent, thick slice of turkey served with a cranberry, no, pear sauce. Mushrooms had to be the next ingredient, easily identified by the feel of the gills and their earthy, meaty taste, followed by Brussels sprouts that still had some bite.
I was completely off the mark, and so was everyone else.
After diners guessed turkey, chicken, and even pork, Vargas revealed the protein as duck, cooked medium rare and served with a balsamic reduction.
"Flavor is very connected to memory," Vargas said. "I build the plate, make sure there's a harmony to it and wait for each person to bring their own criteria for what they experience."
The chef recommended forgoing our fingers for a spoon when the dessert came, a strawberry "soup" topped with an oatmeal crumble and a dollop of avocado pastry cream. The texture and flavor of the strawberries was easy to identify and one bite alerted me to the oatmeal topping but avocado has such a subtle flavor, it was a challenge to pick out.
The waiters collected our cards and the winner of the bottle of wine was announced. Alas, we didn't win, but when else would we get the chance to sit down to a nice meal and eat with our hands?
My only complaint about the meal was, well, not knowing what was on my plate. The adventure decoding the flavors and textures was fun and a unique experience, but certain dishes, especially the first course, would have been stronger if I had known about that wonderfully sweet aioli that would have livened up the otherwise plain zucchini.
That said, anyone wary about the experience should know that diners are free to remove the cloth at any time. "I want people to feel comfortable," Vargas said.
The blindfold can help some diners feel more comfortable in their own skin. There tends to be a social atmosphere during and after the meal service, Vargas said, with eaters united by their delightful confusion.
"Two men came in together on Saturday. I could tell they were a little uncomfortable, but once everyone covered their eyes, they reached across the table and held hands. They told me afterwards that once the blindfold was on, they felt safe and had a great time. That meant a lot to me," Vargas said.
"There's no judgement when you can't see."
Going There:
Racó restaurant is located 100 meters north of the INS building in Barrio Amón, San José. It's open Monday through Saturday, for prix fixe lunch (₡3,900) and dinner. Blind dinners are served Friday and Saturday nights, ₡18,000 per guest. Reservations required. Gluten intolerant diners should know that the chef avoids flour and added starches in his cooking. He also shies away from lactose and is open to customizing the blind meals to diners' specifications, be they vegetarian or adverse to red meat.