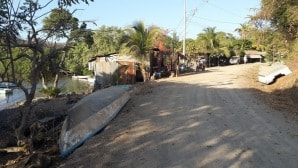 Second in a series. Read the first story here.
For years along Costa Rica's azure coasts, thousands of men and women have cast their nets into the ocean, which has returned to them a humble subsistence via artisanal fishing.
Evangelina Aguilar and her family arrived at Costa de Pájaros, in Puntarenas, in 1973. Before that, the family traveled up and down the Pacific coast in search of sea bass and shrimp.
Aguilar's three children were born and raised in Costa de Pájaros. Now 57, Aguilar doesn't fish anymore, but her daughters married fishermen, and the family tradition continues.
"This is our little piece of home, where the sky blankets us in liberty," she said.
Aguilar belongs to the Costa de Pájaros Union of Artisanal and Aquatic Fishermen (Sindicato de Pescadores Artesanales y Acuícolas de Costa de Pájaros, in Spanish), which has 470 members. Those members have joined several other coastal communities on both sides of the country in lobbying for the passage of the Coastal Community Land Bill, known by its Spanish acronym TECOCOS.
The bill, drafted by the Broad Front Party with input from coastal communities, seeks to protect the families' ownership of land that lies within the restricted maritime zone, which extends up to 200 meters from the high-tide line on both coasts.
Recent attempts to enforce a law passed in the late 1970s, known as the Maritime Zone Law, have left thousands of coastal residents in limbo. Many of them are artisanal fishermen, and they live in poverty.
"The only thing these fishermen and women seek is for their situation to become legal. They want to maintain their livelihoods in the places where they have lived all their lives," Ronal Vargas, an incoming Broad Front Party lawmaker from the northwestern province of Guanacaste, told The Tico Times.
Vargas estimates that the Maritime Zone Law affects 60,000 coastal residents, but others have said that number could be higher.
Within 200 meters
According to the Maritime Zone Law, the 50 meters from a high tide mark is publicly zoned, meaning it belongs to municipalities. The remaining 150 meters is completely restricted, and any type of construction is prohibited. Families who already live within the maritime zone must abide by a municipal zoning plan, obtain a municipal concession and pay a monthly fee.
Because many municipalities don't have zoning plans, or planes reguladores, they ceased charging concession fees some 15 years ago. But now, some municipalities are beginning to implement zoning plans, and along with them, maritime zoning fees.
"In the majority of communities where this fee is being charged the rate is more than ₡100,000 [$200] a month per family. That's like paying rent, and when [families] can't pay it, it's almost certain they'll be evicted," said Wilmar Matarrita, coordinator of the National Front of Coastal Communities (Frente Nacional de Comunidades Costeras, in Spanish).
In 2012, lawmakers passed a moratorium to temporarily protect residents already living within the maritime zone and to halt the demolition of their homes and businesses. But the moratorium expires in September.
In many cases, coastal land has been handed down from generation to generation. But the Maritime Zone Law prevents those residents from obtaining land titles or proving ownership.
TECOCOS would give these families ownership rights if they have lived in the maritime zone for more than 10 years, and if municipalities and neighbors can confirm it.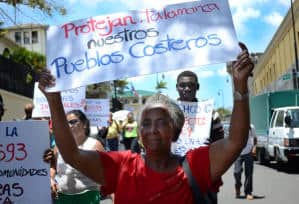 The government's proposal
Last year, the National Front of Coastal Communities, lawmakers and the Chinchilla administration negotiated a deal to pass TECOCOS in a first-round of discussion in the Legislative Assembly, along with two bills drafted by the government: one to regulate existing constructions and another to create "coastal cities."
Government-sponsored Bill 18,592 defines coastal cities as urban areas located on the coast that include "natural areas" in the maritime zone, as well as surrounding properties. Once an area is declared a coastal city, municipalities can more easily grant construction concessions. The bill emphasizes that concessions cannot be granted in these areas to foreigners who have not lived in Costa Rica for more than 10 years, or who live outside of Costa Rica, or to companies with more than 50 percent foreign shareholders.
Yet on Feb. 17, 2014, in a special session of the Assembly, the National Liberation Party moved to vote only on the two government-sponsored bills, leaving the TECOCOS Bill out of discussion.
A spokeswoman for Presidency Minister Carlos Ricardo Benavides confirmed that the TECOCOS Bill had not been called up for discussion, nor are there plans to do so. The spokeswoman referred The Tico Times to PLN lawmaker Carolina Delgado for further comments.
Last Tuesday, in a legislative debate, Delgado said the TECOCOS Bill was flawed and would prevent coastal families from escaping poverty because it defines them as local communities dedicated only to artisanal fishing, the sustainable extraction of marine resources, rural and community tourism and family-run fishing companies.
"It leaves the communities in poverty, and [prevents] families from advancing, from accessing development," the lawmaker said.
According to Delgado, the two bills promoted by the government seek integral solutions to the Maritime Zone Law dilemma.
For Matarrita, the problem with the Assembly's current approach is that if the two bills are passed without passage of TECOCOS, communities would be left unprotected, especially ones located in areas where some government officials want to build coastal cities, such as Costa de Pájaros and Chomes in Puntarenas, Cocorotas in the Gulf of Nicoya, and Manzanillo on the southern Caribbean coast, among others.
Matarrita said the Municipality of Puntarenas already has expressed an interest in developing a coastal city, a large port and a marina in the Costa de Pájaros area.
"Discussing a coastal city in a port like Costa de Pájaros, which was designed according to the coastal culture of artisanal fishing, means they'd have to demolish the entire village and change the cultural roots that form the center of life here, as well as the type of construction that already exists," Matarrita said. "They'd practically have to annul the coastal culture of this place."
Matarrita also warned of potential environmental damage this type of development could cause in coastal areas.
Timeline of events:
July 2012: The Legislative Assembly passes a moratorium to temporarily protect coastal residents living in the maritime zone from eviction and demolition of their homes and businesses. The law expires in September 2014.
March 2013: The Assembly's Environmental Commission approves the TECOCOS Bill and sends it to the Assembly floor.
April 2013: Lawmakers pass the TECOCOS Bill in a first-round vote. The bill is sent to the Constitutional Chamber of the Supreme Court for review.
February 2014: The National Liberation Party moves only to discuss two bills promoted by the Chinchilla administration, leaving TECOCOS off the legislative agenda.
The Tico Times will continue to provide updates on this issue as it unfolds in the Assembly.