The central Pacific coast is home of Los Sueños Resort and Marina, and this year, the marina hosted its 1st Annual Los Sueños Triple Crown billfish tournament series. The series broke many records.
The first leg, held Jan. 22-25, will go down in history with more than 90 fish an hour released by 42 teams in three days. Over three days of fishing, the teams jointly released a total of 2,170 billfish, including 11 marlin and 2,159 sailfish.
"Going into the first day of fishing, it was very apparent that this would be a tournament like no other," said Tournament Director Ashley Bretecher.
The team Sea Angel on the Saturday before had released 76 billfish of 111 bites, and other teams were reporting between 30 and 50 releases with a catch rate of about 50 percent.
First place went to the Hatteras Xta Sea, captained by John Lagrone and angled by Alexis Chamorro, Julio Chamorro and Emilio Munkel. Xta Sea is the first boat from Nicaragua to win one of the Los Sueños tournaments. Angler and boat owner Alexis Chamorro is an avid fisherman and has participated in numerous tournaments along with his cousin Julio Chamorro.
This year, a new member of the team was added, Emilio Munkel, who will probably stay with them for some time now. Captain John Lagrone has been with Alexis for nearly a decade and knows the waters around Los Sueños like the back of his hand. Second place went to the Maverick Boat, Spanish Fly, captained by Daniel Espinoza and angled by Larry Drivon, Richard Lebo and J Godwin. Spanish Fly shared their touching story during the awards banquet on Saturday night. Just two years ago, angler and owner Larry Drivon fell down and broke his back, angler Richard "Bimmy" Lebo was diagnosed with esophageal cancer and angler J Godwin underwent a triple bypass. Like Larry said to the audience on Saturday, "We went through all this and were able to come here and win second place against the best teams in the world. If that's not a comeback story, I don't know what is!" Who could argue with him?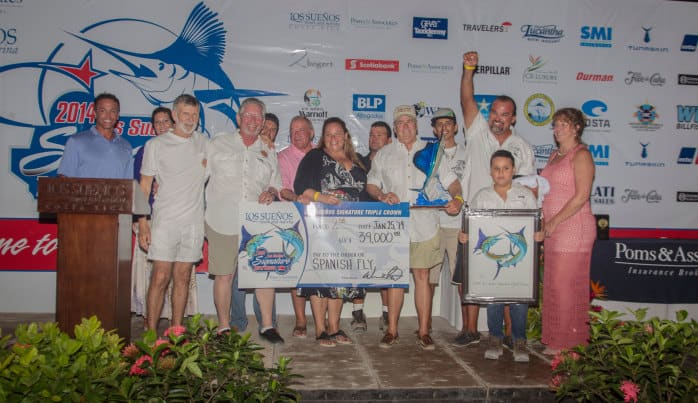 Third Place went to the Custom F&S boat, Sea Angle, captained by BC Angel, and angled by Greg Angel, Austin Angel, James Lagrone and Mike Hardy. Sea Angel is no stranger to the winner's stage, having placed first at the Los Sueños Signature Billfish Series in January 2011, angler and owner Greg Angel was the top angler for the second leg of the 2013 billfish series, son and angler Austin Angel was the top angler for the first leg of the 2013 Billfish Series and has won the WBS World Champion Angler title two years in a row. The Angel family is a well-oiled tournament machine.
This year, No one was able to guess who would be crowned Top Angler for the first leg of the 2014 Triple Crown, and for that reason, the top angler himself missed the awards ceremony. It must have been the exhaustion from reeling in 36 sailfish in just three days, all by himself, that put him to bed early. Congratulations Phil Arklin of Gunsmoke on achieving the honor.
This tournament is sponsored by BLP Abogados, Bristol Marine Supply, Caterpillar/Gregory Poole, Costa Sunglasses, Costa Rica Dreams Sport Fishing, Costa Rica Luxury Rentals & Tours, Durman, Flor de Caña, Fortis Accounting Services, Galati International Yacht Sales, Gray Taxidermy, Los Sueños Resort and Marina, Lucantha, Marriott, MTU/Tractomotriz, Rick Bogert, Scotiabank, SeaDream, Sevenstar Yacht Transports, Smith-Merritt Insurance, STCR – Fidelity, Travelers Insurance, Tunaskin Aquatic Apparel, Vanmark Inc., Viking Yachts, Weather Routing Inc. Leg II and Leg III of this fantastic event are scheduled for Feb. 26-March 1 and for March 12-15 of this year. For more about the sponsors and the tournament, please visit www.LStournaments.com or contact Ashley Bretecher, Executive Director of Marketing and Communications, Los Sueños Resort and Marina at 2630-4005, or email a.bretecher@lsrm.com.