Costa Rica may be small, but its people are achieving great things. In this story, contributor Bruce Callow shares an interview with Luis Diego Fonseca Flores, a Tico who works for the National Aeronautics and Space Administration (NASA).
Where did you grow up and go to school in Costa Rica? Tell us something about your childhood.
I went to school at Colegio Metodista, located in Sabanilla, from third grade all up to high school and graduated in 2000. During high school, some of my classmates made fun of me because I told them my future goal was to meet Franklin Chang Diaz and follow his footsteps in space exploration. I was very passionate and determined, which pushed me to follow my dream in achieving an aerospace engineering degree in 2005 at the University of Colorado Boulder. Hence, in 2007, Franklin Chang and Ronald Chang hired me at Ad Astra Rocket as a thermal engineer.
What was the path that took you to work for NASA's Jet Propulsion Laboratory?
Working at Ad Astra Rocket was a great experience in developing the VASIMR engine since it involved working with a pool of scientists in different areas and places such as NASA. During my work at Ad Astra Rocket, a colleague of mine called Ben Longmier had a Ph.D in nuclear engineering from the University of Wisconsin in Madison. He saw that my passion was thermal engineering and told me that UW Madison had one of the best graduate degree programs in thermal engineering. By applying, it would lead me to better professional opportunities and help me become a successful engineer. I talked personally to Franklin Chang about getting a graduate degree in thermal engineering, and he supported my decision 100% and wrote me a recommendation letter.
Once I applied, UW Madison professors John Pfotenhauer and Franklin Miller accepted my application and told me to work on thermal projects in the area of cryogenics. My professor, Franklin Miller, worked at NASA Goddard, and John Pfotenhauer was a distinguished cryogenic engineer. My professors explained to me that cryogenic engineers were extremely important when designing satellites like Hubble telescopes — basically, in order for a satellite to take pictures of space, its detectors have to be at cryogenic temperatures (temperatures below 150 K) using cryocoolers (special refrigeration systems). And the best part was that there is a very small community of cryogenic engineers, and a lot of companies were in need of cryogenic engineers.
While attending cryogenic conferences, my professors introduced me to NASA scientists that urgently needed cryogenic engineers. However, NASA was not able to hire me since I needed to be a permanent resident or U.S. citizen. I was truly devastated. However, my wife was very supportive and told me another opportunity would arise. In 2018, while applying for my green card, I accepted a job at Intel Corporation in Oregon as a process engineer for manufacturing semiconductors — it was a great job but it was not my passion.
In mid-2018, I went to visit a friend at NASA's Jet Propulsion Laboratory (JPL) in Pasadena and met his boss, Jose Rodriguez, who was a cryogenic engineer, and we had a great conversation about JPL's future projects. After that, Dr. Jose Rodriguez emailed me every three months asking if my green card was approved, and I felt motivated again that he needed an engineer in my field of expertise.
A year later, around July 2019, my green card application was approved. I immediately wrote to Dr. Jose Rodriguez about the great news and in two weeks he flew me to JPL in Los Angeles for a formal interview. I was offered a job a week later.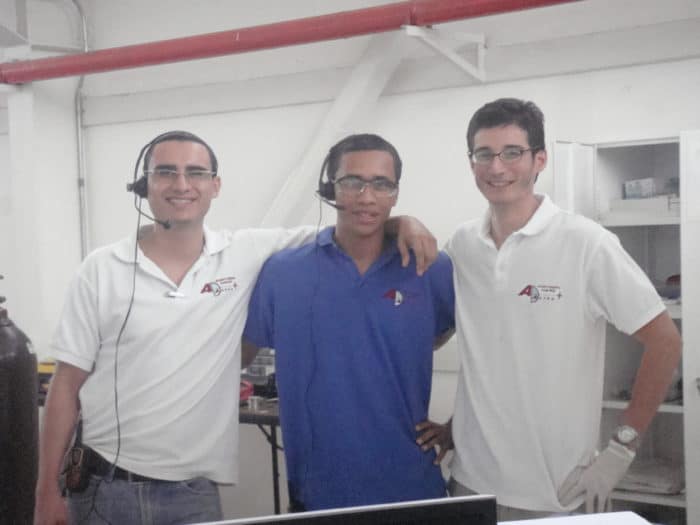 What inspired you to choose your career path?
When I was a teenager, I used to go with my dad with my telescope and look at the stars. And we were just amazed how beautiful the universe was and it made me just fall in love with the unknown.
Secondly, When I was like 12 years old, I went with my father to see "El Festival de La Luz" where Dr. Franklin Chang was the guest of honor, and he just ignited the spark in me that every goal starts with a dream. From that moment, I understood that human beings have always been explorers; it's imprinted in us and its in our nature to discover the unknown and I just wanted to be a part of it.
What is your favorite part of your job at JPL?
One of my favorite parts is that usually we get to choose the projects we want to work on, and each project is always different and full of different engineering and scientific challenges.
Second, at JPL, we have the best engineers to solve problems and absorbing other peoples train of thought makes you become a better engineer. I remember that I had a book called "Spacecraft Thermal Control Handbook" by David Gilmore. Basically it's the bible of thermal engineering technology. When I went to my first meeting, my coworkers introduced me to an external consultant called David, and then someone told me his last name was Gilmore and we was going to help in our thermal designs. I just felt blessed that I was going to work with one of the best thermal engineers.
What message do you have for young Costa Ricans who would like to work for NASA?
Dream of what you want to become. Then ask yourselves and write down what steps do you have to take to achieve your dream. Don't be afraid about asking advice from experienced people.
Don't let your dreams fade because your parents, friends or anyone else tells you it's too hard.
Have good friends that understand you; having bad friendships will distract you and make you take bad decisions.
Take risks — life is about taking risks. If you are not a risk taker, you wont accomplish anything.
Embrace your mistakes and learn from them.
You don't have to be a genius; successful people are not born that way. They learn from their mistakes and adapt quickly. A pianist has to practice a thousand times to finally play perfectly; it's all about dedication and time you put into practicing.
Be social. Meeting people and making contacts is key to find a dream job.
Inspiration and determination are needed.
Stay healthy, be mentally and physically strong. Studying all the time is not healthy. Do sports.
Be honest and always work with responsibility.
What are your thoughts on the future of human exploration of space and the discovery of life on other planets?
By nature, human being are explorers, and we are developing the technology to send astronauts to Mars. However, humans are very delicate and we need to find better ways to protect astronauts from hazardous conditions such as solar radiation. In addition, once advanced space engines, such as Franklin Chang's VASIMR rocket, are fully developed we will be able to conquer our solar system.
NASA and other space organizations are developing telescopes that will be able to analyze the light emitted from other far away planets, and with this light we will be able to determine the composition of their atmosphere and tell if they are habitable. In addition, MARS 2020 will be launching in July 2020 and will analyze the composition of the soil in what is believed to be a dried-up lake on Mars. This rover will be able to search for microorganism fossils. JPL's Europa Clipper project is being development to explore one of Jupiter's moon called Europa, since it's known that it contains water, and we know water is an essential element for life.
Humans have the brains and technology to find life — it's a question of when!
Bruce Callow is a Canadian communications consultant and teacher who does space education outreach work on behalf of NASA. He is the co-author of the book "To the Stars: Costa Rica in NASA" which documents the stories of the Costa Ricans who work, or worked, for NASA.