Llanos de Cortés Waterfall is the perfect antidote to a hot, dry Guanacaste afternoon.
Just minutes off the Inter-American Highway near Bagaces, Llanos de Cortés Waterfall is a simple addition to any road trip through the area. It's also relatively easy to access — you won't have to climb hundreds of stairs, like La Fortuna Waterfall or Rio Celeste Waterfall, or go on a long hike, like at Nauyaca.
How to get to Llanos de Cortés Waterfall
Click here to see the waterfall's location in Google Maps.
From Liberia, it's about a 20-minute drive on the Inter-American Highway. Exit right, and follow the road until you reach a sign highlighting the Llanos de Cortés Waterfall's official parking lot.
Pay the entrance fee ($7 for foreigners; credit cards accepted) and you'll be directed to follow a rocky road for about 500 meters until you reach the monitored parking lot. Here, you'll also find bathrooms and a changing area.
From there, it's a quick hike — a couple of minutes down a set of uneven, but paved, stairs followed by a short dirt path — until you reach the waterfall.
Enjoying Llanos de Cortés Waterfall
First, take in views like this one: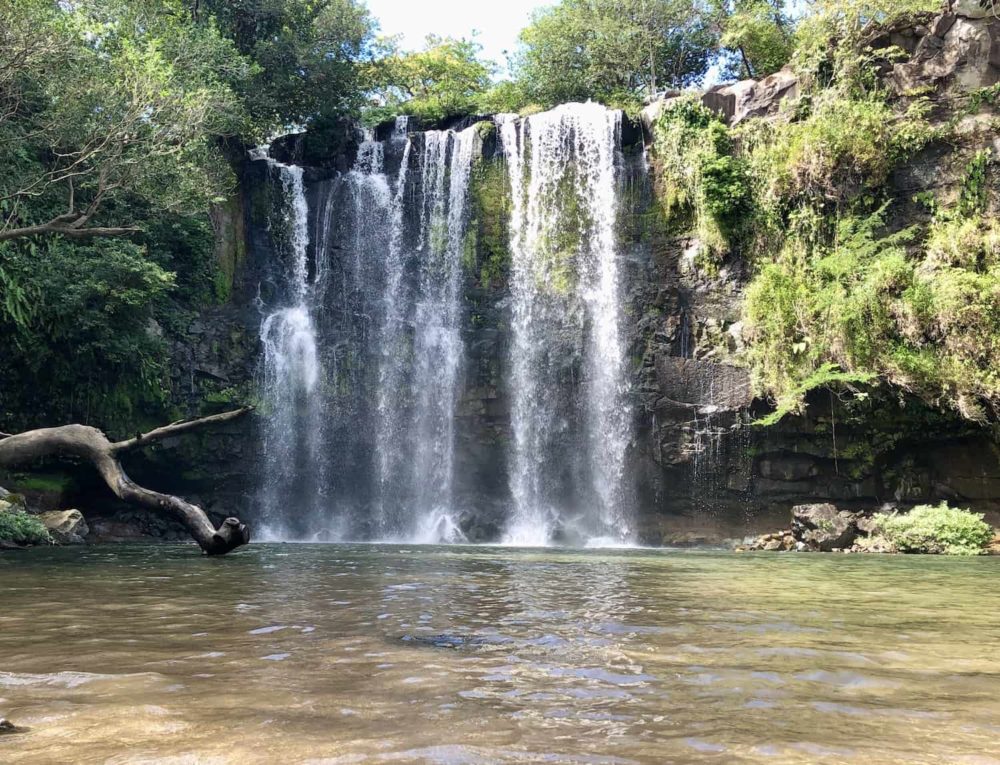 The waterfall cascades into a calm pool that is ideal for wading or swimming. Unfortunately, since the municipality took over management of the attraction in 2019, visitors are no longer permitted to swim all the way up to the waterfall itself. They do, however, staff lifeguards to help make everyone's visit safe and enjoyable.
The banks of the river are flat and sandy, and we highly encourage bringing a picnic lunch (or snack) to enjoy while you take in the sights. In addition to the waterfall itself, you can explore downriver, and keep your eyes open for the butterflies, fish and lizards that call the area home.