I was brought to Sibu with serious injuries from a dog attack. The attack caused me to have a  perforated chest, collapsed lung and six broken ribs. I was also very dehydrated when I arrived. Fortunately, Dra. Irena was successful in stabilizing me. I had a 2 hour surgery and a long road to recovery. I am getting stronger every day and will eventually be released back into the jungle. My favorite foods are mangoes and watermelon, and Kintu is my best friend!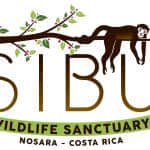 SIBU's mission is to rescue injured, orphaned, and displaced wild animals and provide them immediate medical care, rehabilitation, and eventual release into the wild. When the animals are determined to be strong, healthy and old enough to be re-integrated into the jungle they begin a step-down release program. Animals unlikely to survive in the wild receive a permanent enriching habitat for their life-term care.
Become a monthly donor here.