2019 started off well. It was Jan. 10, and I was getting offstage for the first time this year with Thunderborne, as usual soaked in sweat, having closed out a show with emerging alternative hard rock band Alypsia and the more established metal outfit A Razon de Nadie, both of which had been phenomenal. The crowd in Mundoloco, San Pedro, was small but wild.
A Thursday show can be tough, especially right in the heart of the "cuesta de enero" (the hill of January, commonly the most difficult financial time of the year given Christmas season and year-end beach trips depletes folks' reserves). Nevertheless, it was the date that organizers Grunge506, founded by Steven Uba, were able to secure for one of a series of shows in support of Chepe Se Baña, an NGO dedicated to providing sanitation buses with showers and bathrooms for San José's homeless.
This was exactly the kind of show we had been eager to be part of for a while. With both Grunge506's savings and the shows' attendances, we were able to make an impact in the NGO's efforts to repurpose another bus to continue their cause.  
The story starts earlier, though. The first time I met Uba, I had just arrived at a quaint residence hidden deep in the hills of Alajuelita, a southern region of San José's sprawling metropolitan area. I was there to interview the members of Pixel, who were celebrating their eighth anniversary as a band, back in February 2018. More than a show, the event was a combination of birthday cookout, rock concert and day at the beach.
The mood was festive, the weather pleasant, and a small galera (something akin to a backyard shed or shack with a roof but no walls) had been converted to a stage. Within, the makeshift stage was decorated with the same items appearing in the cover Pixel's recently released grunge album Alienation, mostly harkening back to the 1990s: a broken, boxy TV set, VHS tapes, an old electronic typewriter, and the like.
This was one of the first shows I was covering on my then-nascent radio show RelampaRock. It seems obvious in retrospect, but this interview taught me it was far easier to go to bands' shows than try to coordinate a random meetup with them – what I lost in fuel and time, I more than made up in beer, good times and live rock music.  
Uba's band, Grandpa Joe, named after a lyric from an early Nirvana song, was opening the show. The grunge scene here may be small, but it is also a tightly knit community. I was immediately struck by Uba's sheer physical resemblance to Kurt Cobain, or rather a laid-back, tropicalized Cobain who lived quite happily beyond 27, at least.
I figured we would do a two-for-one deal, so I included Grandpa Joe in the interview and stuck around for their show. We put their songs on RelampaRock, and they have become fixture since, especially the infectiously catchy, Seattle-esque single MayDay, along with Pixel's single Naive.
Through chance, I bumped into Uba and his bandmates, bassist Rodian Alvarez and drummer Freddy Miranda, who round out the power trio, several times. Though perhaps far more than chance, it was the sign of a band constantly on the move. I brought them on to play at the first RelampaRock Fest, an event put together to promote the radio show in June 2018, along with longtime grunge luminaires Morttimer, active since 1999. It was here that I learned of Grunge506.
506, Costa Rica's country code, is common modifier for brands, initiatives, and organizations here; in short, an identifier for anything national. And as the name implies, Grunge506 is a loose amalgam of bands trying to push the local scene forward (its motto is We're talkin' about national music!), and it's only one example of the new ways of organization emerging in local scenes the world over, aided by technology.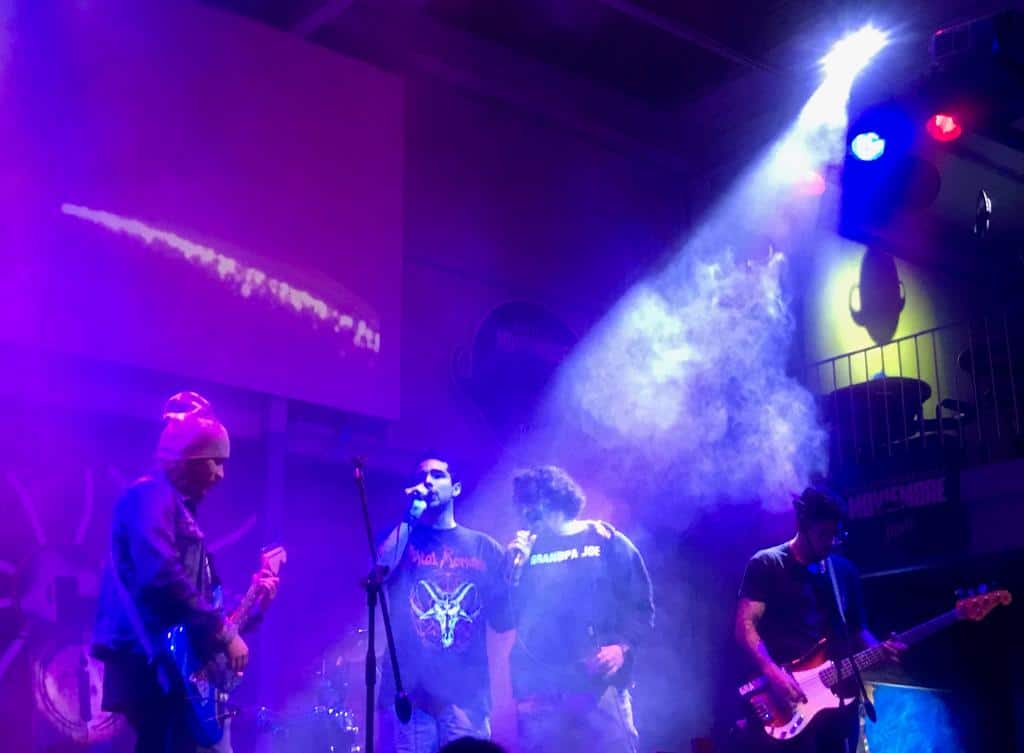 It might be taken for granted, but it is a little amazing to stop and think what can be accomplished with a Facebook page, a WhatsApp group and a mission. Of course, the real action occurs live, both in regular monthly meetings and in shows, which members who are not playing that day frequently attend. Regardless of platform, the constant communication can be an enormous asset, from sharing of tips, to gig opportunities, to being a source of musical equipment in emergencies.
And this is just the beginning, as the organization arose only recently and debate is still fierce within the group as to where to focus energy next to push forward the goal of expanding the scene and bringing local music to the masses. Initiatives like the alliance with Chepe Se Baña will likely remain key. One can only hope that more groups, of all genres, will emerge and debate, seek alliances with charitable organizations and non-profits, find new and innovative ways to emerge. Music has tremendous power to bring communities together; let's not waste it solely in the search for profits.
You still have a chance to help, as another wave of shows in support of Chepe Se Baña are currently being planned. You can follow Grunge506's FaceBook page if you'd like to contribute by attending these shows, or of course, even better, go directly to www.chepesebana.com to learn how you can help.
---
This story was made possible thanks to The Tico Times 5 % Club. If only 5 percent our readers donated at least $2 a month, we'd have our operating costs covered and could focus on bringing you more original reporting from around Costa Rica. We work hard to keep our reporting independent and groundbreaking, but we can only do it with your help. Join The Tico Times 5% Club and help make stories like this one possible.
Support the Tico Times