Public Security head decries failure to enact stricter gun control in Costa Rica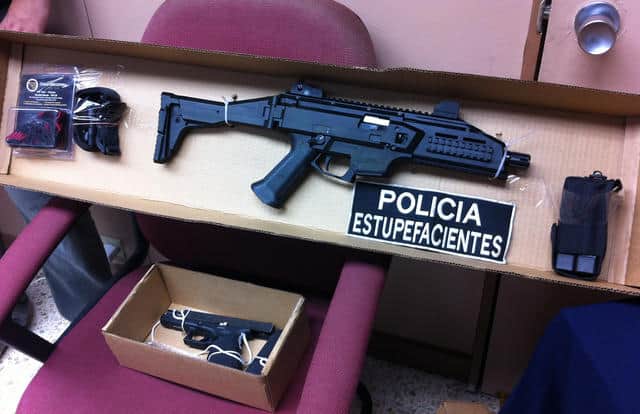 Minister of Public Security Michael Soto decried Costa Rica's failure to enact stricter gun-control legislation this week, arguing that the inaction would prevent Costa Rica from further reducing its homicide rate this year.
Among other measures, the Security and Drug Trafficking Commission on Monday approved a motion to continue allowing citizens to own three guns, rather than adopting a reform that would have reduced the number to one.
Soto, who supported the proposed reform, said he does not want to disarm the Costa Rican people but seeks to continue the country's decrease in murders. 2018 was the first year since 2012 that the number of homicides dropped in Costa Rica.
"From the Ministry of Security, we completely oppose the project with the motions approved [Monday], because they prevent us from generating positive results in terms of security and reduction of homicides," Soto said in a statement issued by the Public Security Ministry (MSP).
President Carlos Alvarado appointed Soto as Minister of Public Security in May 2018, following the first quarter of the year that was the most violent on record. Thanks in part to Soto and his initiative of nationwide coordinated police operations known as megaoperativos, Costa Rica closed 2018 with fewer homicides than in 2017, and law enforcement also seized a record number of weapons, the majority pistols.
Supporters of the three-gun legal allowance argued that criminals can easily obtain weapons illegally and that the restriction would only hurt law-abiding citizens.
"We didn't see a link that decreasing the amount of legal weapons held by people who meet all the requirements would have an impact on the reduction of homicides," said Gustavo Viales, president of the Security and Drug Trafficking Commission, according to the daily La Nación.
Soto called on legislators to reconsider the motions and send a bill to the plenary that "protects the security of Costa Ricans." The Minister of Public Security cited the following four setbacks in the legislation approved Monday:
The motions would stagnate the cancellation of gun permits of people with criminal records by sending those cancellations through a judicial process. This "opens the door for criminals to keep weapons in their possession," Soto said.
The motions continue to set a three-weapon legal limit and do not enact MSP's proposed safeguards to prevent legal weapons from entering the black market.
The motions require commercial locations to have a secure weapon-storage space, which "represents a danger," according to Soto, because it creates a target for thieves.
The motions do not firmly establish the ability to punish or sanction people who don't report a stolen weapon.
---
This story was made possible thanks to The Tico Times 5 % Club. If only 5 percent our readers donated at least $2 a month, we'd have our operating costs covered and could focus on bringing you more original reporting from around Costa Rica.We work hard to keep our reporting independent and groundbreaking, but we can only do it with your help. Join The Tico Times 5% Club and help make stories like this one possible.
Support the Tico Times
You may be interested