MEXICO CITY, Mexico – Anti-establishment leftist Andrés Manuel López Obrador swept to victory in Mexico's presidential election Sunday, in a political sea change driven by voters' anger over endemic corruption and brutal violence.
The sharp-tongued, silver-haired politician known as "AMLO" won 53 percent of the vote, according to an official projection of the results.
It was the first time in Mexico's modern history that a candidate won more than half the vote in a competitive election. It was a resounding rejection of the two parties that governed the country for nearly a century.
"This is a historic day, and it will be a memorable night," Lopez Obrador said in a victory speech in Mexico City's Alameda Park. Thousands of ecstatic supporters flooded the capital's central district, chanted "Yes we did!" and partied to mariachi music.
Lopez Obrador, 64, sought to downplay fears of radicalism after critics branded him a "tropical Messiah," who would install Venezuela-style policies that could wreck Latin America's second-largest economy.
"Our new national project seeks an authentic democracy. We are not looking to construct a dictatorship, either open or hidden," he told cheering supporters. López Obrador also promised to safeguard freedoms, respect the private sector and work to reconcile a divided nation.
He also vowed to pursue a relationship of "friendship and cooperation" with the United States, Mexico's key trading partner — a change in tone from some comments during the campaign, when he said he would put U.S. President Donald Trump "in his place."
Trump, whose anti-trade and anti-immigration policies have infuriated Mexico, appeared ready to start off on the right foot.
"I look very much forward to working with him," Trump tweeted. "There is much to be done that will benefit both the United States and Mexico!"
Canada's Prime Minister, Justin Trudeau, echoed the congratulations while emphasizing his country's work with Mexico to renegotiate the NAFTA trade pact — an effort that stalled over attempts to satisfy Trump's demands.
"Canada and Mexico are close friends and longtime partners. We share common goals, strong people to people ties, and a mutually beneficial trading relationship that is the envy of the world," Trudeau said.
Congressional majority in reach
López Obrador successfully tapped voters' anger over a seemingly never-ending series of corruption scandals and horrific violence that led to a record 25,000 murders last year—an orgy of bloodshed fueled by the country's powerful drug cartels.
His coalition — led by the Morena Party Lopez Obrador launched in 2014 — appeared to be on track for a strong showing in state and congressional races as well. The coalition won six of the day's nine governor's races, according to exit polls.
That included Mexico City, where a woman was elected for the first time ever, the scientist and environmentalist Claudia Sheinbaum.
Two other states were too close to call, according to polling firm Mitofsky.
López Obrador's coalition will have a majority in the lower house, and possibly in the Senate as well, according to the firm's exit polls — a coup for a party contesting its first national elections.
Runner-up Ricardo Anaya of the conservative National Action Party (PAN) and third-place candidate Jose Antonio Meade of the ruling Institutional Revolutionary Party (PRI) both congratulated Lopez Obrador and wished him success.
It is a major shift in Mexican politics: the PRI and PAN have governed for nearly a century, and López Obrador will be the country's first leftist president in recent history when he takes office on December 1.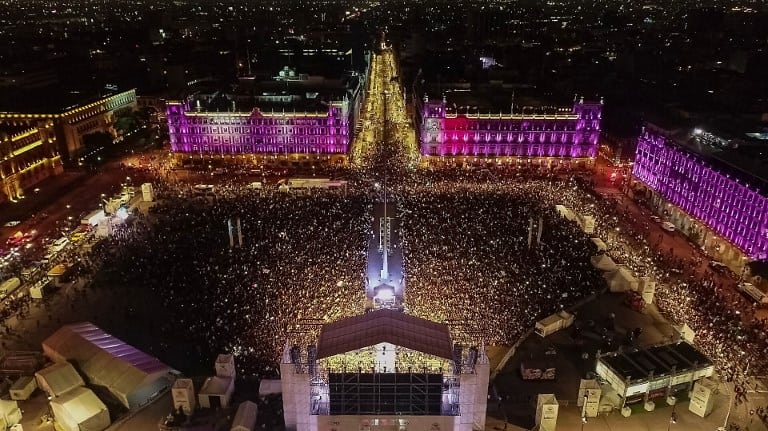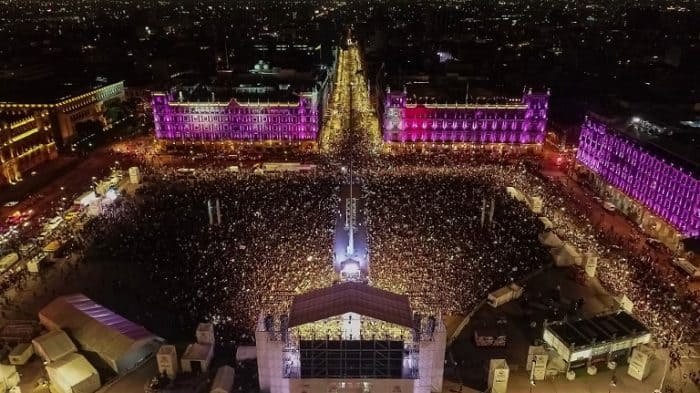 Easier said than done
After a campaign of lofty but vague promises, Mexico is now keen to see what the change will actually look like. In his victory speech, López Obrador cited one overriding priority: eradicating the country's festering corruption.
"We are absolutely convinced that [corruption] is the cause of our social and economic inequalities, and corruption also unleashed the violence our country is suffering," he said.
It will not be easy, warned Mark Weisbrot, co-director of the Center for Economic and Policy Research in Washington.
"That will be one of his biggest challenges, given the power of the drug cartels and their connections to government and the armed forces," he said. "There is a very entrenched, corrupt and powerful political class."
The incoming president's fans were undeterred.
"I'm here to celebrate López Obrador's triumph, the new transformation in our country," said one supporter, Omar Ibarra.
Truce with big business?
But Mexicans are deeply divided over López Obrador, who was making his third presidential bid.
Seeking to soothe the country's business community, he has recruited a team of market-friendly advisers and backpedaled on his most controversial proposals, including reversing outgoing President Enrique Peña Nieto's landmark energy reform, which privatized the oil sector.
The Mexican peso was stable on international currency markets. The country's Business Coordinating Council, one of its largest business groups, appeared ready to call a truce.
"We will work with the president-elect's team to build an agenda for stability, trust, and development," its director, Juan Pablo Castanon, told a press conference.