Most visiting anglers come to this country with either marlin, sailfish, or tarpon on their bucket list. These are all spectacular fish and great angling challenges, available almost any day of the year – but they are not always around in great numbers, or they at times pass through periods when they are just not going to eat. Another drawback is that some anglers just can't handle the open ocean, and a day being seasick is not going to be the highlight of your vacation.
Fortunately, there is an inshore fishery here that has quite a plethora of species. One can only be called sexy, like a sleek race car: The roosterfish should be on every visiting angler's bucket list. They are strong, fast, painted in a brilliant hue, with a spoiler on top. They usually haunt the coastal waters which are generally calm, especially in the morning. They readily devour a live bait, and will take an artificial like a jig, lure, or a popper. They absolutely drive fly fisherman nuts for their reluctance to hit a fly. The angler that figures out the "Holy Grail" – the secret of taking a roosterfish on the fly – will forever be considered a legend in fishing circles.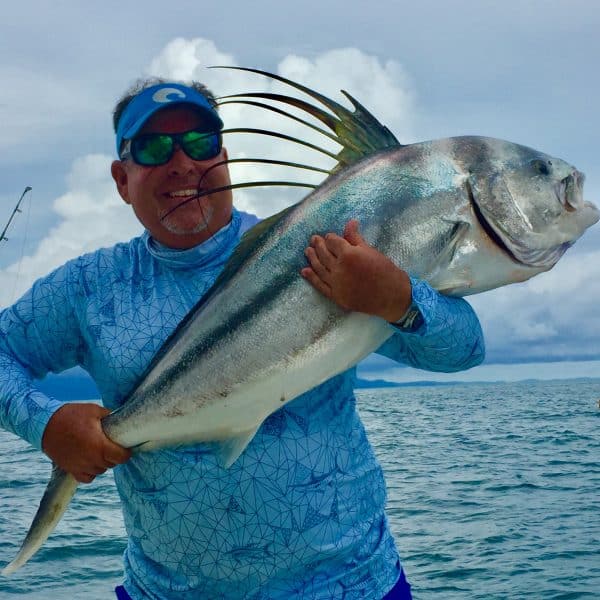 The Golfo Dulce in southern Costa Rica offers a vast area to fish for roosters. Las Islas Lodge, Zancudo Lodge, Crocodile Bay Resort and private charters in Golfito and Puerto Jiménez all specialize in catching roosterfish among the offshore species they are all famous for. Except when the afternoon sea breeze kicks in, the gulf is generally like a big lake.
While all these places specialize in roosterfish, Oscar Villalobos specializes in trophy roosterfish. Diego Torian, host of Pescando de los Cayos television, who is filming a yearlong series on fishing locations in Costa Rica, had only one day to test the waters in Golfo Dulce after filming an episode with Pablo Chaves from Rio Sierpe. Torian hosts the only Spanish-language fishing show in the United States.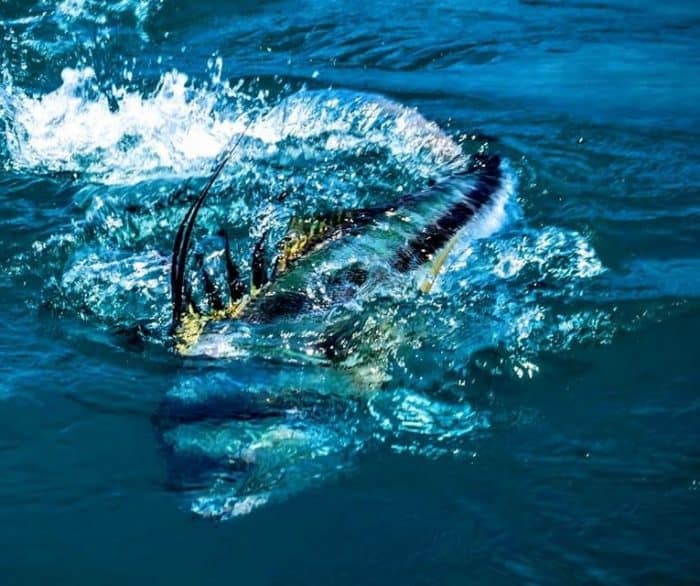 "Your average client doesn't have the patience to fish big roosters," said Villalobos. "Sometimes the hardest part is catching the right bait that big roosters like. But once you do, the big ones are usually there."
He prefers bonitos, skip jacks, and small yellowfin tuna to use as live bait and insists a five-pound bait is not too big. When he gets his bait he places it on the same size circle hook he uses for marlin. He says a roosterfish can swallow a bait up to 20% of its weight. This day was exceptionally slow to get the bait he wanted and after four hours he had only one medium-sized bonito.
As his search went on, he decided to put his lone bait out near a rock outcropping. Within five minutes, the rod tip bounced, then bent downwards and line started flying off the reel. Torian let the fish run, giving it time to turn the bait in his mouth, and the locked the reel in gear. Line continued to scream off the reel but now against the brake of the reel. Like most roosterfish, this one made numerous short runs and took back the line Torian had gained several times. Eventually the fish tired and checked in at just over fifty pounds before being released.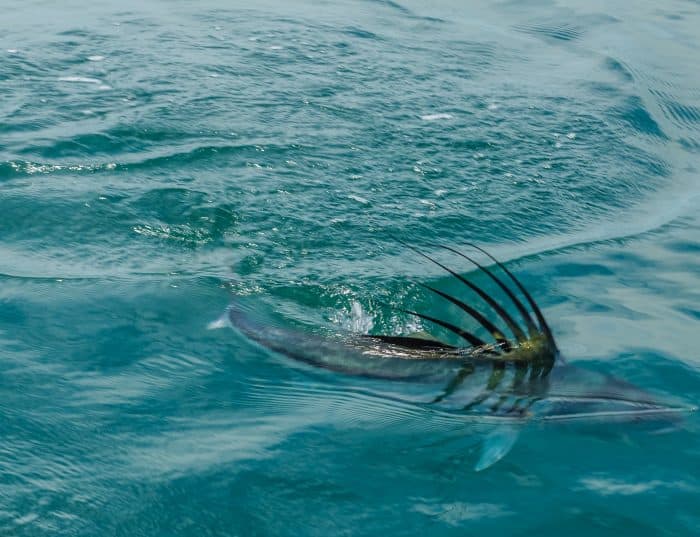 Luckily, getting more bait was not as difficult. In less than a half hour in, he had four more nice baits in his tuna tubes to keep them healthy. Every one of the baits got hit near the same rock and one more roosterfish came to the boat at 65 lbs and was released. The other baits were lost on missed fish or stolen by snapper leaving big teeth marks in the part of the bait that remained. Two big roosterfish on a spinning rod made great film and their mission was complete.
Villalobos is owner of Los Isla Lodge and captains one of their boats. More information at www.lasislaslodge.com.
Todd Staley has run fishing sport operations on both coasts of Costa Rica for over 25 years. He recently decided to take some time off to devote full time to marine conservation. His "Wetline Costa Rica" column appears monthly in The Tico Times. Contact him at wetline@hotmail.com.