President Luis Guillermo Solís and top officials of the country's security agencies met on Wednesday to outline a plan to improve public security and boost the fight against organized crime after a recent increase in related violence.
The measures include increasing the number of national police officers and of surveillance operations across the country. Solís also ordered ministries and agencies to evaluate available options for accelerating the deportation of foreigners linked to these crimes.
"Violent actions in recent days have raised a justified alarm among the population and calls for prompt actions," Public Security Minister Gustavo Mata said following the meeting at Casa Presidencial.
The government's announcement came two days after two hitmen shot a car at the entrance of a private elementary school west of San José, the Costa Rican capital. The shooting left two people dead and a six-year-old wounded.
One of the deceased was Elias Akl, a Lebanese-born Canadian who has an international criminal record. Akl and his brother Ziad have been living in Costa Rica and have criminal records here for attempted murder, aggravated deprivation of liberty, extortion and home invasion, the Judicial Investigation Police (OIJ) reported.
Immigration Police officers arrested Ziad Akl on Monday evening at Juan Santamaría International Airport when he was about to board a flight to the United States. On Wednesday evening, a Criminal Court judge ordered six months of preventive prison for Akl.
The other person killed in the shooting was a Costa Rican national who worked as Akl's bodyguard, the OIJ said.
The Department of Intelligence and Security on Wednesday reported that it had been recommending the deportation of the Akl brothers since January.
Improved measures
Minister Mata said that the government is launching a comprehensive review of all foreign nationals currently in the country in order to proceed with deportation processes against all of those who have pending matters with the law.
"We will proceed in accordance with due process and following the provisions of the <migration Laws," he said.
The Minister added that officials will maintain and increase surveillance operations in certain conflict-prone communities and will strengthen controls over the sale of firearms. They are also coordinating operations with police agencies from the Netherlands and France in order to block actions of international groups seeking to increase marijuana traffic into the country from the Caribbean, mainly from Jamaica.
"So far this year we've seized 32 tons from that country," he said.
Costa Rica will also seek to strengthen bilateral security cooperation with other countries including Colombia, Nicaragua, Mexico and Panama, the minister said.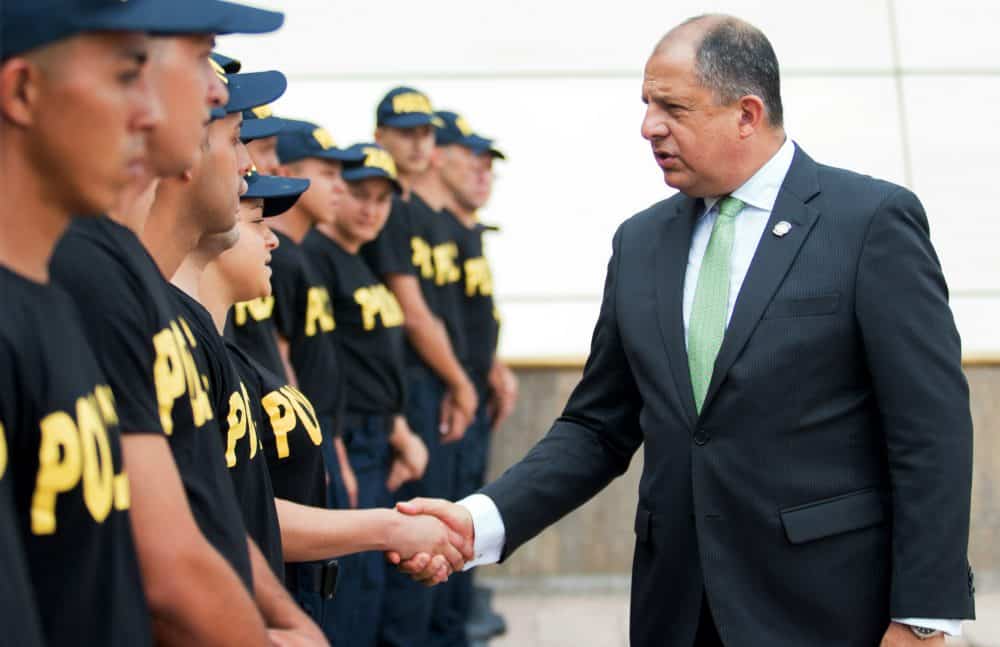 President blames judges
On Wednesday morning, Solís and Minister Mata presented a group of 613 new Police Academy cadets who will join surveillance operations throughout the country in coming months.
At the ceremony, Solís said he is outraged by Monday's shootout, primarily because it risked the life of a child and those of all people inside the school.
"I'm very upset about this situation. It bothers me that our police officers nab these criminals but then judges keep releasing them," he said.
He added that during his administration, police have detained leaders of several criminal groups but that court decisions rendered the police unable to "curb the violence and crime wave that is hitting the country."
Data from the OIJ state that Costa Rica in 2016 recorded 577 homicides. That figure represents a rate of 11.8 per 100,000 inhabitants, one of the highest in recent years.
Mata said that this increase in crime figures is a direct result of the growth of organized crime and drug trafficking, as this causes disputes over territorial control between gangs.