At 21 years old, Noe Mar McGonagle has made quite a name for himself in the surf world, both here in Costa Rica and internationally.
Two years ago he earned the coveted gold medal in the Open of the International Surfing Association (ISA) World Surfing Games in Nicaragua, a world title he happily added to his Latin American and Costa Rican championships.
Born in Matapalo, McGonagle is a resident of the mighty left-hand wave of Pavones, and has lived and surfed there since he was a child. Dad Sean is owner of the Riviera Hotel in the town that the older McGonagle first discovered in 1982. Sean met his wife, Jamie, from California, in Costa Rica as well. The couple, along with Noe's sister, Leilani — who was born in Pavones and is herself a Costa Rican national and North American champion — are Noe Mar's best support system.
These days they've got even more to root for: Surfing through the cracks made in the World Surf League (WSL) Qualifying Series wall by Ticos Federico Pilurzu (Tamarindo) and Carlos Muñoz (Esterillos) over the years, Noe Mar is off to an amazing start to his 2017 professional season.  Although humbly reiterating that he'd been near the coveted Top 10 of the QS rankings a few years ago when he climbed all the way to #11 for a short time, this year, with only three dates completed, he's already perched at #18, only 8 spots away from the 10 surfers who will roll over to the Championship Tour (CT) when all is said and done in December.
His current QS placement comes as the result of opening his season with a 9th place finish at the Australian Open of Surfing at Manly Beach, then following up with a spectacular 3rd place at the Martinique Surf Pro in Basse Pointe in the French West Indies. Even though he didn't pass from his Round 3 seeded position at the Barbados Surf Pro at Drill Hall Beach in St. Michael which came up next, he has not been deterred, instead reaffirming his personal commitment to the challenges in the waves ahead.  He's set to head to Japan (site of the 2020 Olympics that will include surfing) at the Ichinomya Chiba Open in Shida Point for a contest May 21-28.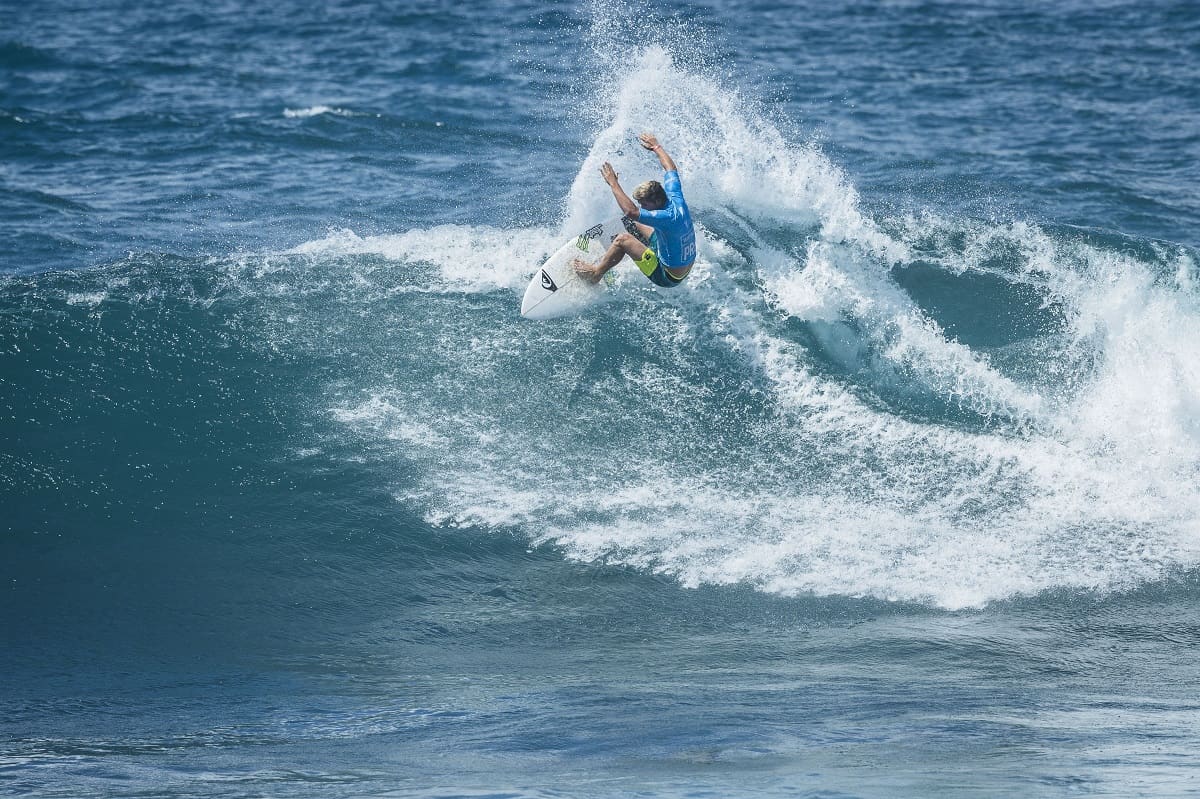 The executives at the WSL are among the fans of this blond surfer.
"It's great to see Noe Mar get off to such a strong start to begin the year. He's fully committed to the tour and a major talent on the Qualifying Series," said Brian Robbins, WSL Tour Manager. "The early results will help his confidence through the next few events, where we hope to see him capitalize on the chance at some big points in Japan, South Africa and the US Open later this summer."
WSL Media Manager Andrew Nichols added simply: "He'll only become more dangerous."
The Tico Times talked with McGonagle just after competing in Barbados. Excerpts follow.
You are off to a very good start this year on the WSL QS. What has changed in your competitions to get to #18 so fast?
NMM: Number 18 is not the highest a Tico has ever done. There's one point two years ago when I was #11 and Carlos was #13, something like that.  This year, I just have better luck in my heats, better rhythm with the ocean, been training really hard. And I really want to do really well this year. It's been really nice to have 2 good results already this year.
How is your mental and physical condition right now?
My mental is really strong, as well as my physical. I've been doing a lot of physical training at home in a new training center that my dad built.
How do you see your trajectory on the QS so far this year?
I was very successful in my first two events. After Australia, in Martinque, I wasn't really expecting very much; it's a very difficult wave. I got in rhythm with the ocean really well, and it was a really big swell. I was able to get 3rd.  That was really good motivation.
Then I went and lost in my first heat here in Barbados. The waves were small. I'm super motivated, though, for Japan. I don't think the waves there are going to be very big, so I'll take away what I learned in Barbados for Japan.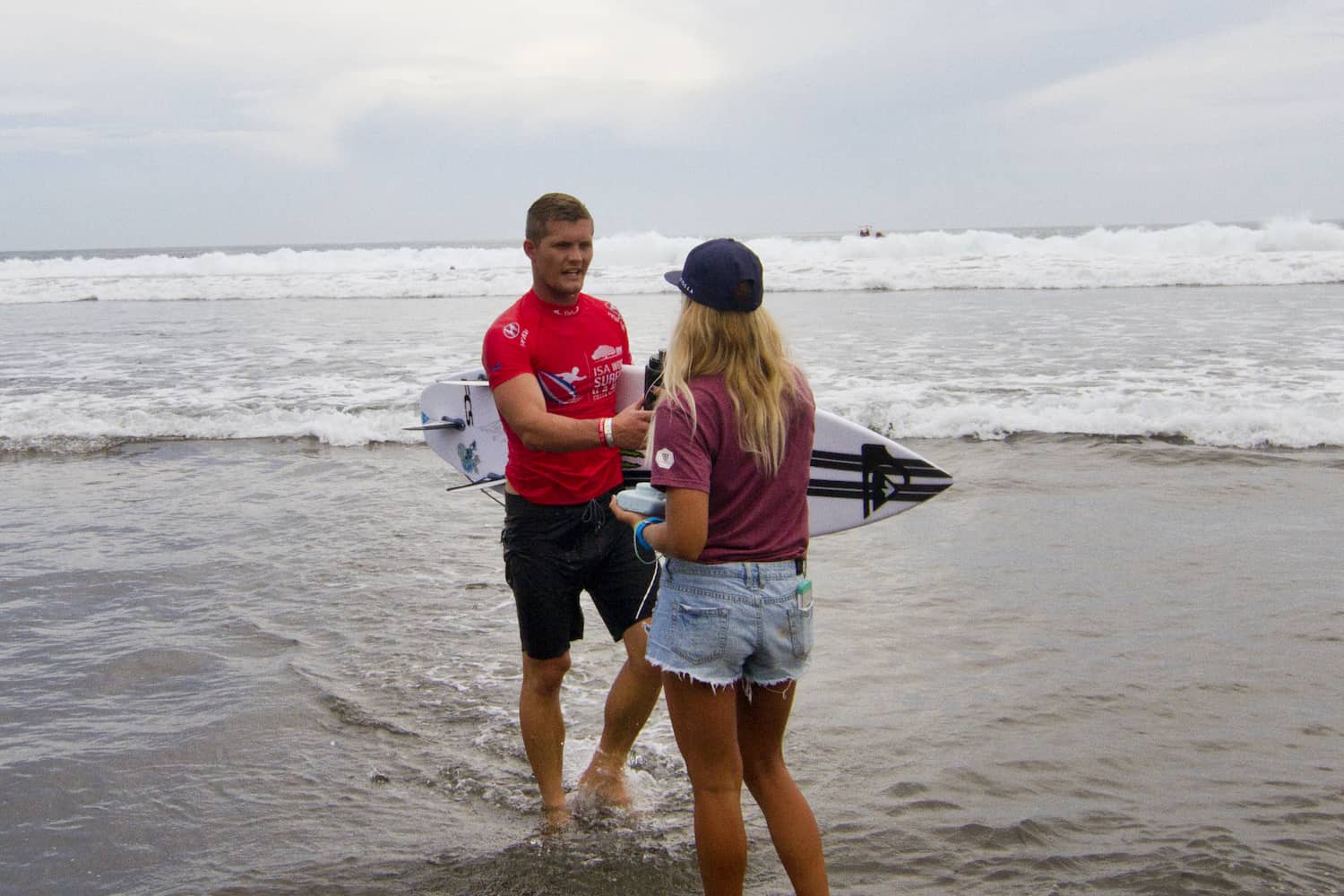 Are you getting recognized more internationally?
Yeah I guess so, those results could help.  I've been doing the QS a while now, so I'm pretty well recognized already. But I'm sure those events have helped and my ranking, too. When you are in the top 20, you are right there, but it's still a long year to go and a lot of work to be done.
What are the tools in your arsenal?
I'm using Mayheim from Lost surfboards that are working amazing and definitely have a lot to do with my success.
Who are your sponsors?
Kolbi, Quiksilver, Nature Air, Monster, Lost Surfboards and FCS.
What's ahead for you?
My next event will be in Japan in about three weeks. I feel like I'm always improving. I definitely feel really consistent right now and trying to work on my weaknesses to better them.