GOLFITO, Puntarenas — The president of Costa Rica flew into Golfito on Friday to inaugurate the first phase of a dream a dozen years in the making, the Golfito Marina Village and Resort.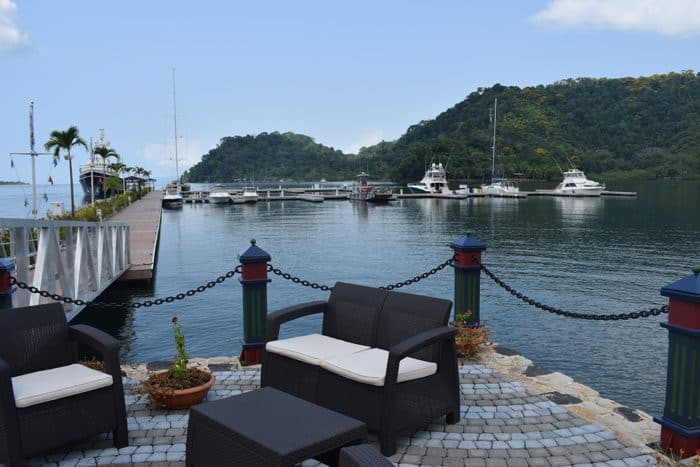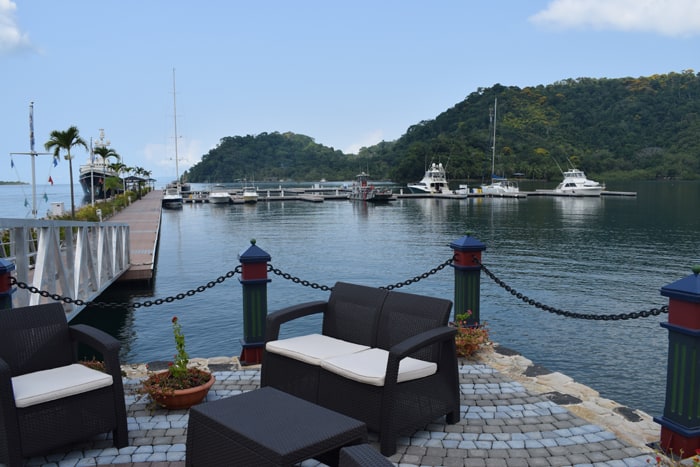 "Few things satisfy the president of the republic more than inaugurating projects like this that create jobs, produce conditions of well-being for communities that need them, and to do it in a region so rich and so beloved for me as the Southern Zone," said President Luis Guillermo Solís at an event attended by hundreds of people, including local schoolchildren.
Phase I includes a 50-slip marinas for 40- to 140-foot yachts, plus one for a gigayacht. When all three phases are completed, estimated to be in 2020, there will be about 155 slips, including several that can accommodate the biggest yachts in the world. There will be a commercial village with stores and restaurants, a 70- to 100-room hotel and dry dock for boats.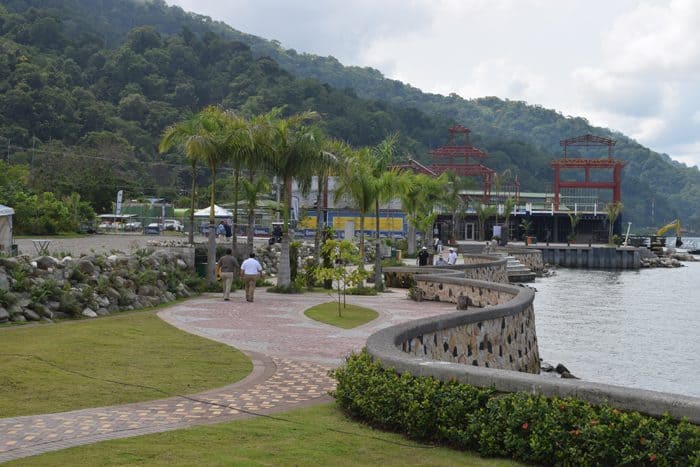 It's one of the biggest projects ever undertaken in the Southern Zone, with about $34 million invested so far, and it's expected to create hundreds of jobs in a former banana town that has long struggled economically. Figures were cited Friday of $50 million for the total project, some 70 percent of it financed by Banco Nacional, though this appears to be a low-ball estimate that could rise higher.
The visionary behind this project and one of the chief investors is a 66-year-old U.S. developer born in Israel named Noam Schwartz.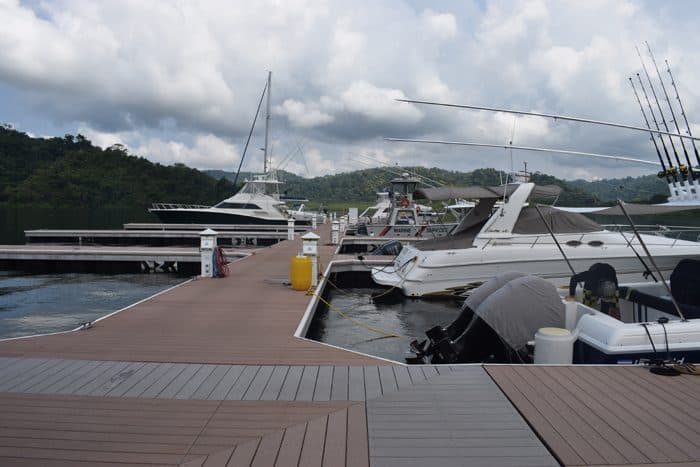 "We developed a lot of projects in Quepos and Manuel Antonio, 10 or 11 projects," Schwartz said in a brief interview on the pier. "And then we had an opportunity to buy a piece of land here, and that was before the recession. Everything was quick — how much money do you need, $20 million, $40 million? And so we bought the land with some other partners, and it developed from there.
"We started construction about 10 years ago, and the recession came, and we had to stop. So it was sitting dead for about eight years. And now I'm semiretired, so I decided to come here and make this the — I don't want to say the last project — but THE project."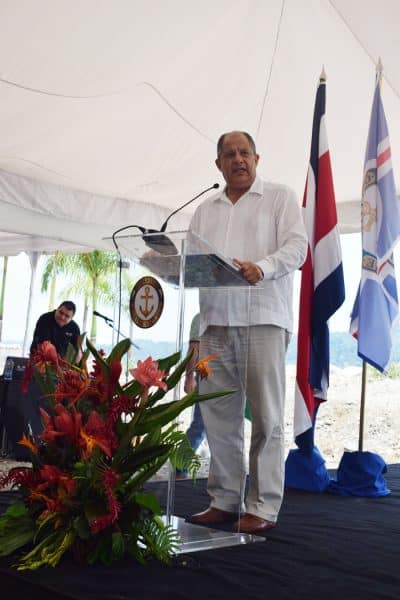 Pedro Abdalla, the San José-based chief architect, noted in remarks to the audience that Golfito's duty-free zone, the Depósito Libre, opened its doors exactly 27 years ago, on April 21, 1990.
"Golfito is a real treasure, with an extraordinary potential for development," he said. He cited figures about the employment this project would create and said it was the goal that 80 percent of the employees come from the Southern Zone.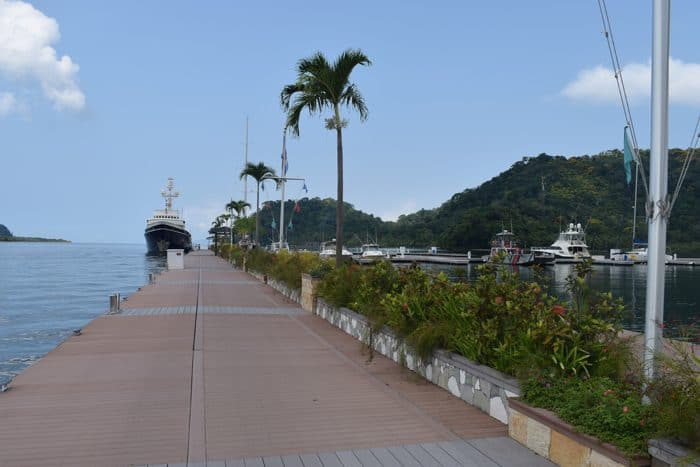 "After 12 years, I'm extremely emotional," he said, sniffing back tears, as the crowd broke into applause.
Also in attendance, most of them addressing the audience, were Vice President Ana Helena Chacón, Tourism Minister Mauricio Ventura, Golfito Mayor Elberth Barrantes and Banco Nacional General Manager Juan Carlos Corrales.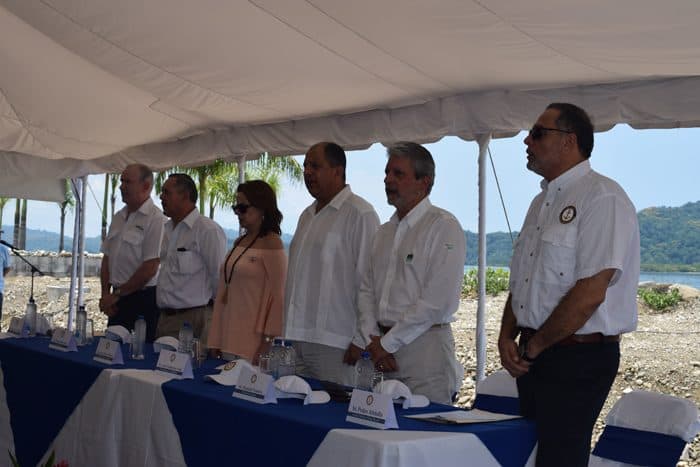 After the speeches, a ribbon-cutting was held in front of the marina, but Solís first called for the schoolchildren to file in for the photo. Ventura, with scissors in hand, asked which girl's ponytail he was supposed to cut off, and the kids shrieked.
David Johson, the Fort Lauderdale-based marina sales director, said the Golfito marina fills a need for superyachts that routinely pass Costa Rica by, on their way to the Galapagos or elsewhere, because there's no place for them to dock.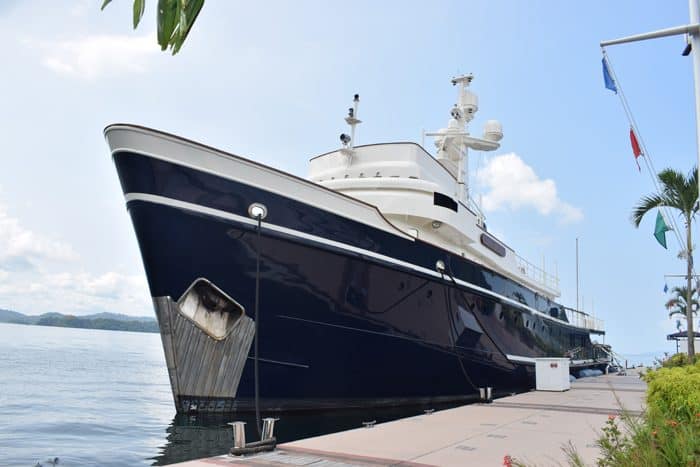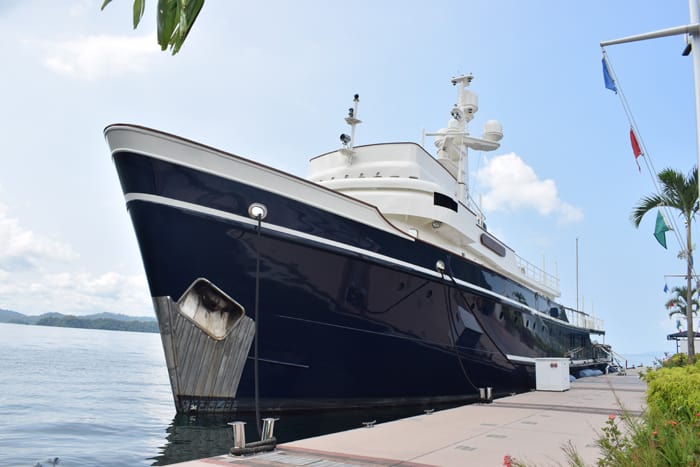 "We built a marina for the future," he said. "We'll be able to fit the biggest yachts in the world."