Diners at a hotel in Jacó beach, in Costa Rica's Central Pacific, were surprised on Thursday when a sea lion entered the restaurant and began walking under the tables.
This was the second case this week of a sea lion sighting at a beach in the canton of Garabito, in Puntarenas province.
On Tuesday afternoon, tourists alerted National Police officers about a sea lion wandering around at Playa Agujas, located some 15 kilometers from Jacó.
Officials from the National Animal Health Service (SENASA) and the Environment Ministry captured the animals to prevent them from being harmed. They also conducted a physical evaluation and found both of them in good condition, SENASA  reported in a news release.
Officials took them offshore on National Coast Guard vessels to help them find a current that might take them back home. They released them in an area located some 10 miles off the coastline, close to several islets where they could rest if needed, the Coast Guard said in a statement.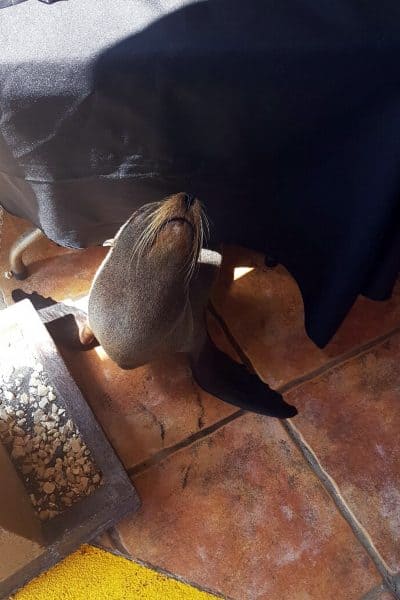 From the south
The Coast Guard statement said the sea lions were likely carried away from the southern hemisphere by a cold current.
Biologist Carlos Pérez Reyes, a researcher with the National Training Institute and the University of Costa Rica, agrees. He told The Tico Times that finding these or other foreign species here is not that frequent, but also not surprising.
Pérez said that from the pictures he believes these are Galápagos Sea Lions, a species that exclusively breeds on the Galapagos and nearby islands in Ecuador.
He said there are various reasons for them to end up on a Costa Rican beach.
"They are young and, like every youngster, they are curious. That often leads them to move away from their homes," he said. "After getting far from their islands, they were likely dragged and carried away by a current."
Pérez noted that changes in the temperatures of equatorial currents during this time of the year, plus the influence of an El Niño weather phenomenon, might have been involved in the sea lions being carried away.
"These changes in water temperatures modify the biological composition of currents and reduce food options for various marine animals. Some species, especially predators like sea lions, are sometimes forced to move far from their homes in search for food," Pérez said.
He noted that there have been several arrivals and spottings of sea lions in Costa Rica in recent years.
"One of them, a few years ago, arrived at Chira Island (in the Gulf of Nicoya) and stayed there for a long period because fishers and residents started feeding him," he said.
Pérez also said he's even heard of spottings of penguins that likely arrived from the Galápagos islands.
"It's a long journey to Costa Rica. It takes up to three days on a vessel," he said.
See a video of the release of one of the sea lions:
https://www.facebook.com/ministerioseguridadpublica/videos/1583489414997839/
Save
Save
Save