The Constitutional Chamber of the Supreme Court, or Sala IV, ordered the Costa Rican government to outline a plan to protect Corcovado National Park and other nearby areas in the country's southern Pacific from ongoing illegal actions from loggers, gold miners and poachers.
The court issued the ruling on Jan. 27 in response to an appeal filed in August 2015 by environmental groups and experts against the Environment, Public Security and Finance ministers.
Justices ordered the three ministers to coordinate, within two months, "all necessary actions to implement a surveillance plan to guarantee the permanent protection of Corcovado National Park and the Golfo Dulce Forest Reserve," a nearby protected area.
It also orders Public Security Ministry officials to immediately take all necessary actions to evict every person conducting illegal logging, poaching and gold mining in the park, which is located on the Osa Peninsula.
Legal complaint
The complaint before the Sala IV was a group effort that comprised collaborations from the Costa Rican Federation for Environmental Conservation (FECON), the Environment Ministry's Workers' Union, and the NGO Preserve Planet.
Various scientists, filmmakers and other experts also contributed to the drafting of the complaint. Among them was Mario Boza, who played a key role in the creation of various Costa Rican national parks.
Authors of the complaint described the current situation in Corcovado "as a complete disaster."
They stated that large areas of the park are seriously threatened by poaching, illegal logging and "the permanent presence of some 400 gold miners using heavy machinery and dynamite."
The complaint cites numerous documented examples from scientific research and on-the-ground inspections that concluded that these actions are severely reducing populations of several species of animals and plants.
These illegal actions are also causing enormous damage to vast areas of vegetation and forests, the complaint states. As an example, the claim quotes the results of an inspection conducted in 2013 in response to a report of illegal mining.
"Park rangers and experts found that gold miners used dynamite to remove some 10 square kilometers (3.8 square miles) of material, equivalent to some 2,000 waste trucks full," states the document. "This is equivalent to medium-scale open-pit mining."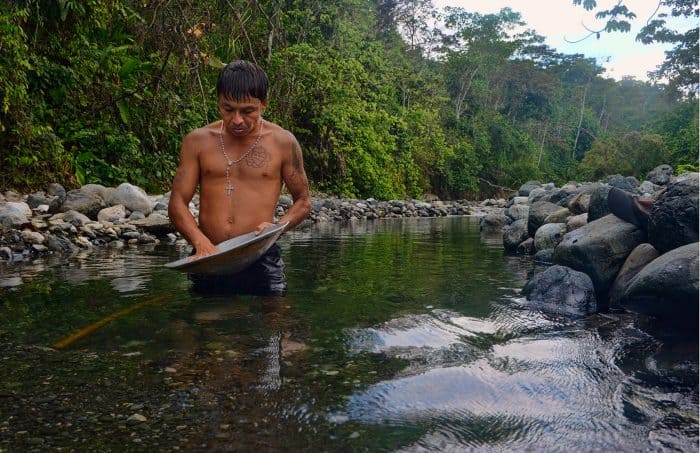 Decision applauded
FECON President Mauricio Álvarez told The Tico Times on Thursday that he is satisfied with the Sala IV's ruling, as it represents a good precedent for similar environmental fights.
Álvarez said that FECON will monitor the ministries' compliance with the ruling.
"Despite the abandonment and violence that the national parks are being subjected to, parks keep providing us with food, water and air. They are a source of knowledge, of education and recreation," he said.
Álvarez noted that it is essential to improve resources available at the national park, especially staff. Today, there are only 15 park rangers to protect more than 40,000 hectares of land, he said.
"And they work in alternate shifts, so not all of them are patrolling at the same time," Álvarez said.
Natural treasure
Corcovado National Park is located 335 kilometers southwest San José and comprises 42,560 hectares of land and 3,354 hectares of sea.
The area has an unusual amount of biological diversity that is unmatched anywhere else in the world in a similar-sized area. The park is home to more than 500 species of trees, 140 species of mammals, 40 species of freshwater fish, 117 species of amphibians, and about 6,000 species of insects.
Four species of sea turtles lay their eggs on Corcovado's beaches, and its forests house the largest population of red macaws in Costa Rica.
The Osa Peninsula, where the park is located, is home to 69 percent of Costa Rica's endangered vertebrate species. It is also home to half of the country's endangered plants and one third of its endangered trees.
According to official data, Corcovado is home to 50 percent of the country's species and harbors 3 percent of the world's biodiversity. National Geographic famously referred to Corcovado as "the most biologically intense place on Earth in terms of biodiversity."
In September, the travel company Discovercorps  ranked Corcovado at the top of its list of best national parks in the world.
Recommended: Photos: Corcovado is like 'Jungle Book' without tigers and bears
This video of a puma devouring an iguana inside Corcovado National Park went viral last month:
https://www.facebook.com/HNTSIERPE/videos/943356799099069/