At the beach in Jacó, painter Delphine Reveau devotes her days to painting positive things, including her favorite subjects: dogs and children.
The self-taught artist, 46, who spent the first 30 years of her life living in several different countries in Africa, with a few intervals in Europe, has a strong French cultural influence from her parents. She works as the manager of Tico Pod, an art gallery in Jacó; sells her paintings; and works as art teacher for locals and tourists.
The Tico Times talked to the artist about the positive energy she expresses through her art, what pushed her toward the life of an artist, and her journey to Costa Rica. Excerpts follow.
How did you come to live in Costa Rica?
While I was living on the island of Réunion, near Madagascar, my ex-husband and I decided to leave that area – which we loved but already knew very well – in order to discover South America. He wanted to go to Chile and I wanted to go to Ecuador. We couldn't make up our mind… until a friend from Africa who had just moved to Costa Rica invited us to check it out.
So we came to Jacó 17 years ago to manage a small and charming hotel [La Villa Creole]. My two kids were born here, and even if I know that I will always be a foreigner in this country, I am more than happy to call it my home.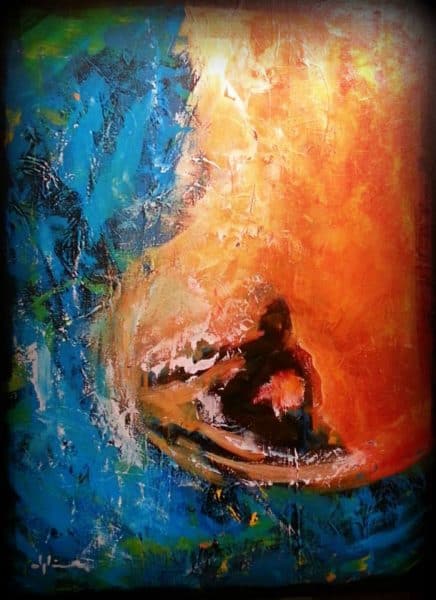 How did you become an artist?
As a kid, drawing was my favorite thing to do. As I grew up I became more focused on portraits, mainly African kids and seniors. Then I became an adult and got too busy. Every person I showed my drawings to told me that I had a lot of talent, but I didn't believe them. And anyway, at that time, for me, it was just a hobby that I couldn' t afford. I was struggling and couldn't even imagine that I could make money from it.
I will never be able to adequately thank all the people who pushed and supported me on this road. The main key came from the advice of an artist friend, four years ago. Like many others, he was trying to convince me to go for it, and I was giving him the same old money-and-time argument.
The friend said: "Just buy a few paintings and brushes, even the cheapest ones. Use what you have. And don't try to achieve a masterpiece. Just find 15 minutes a day to paint or draw. It's nothing. Everybody can do it, even you. But you have to stick to that discipline for at least two weeks."
The second week the 15 minutes turned into an hour or two, or three… and I got addicted. Instead of thinking "I have to paint," I began to feel, "I need to paint." It was making me feel so good. I was learning so much and having so much fun.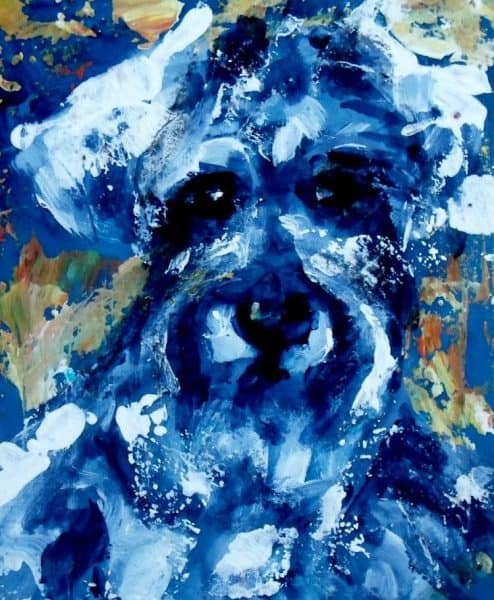 How would you define your art?
I am still learning and experimenting, so it is hard for me to define my art, but I can say that it is a fusion between figurative and abstract, always with the intention of expressing an emotion. I am a big fan of the Expressionists because of that. I don't find any interest in an exact copy of reality; I prefer to express what that reality makes me feel, even if I have to deform or summarize it.
Portraits and figures are my "first love" and what I feel is the easiest to paint, because it is the most direct way to express feelings. I enjoy painting surf scenes for the colors and the movement, but also because this is not emotional to me. It is more relaxing and technical, so it pushes me to explore the abstract and textured side of my art.
When I paint dogs I feel the same pleasure as with human portraits: I am doing the same deep dive into their soul, but always with a sense of humor. This is why painting dogs is my favorite subject and, yes, a kind of therapy!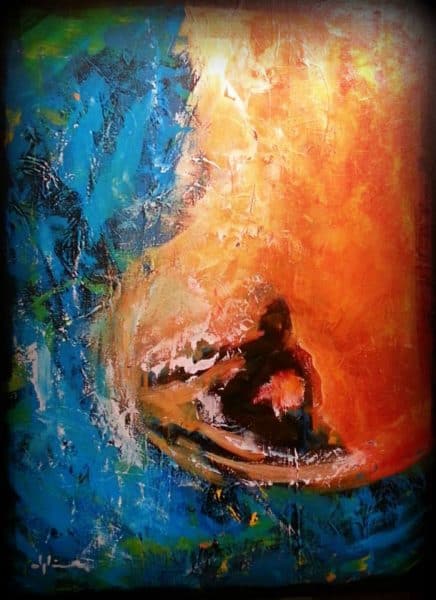 Why did you start teaching art?
I began a year and a half ago. As I never went to art school… I didn't think that I was qualified or able to do this, but other people pushed me to try. I had to invent a different way to teach, based more on my desire to share my passion than on the study of techniques… and it worked so well that I still can't believe it! Not only do I [pass on] my "healthy addiction" of painting to many people, but I also made many new and amazing friends among my students.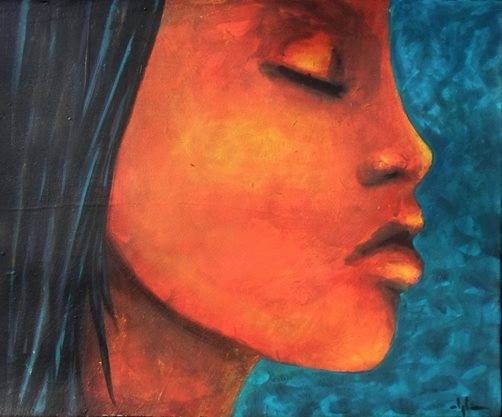 What do you want to express through your paintings?
I started wanting to express the pura vida, the happiness, the relaxing lifestyle of Costa Rica… but it was also a little bit too commercial. Nowadays I am trying to express peace and hope, because like most of the people in this world, this is what I need the most.
I am clearer about what I don't want to express: any kind of negative vibes. I understand and admire dark art, but I would never buy it or want it on my walls. For me a painting is like a window, and I want that window to illuminate and satisfy my soul. So I want my paintings do the same for the people who look at them.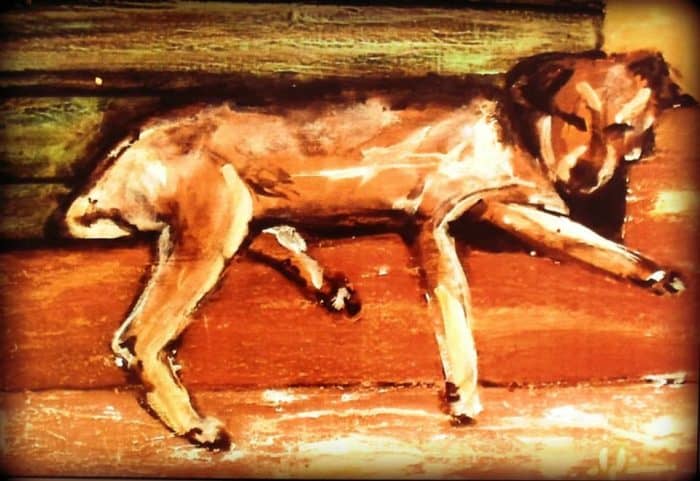 Our "Weekend Arts Spotlight" presents Sunday interviews with artists who are from, working in, or inspired by Costa Rica, ranging from writers and actors to dancers and musicians. Do you know of an artist we should consider, whether a long-time favorite or an up-and-comer? Email us at kstanley@ticotimes.net.